Sleep Wear By After Dark Is For All Slumber Lovers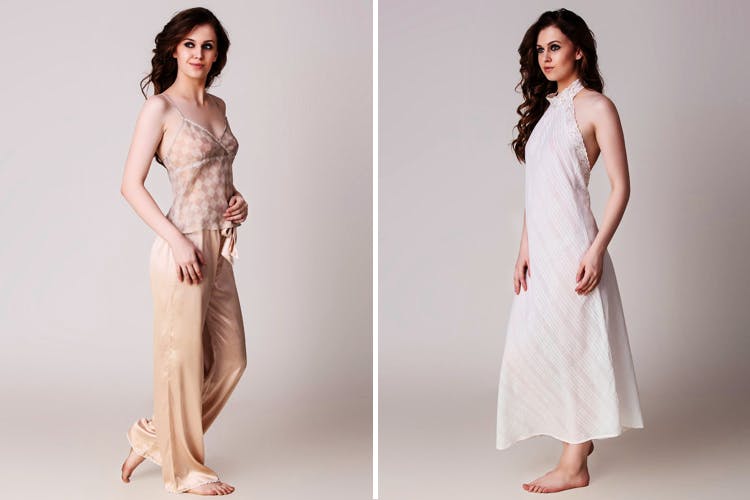 Shortcut
Delhi-based After Dark by CraftLine makes snuggly, cosy sleepwear and loungewear for those who love the comfort of their beds.
Slumber Land, La La Land, All The Same
If you spend a ton of your time lounging about at home, you hate waking up in the morning and on weekends you don't bother to put on pretty clothes because, well, you prefer pretty night clothes, then this variety of sleepwear by After Dark is going to leave you feeling happy! Everything is slightly high-end, which is why if you're the kinds who can totally sleep in your denims, this might not appeal to you. From tiny boxers to flowy night gowns, in a range of fabrics including soft cotton and satin, these beauties in white and neutral shades is what we're ogling at. Among our faves, is this set of shorts and shirt in white, this printed top and satin PJs in beige and this soothing gown with lace detailing.
For The Lazy Bride
Interestingly enough, they also have a collection dedicated to sleepwear for newly-weds or even those who feel like newly-weds, or you know what, you don't have to be wed at all to get these, but you get the picture, right? This floral printed set of crop top and shorts and this powder blue-cum-lavender satin set is also a steal. Also, if you're a busy person and just about found time to get married, you can order as many things as you like, try them on and return whatever you don't like. If you want to check out their offline collection, you can make an appointment with them, and go check their stuff out, but only if you're in Delhi. Lounge around, sleep as much as you like, because you know, at least you have the comfort of these soft clothes.
Price: INR 2,299 – INR 3,699
Contact: +91 9654631976 or e-mail them at hello@afterdarkbycraftline.com
Check out their website here to place an order. 
Find them on Facebook here.
Comments (0)