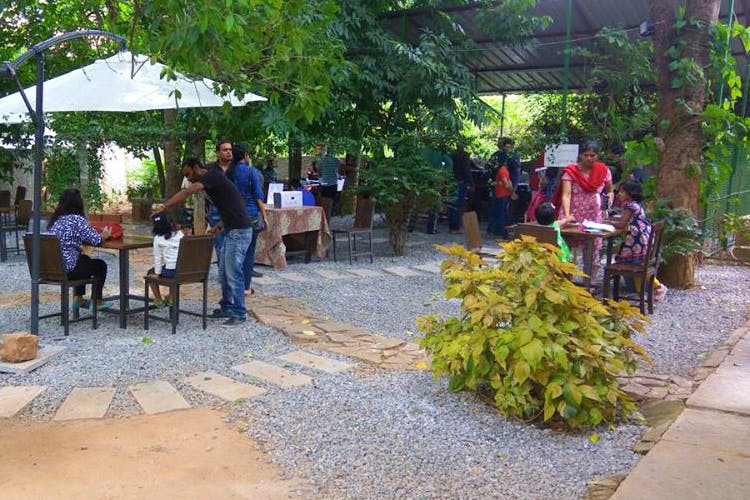 The Best Outdoor Cafes To Bangalore's Awesome Weather
Any Bangalorean will tell you that our weather is perfect and the best way to soak it all in is to sip on some piping hot brews under the sun's warm rays. Or a perhaps cold coffee when it gets balmy! Here's our list of some of the coolest outdoor cafes in the city that let you enjoy the easy breezes that pass by along with a hot cuppa. A match made in heaven.
Happy Belly Bakes
With its brightly coloured walls and the cutesy wall with cups stuck on them, we love Happy Belly Bakes, just off MG Road. With an outdoor space complete with picnic chairs and pebbled floors, these guys are known for their fully loaded all day breakfasts, but most importantly for their desserts, and hot chocolate. Lasagna in their sunny and outdoorsy seating arrangement. Find out more about them here.
Cafe Coffee Day Lounge, Cunningham Road
Cosily hidden under the shade of many trees, this Cafe Coffee Day, is always cool no matter how high the temperatures rise. And when it's windy, the place gets all the more romantic with a flower shower as the flowers from the looming Gulmohar nearby start to fall. With outdoor seating and plush couches, this is the ideal spot to catch up with friends or have that casual office meeting. Sip on some strong brews, iced teas or lattes along with anything from their familiar list of eats, from Chilli Cheese Toast to Smoked Chicken Subs with a side of engaging conversation. A lot can happen over coffee, you know?
The Rogue Elephant
With it's simple wooden chairs and tables surrounded by lush green, this cafe in Basavanagudi is has a nice and easy vibe. Dine in the presence of bountiful bougainvillea and pretty corridors as you feast on their delectable range of salads, pastas and sandwiches. And their seasonal fruit pannacotta is a must try. Read our full review here.
Cafe Noir
This fancy cafe will make you feel like you're right out on the streets of Paris. With French classics like Croque Madame that's served with a side of fries and Ratatouille on their menu, tuck into a whole lotta yum at this al-fresco cafe in UB City. They also have quick bites like quiche and crepes and a whole range of decadent desserts like tiramisu and eclairs to end your meal on a sweet note.
The White Room
This cosy spot on Church Street is all about bringing back that old British charm to tea time. With it's quaint garden furniture and its faux fireplaces, this place is a little slice of calm on the otherwise buzzing stretch. Roast sandwiches, lamb pies and Italian Almond Tea all have a place on the menu. Find out more on what we thought about this place here.
Glen's Bakehouse
This Indiranagar fave had to make this list with its yummy pizzas and pastas and even more delish desserts. Glen's is a great place to kick it back with the crew with is easy-going atmosphere and it's menu full of your favourite cafe eats. Pizzas, pastas, risotto, sandwiches, the works. And an equally extensive list of brews to pair it with. Apart from this, their yum desserts have always had us drooling. Find all the classics like red velvet cake, cinnamon rolls and macaroons in the most delectable pastel shades, in their rather tempting pastry display case.
The Ants Cafe
This cafe on Whitefield's Main Road is tucked away nicely from all the blaring horns and mindless traffic, that is characteristic of the area. The stoned pathways, simplistic wooden tables and chairs with patio umbrellas hanging over them and abundance of pretty bougainvillea around is enough to keep you here for hours, and we haven't even gotten to the food yet. Their all day English Breakfast is fully loaded with sausages, eggs, bacon, baked beans, potatoes, mushroom and toast. Yep! It's legit! They also have an impressive spread of snacks, salads, sandwiches or pastas in the off chance that you're craving for something more.
The Yogisthaan Cafe
Get your fix of healthy and wholesome food. This entirely vegetarian cafe has a menu of clean and nutritious eats. We spotted interesting bites like Chickpea Crepes and Sabu Dana Khichdi on the list. We also saw a whole bunch of medicinal teas and health juices that are straight out of a fitness junkie's dream. And while you're there you can also squeeze a meditation sesh into your schedule as the cafe is attached to a yoga studio.
Courtyard Cafe
This place used to be a legitimate courtyard that has now been transformed into a delightful cafe. With a retro playlist in the background, playing smooth jazz and bluesy tunes, and their rustic wooden seating in the open air, this place creates a whole mood around your dining experience. The menu has all the crowd-favourites like pita bread with hummus and grilled chicken steak, and everything here is very reasonably priced, starting at INR 100. Check out our full story on the cafe here.
Third Wave Coffee Roaster At The Bohemian House
Set inside a gorgeous heritage building, this Third Wave Coffee outlet is our favourite for ambience. With a waterfall (naturally not natural!), garden furniture and greenery all around, it's a proper escape from the madness of Richmond Town. You won't even realise you're smack in the middle of town. Food is limited but tasty and comes in the form of sandwiches, salads and cakes. We love the cinnamon rolls, and the healthy granola bowl.
Comments