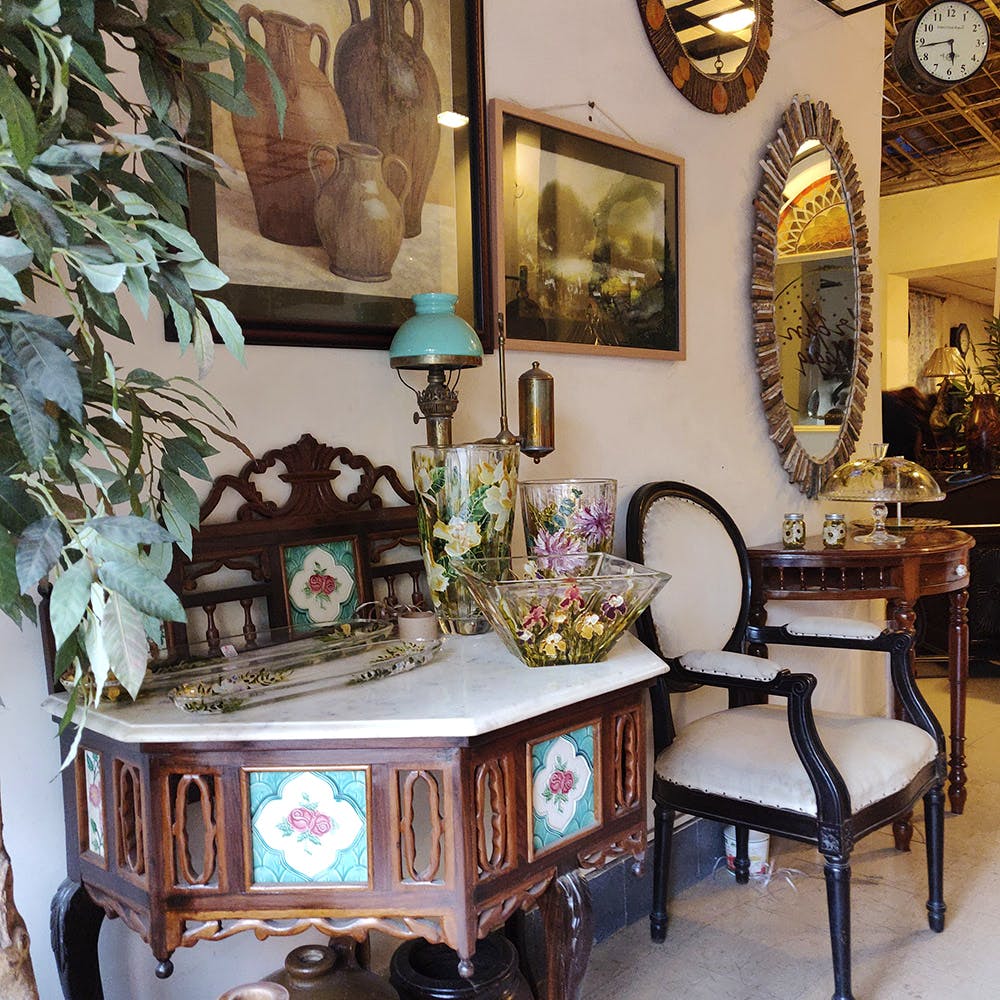 Get Vintage Furniture From These Stores In Town
Tired of the same old standardised beds, tables and chairs? Then antique stores are the answer for you. Rare collectibles, antique furniture, music records amongst an endless list of artefacts awaits you at some of Bangalore's best antique stores. Whether you are an antique collector or just an admirer, these stores are a must visit.
Bamboo Bazaar, Shivaji Nagar
Don't be fooled by the name. There are perhaps just four shops in Bamboo Bazaar that exclusively deal in bamboo products. The rest of this 50-year old bazaar's lanes are filled with shops selling all kinds of old and antique furniture here. Look hard enough, and you can score rosewood or teakwood furniture at dirt cheap prices. Being antiques, most of the pieces are unique so it might be the only one there. Be careful while picking furniture out owing to the sneakily hidden damaged pieces!
Balaji's Antiques And Collectibles, Avenue Road
Popularly known as "Rare", BalajI's Antiques and Collectibles is Bengaluru's oldest store dealing in antiques and collectibles. The shop which started out with selling gramophones, is now home to one of the largest collections of antiques. One can find things as unique as a toy pistol from the 1950s, lighters from 1940s London, and authentic furniture from the 19th century. And you will end up finding amazing regardless of your budget.
Urban Magiq
Located next to Johnson Market, Urban Magiq is like walking into an ancient family home. Find furniture and decor from the late 19th century, Victorian, Colonial and Post Colonial type furniture. Whether it's a writing desk that helps you channel your Edgar Allen Poe, a reversible teakwood swing, vintage (advertisement) posters or coffee tables that turn into a chess board, you're likely to find it. The real treasure lies in the attached store house - bullet casings turned into coffee tables and barbecue grills, and bed posts into coat hangers. There's really no end to the delightful surprises in store.
The Qurio City Shop, Kamraj Road
Qurio City operated out of a beautiful little house but the number of treasures one could find in this dainty antique store is endless. From LP records with speeches of Nehru and Mahatma Gandhi to classic Phantom comics, this store has stuff for history buffs of any kind! Old radios, antique stamps, gramophones (in working condition), it's a real treasure trove. What's more is that they even repurpose antiques, so, if you have any lying around collecting dust, they can help!
Saanchi Antiques, Shanti Nagar
Sanchi Antiques in Shanthi Nagar specialize in colonial furniture and antiquities for the most part. The three storied store holds interactive sessions with antique lovers and collectors. Get on their mailing list and attend these sessions for free! The store has been set up as a house with a dedicated living room space, dining area and a kitchen. You'll find beautiful chandeliers, antique spice boxes, and many other old timey kitchen paraphernalia. They also have a small museum which displays prized collectibles from the owner's personal collection.
Comments