This Webstore Is Your Ticket To Owning Original Art Works By Upcoming Artists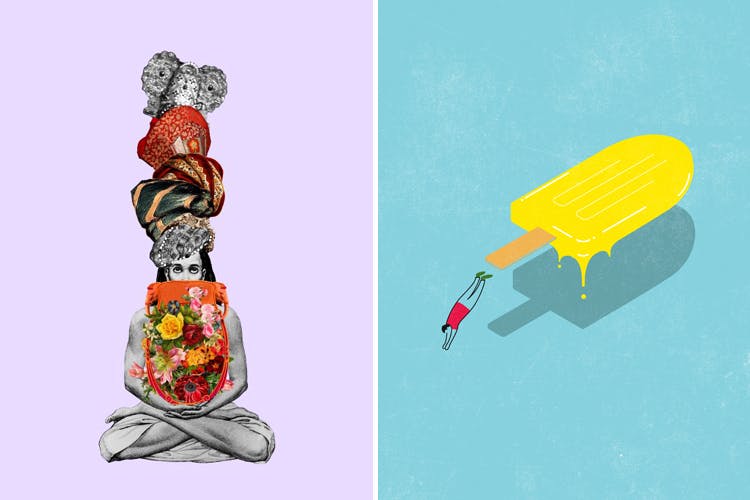 Shortcut
Art & Found curates and sells artwork by emerging artists in India, where everything is original and limited edition.
Art For Thought
Whether you're an artist waiting to get discovered or someone who's generally interested in buying and collecting art, this place can put you out of misery. With beauties by over 150 artists, there is really a lot to choose from on Art & Found. From erotica art representing freedom, feminism and nudity to surreal doodles about not just the humourous things in life, the variety is unending. Some in hypnagogic kaleidoscopic colours, while others in minimal monochrome, modern art to optical illusions, the assortment will leave your mind boggling. We also spotted works by popular designers Shweta Malhotra and Pavitra Dikshit Check out this geometric one in black and white by Ravi Arora and this one that looks like a chaos of colours by Karma Sirikogar.  We are also feeling really hungry looking at these food prints by Nikita. Art & Found selects artists based on the style, quality and originality of their art and only curates their best work.
All Access Art
Available in four sizes, you can choose to get it framed or even wrapped in canvas. And you don't have to wait to go to an art gallery to make a purchase. This is really making things easy, and the price range has something for all. If you want to spruce up your office space, they can even curate the artwork for you, after you decide on a budget and keeping the style of the company in mind. You might not find the Van Goghs of the world here, but this is really sweet stuff. So if you've been looking for a nice dose of art, this is the place to check out. Go on and get a piece.
Comments (0)