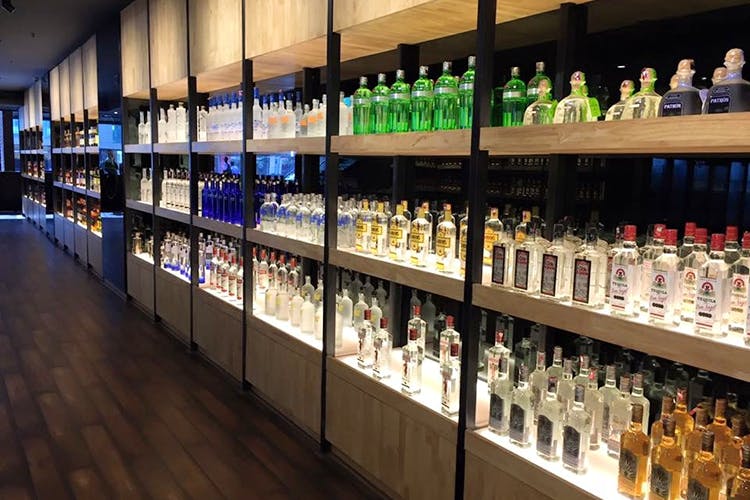 Asia's Biggest Liquor Store Is Coming To Town And We Know Exactly Where
Touted to be Asia's biggest liquor store, Tonique is all set to open in town and it's smack in the centre of the city. No, really. It's literally postcode 560001, at the beginning of MG Road, near the Cubbon Park side. That's right, you're mapping it in your head, and by now you've realised we're talking about what is still known as the 'Jewels de Paragon' building! It was shrouded in mystery thanks to a black scaffolding, and then all of it, including posters that simply said Tonique, went missing, which we panicked and assumed meant the store was not opening. But all that has been cleared up, and the big board with the wine glass etched in it is proudly up. And we snooped and we realised that it isn't just one floor, but two glorious floors of all kids of spirits.
If the first outlet in the country, at Jubilee Hills in Hyderabad is anything to go by, Bangalore is in for a real treat! Apparently, they stock over 1,500 brands of alcohol from across the globe. From fine wines and whiskeys to liqueurs such as Kahlua and Cointreau, they've got it all. In fact, they call themselves a liquor mall as they go well beyond just the spirits too. You can get home brewing supplies to make craft beer, bottle openers and anything else one can possibly need to set up a swanky bar at home. Except the mixologist. They don't have those on sale! When we checked out the Hyderabad store, we were floored by the collection of wines — from exclusive vintage ones from Europe to good old Sula and Krsma. Hopefully, the Johnnie Walker private collection off whiskey will all arrive here. Feel free to get it for just INR 5 lakh.
Watch this space for more…
Comments