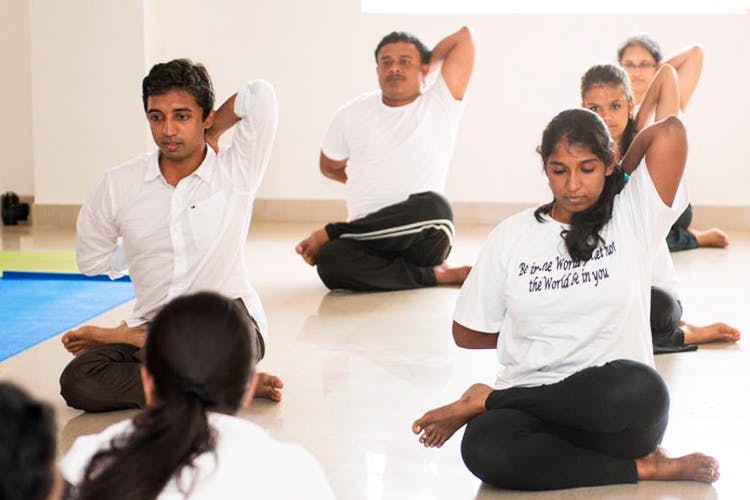 Whether You Are 5 Or 55, This Yoga Studio In HSR And Electronic City Has A Programme Suited To You
Shortcut
Forever busy? Don't let that stop you from being fit and healthy. August Yoga, a yoga studio located in HSR layout and Electronic City, is here to help with its hatha and astanga yoga classes, tailor made for modern requirements. They welcome everybody from kids to amateurs and even veteran yoga practitioners. 
Get Into The Yoga Way Of Life
August Yoga comes with a bunch of yoga practitioners, who are trainers. It includes trainers like Jumshid who is a level 3 practitioner of Mysore style Ashtanga Vinyasa and Nitin who has been practising yoga for more than 15 years. August Yoga's approaches are based on the original teachings of hatha and ashtanga yoga. The group sessions focus mainly on weight loss and health, however they also conduct private classes that can also take place in the comfort of your house at whatever time is suitable for you. One-on-one classes are also conducted for those who are facing health problems or dealing with an injury. All of August Yoga's sessions are open to everyone, and trainers help new members catch up with the class by spending more time with them, while simultaneously they help seasoned yoga practitioners in perfecting their pre-existing skills.
Mini Yoga
They have sessions for your tiny ones as well. These kiddie sessions are more fun and light, and include asanas, pranayama, visualisation meditation, deep relaxation, yogic games, and positive affirmation songs. Through yoga, kids apparently gradually develop positive perceptions and good and healthy habits. These sessions are available for anyone from the age group of 4-12. Anyone older than that can apply for their regular classes.
So, We're Thinking...
if you're still unsure about yoga being your thing, you can register for a free class to get a glimpse of what you're getting into.
Price: INR 300 per session. Monthly membership for INR 3,000, which include approximately 20 sessions.
Timings: Monday to Friday, 6.15am -7.30pm, Saturday & Sunday, 8.30am-9.30am.
More Information
August Yoga
Nearest Metro Station: Indiranagar
Comments