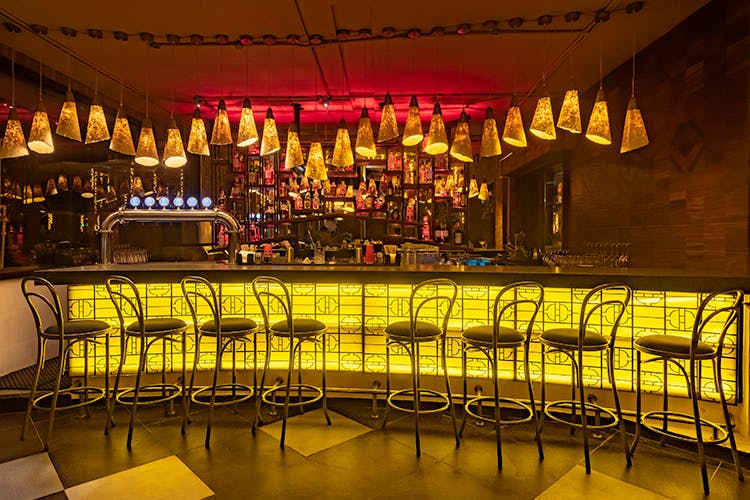 Reasons Why You Should Drop Everything And Head To Aurum Brew Works Right Away!
What Is It?
Going to bars in Bangalore is not a calming experience. Most are noisy, cramped, and dirty. People throw elbows on their way to the bar. But as I walk into Aurum Brew Works on Sarjapur Main Road, the atmosphere there is gaping. The place is huge, with indoor seating and a large rooftop space with a capacity of more than 550. The beer is reflective of the brewmaster - George's, utmost love for perfection. So basically everything from the awe-inspiring ambience to the courteous staff and just the right music intensity (so that you don't have to say 'what?' every time), this place is perfect for all kinds of plans.
What Makes It Awesome?
Besides their ambience, the beer is phenomenal! Their Belgian Witbier and Hefeweizen are the bestsellers and rightly so, and you should also try Stout , Amber Lager and English IPA's among others from their collection. Pair your pint with some Persian Kebabs which are a must-try or you can literally go for anything else from their Indian, Karnataka & Continental cuisine for a delectable experience. If you are a fan of street food, this place has fantastically transformed some street food recipes from the streets of North Karnataka and refashioned it for you to have an exquisite experience. Plus, Aurum is the only place in Bangalore with around 200 varieties of plants and a partially sheltered terrace making your trip to Sarjapur worth it. And there's more! They host a lot of events and live gigs making it the best place to BE!

So We Are Saying…
If you want to have a gala time with your friends over a pint of awesome beer and some mouth-watering food, this is the place to be!

Comments