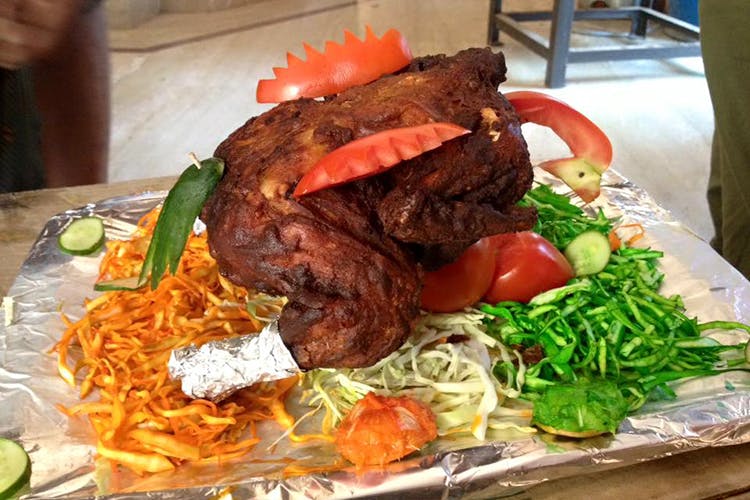 Appams To Beef Curry: This Restaurant In Sarjapur Will Satisfy All Your Nadan Food Craving
Shortcut
For all the homesick Mallus (I am one of them), who long for a piece of God's Own Country on their plate, Lungees in Sarjapur will sort you out food wise.
The Malayali Dream
Serving authentic Kerala food (that too for just INR 500, for two) that tastes completely home made, in a setting that looks like a typical tiny house in Kerala, you will be transported to the coconut plantations with whatever you order here. Aligned to the food, the ambience too, is absolutely homely, with brick walls consisting of Kathakalli-themed paintings, wooden tables and golden lamps. Although the place isn't too big, it's not always crowded (except on weekends), as people living close by prefer to get the food home delivered and make a day out of it with the family at home.
They also have cool themes such as meat day where all different kinds of meat are offered, or one entire week of seafood specialities, or a week where all the food comes packed traditionally in banana leaves. 
God's Own Cuisine
All the Kerala speciality dishes were spot on, and my mother (who is responsible for my Kerala genes) was reminded of her grandma's food. Head over here for their Sunday Special breakfast combos of light, fluffy appams with chicken stew, vegetable stew or a egg roast (the egg roast was our favourite), the staple Puttu Kadala or Idiappam (stringhoppers) with egg roast. If you're making it a lunch or dinner affair, they have combos for that too. Do try the classics, the beef fry and parotta is full of flavour, and satisfying. If you're a biryani enthusiast, try the authentic Malabar biryani; though some say, it is an acquired taste.
The meals include avial with a variety of vegetables, the basics including thoran and sambar (the best part of the meal), and the specials like mango pullissery, mezhukkuperati (chopped long beans with onions) and a payasam. The best part of any Kerala meal is the seafood options, and Lungees did not disappoint. The Irachi roast is one of the common favourites, and the prawn meal consists of five different kinds of prawns, so go to town with that. The chicken roast is also highly recommended. Wash it all down with a lemon soda in a cool bulb shaped glass.
Comments