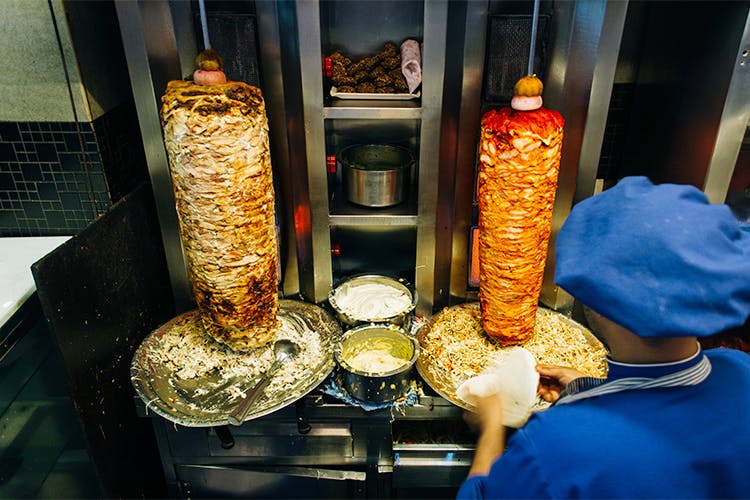 Savoury, Byblos, And Zaitoon: Here's Where You Can Get (Almost) Authentic Shawarma In Bangalore
We'll be honest with you, there's probably no place in Bangalore where you get the exact version of what's served up across the Middle East. But we do come very close to the real thing, we promise! At many Arabian and Tandoori joints around town, you'll find tummy pleasing shawarmas that come stuffed with the goodness of roasted meat, crunchy veggies, the sourness of pickles, and creamy sauce. What more can you ask for?
Byblos
Skip to the sandwiches section on their menu to find their Chicken Shawarma. The thin wrap is stuffed with generous shavings of meat and is accompanied by pickled cucumber and French fries. A delicious garlic sauce lends creaminess to the dish. Want to skip the wrap completely? Then choose their Shawarma platter where you get nothing but the grilled meat and the above-mentioned accompaniments.

Price: INR 850 for two (approx).
Zaitoon
Every evening, customers line up at this restaurant for their grilled meats and their stellar shawarma. Their authentic Shawarma Roll comes with the tried and tested stuffing — chicken dressed up in a luscious sauce with a bit of chopped up greens thrown in for good measure. However, if you want to switch things up, you can swap the bread for a good old paratha and also order up a Hummus or a spicier Mexican version.

Price: INR 300 for two (approx).
Savoury
Many who have lived and dined in the Middle East deem that Savoury's shawarma is as authentic as it gets in Bangalore. You can swing by any of their many outlets to chomp your way through a plump shawarma that comes with either a creamy, meat stuffing or a lightly spiced one. Slivers of lettuce and pickles make up the rest of the shawarma. They also have a hummus version if you'd like to ditch the heavy sauce for a healthier version.

Price: INR 300 for two (approx).
Raidan
While the rest of the menu at this small joint doesn't offer much to rave about, their Shawarma Rolls are an exception. We recommend that you pack home the Jumbo Shawarma, a giant roll that's stuffed with succulent meat, and you'll have a great meal to wolf down. They also do an Only Chicken and Hummus versions that are popular as well.

Price: INR 300 for two (approx).
Just Shawarma
Concentrating wholly on shawarma, this fast-food enterprise has opened kiosks in many neighbourhoods around town (including Jayanagar, Koramangala, and Sarjapur). Their Whole Meat Shawarma that's got plenty of chicken in it and the Shawarma On Your Plate (a deconstructed version of the dish) sell like hotcakes. The pocket-friendly prices are another draw.

Price: INR 160 for two (approx).
Kabab Magic
There are plenty of Kabab Magic outlets around town but it is their Jayanagar and Basavanagudi shops that do brisk business. The Shawarmas here are on top of everyone's favourite list and you'll definitely get bang for your buck. For around 65 bucks, you can take a chunky roll that gives you plenty to chew on. Shell out a little more and you can order up a roll without onions.

Price: INR 130 for two people (approx).
Social
The deconstructed Shawarma, Yo Mama from this popular watering hole comes very close to the real deal, we've been told. Offered at all the three outlets, in the city, you can get your hands messy by putting together the DIY Shawarma here. But it is so worth the effort. In downy, lightly toasted kaboos, you can stick spoonfuls of roasted chicken, hummus, and a bevy of sauces before finishing up with a bunch of french fries.

Price: INR 700 for two (approx).
Alibaba Cafe And Restaurant
One of the best known Arabian restaurants in town, Alibaba offers patrons a few delicious options in Shawarma. They have a chicken version if you prefer to play it safe. But you could also sink your teeth into a lamb shawarma here. In both these offerings, the meat comes wrapped layer of freshly-made pita bread. Vegetarians too can bite into shawarmas stuffed with chickpea patties here.

Price: INR 300 for two (approx).
Thunder Fried Chicken
Don't let the rather hefty name of this place scare you away. This compact joint is best known for its tandoori items along with the top-notch shawarma. Order up a takeaway and you can take home a sizeable roll that's packed with juicy bits of chicken, dressed up in a generous helping of sauce. They also have a plate version — with just the meat and pickled carrots drenched in sauce – if you prefer.

Price: INR 200 for two (approx).
Didn't feature your favourite Shawarma joint? Tell us comments below.
Comments