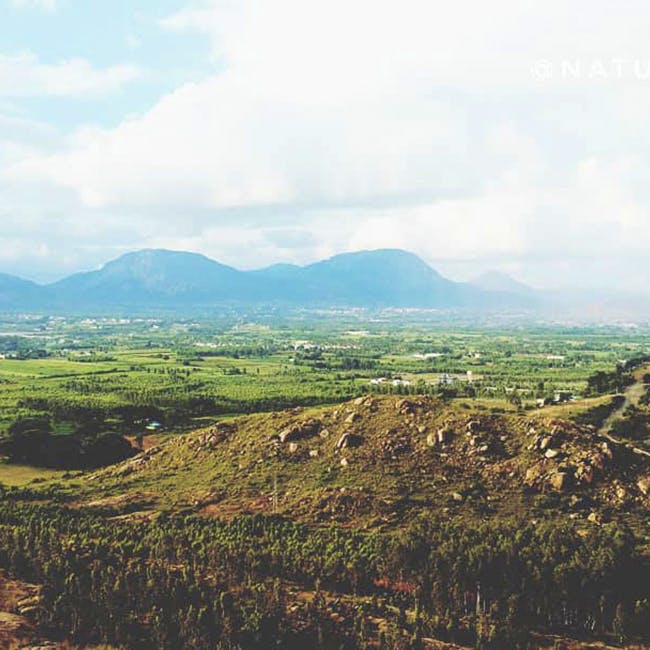 Casually Hike Up And Mountain Bike Down This Hillock Opposite Nandi Hills
Shortcut
Avathi Hills opposite Nandi Hills is like the latter's lesser known, but more adventurous cousin. Hike up to catch a Nandi Hills sunrise, and Bike down for that dose of adrenaline.
What Makes It Awesome
Adrenaline junkies in town, listen up! Grab your bikes, and sense of adventure and head to Avathi Hills (or Avathi betta) near Chikkaballapur. Pedal down rocky trails, or just do some light trekking instead. And if you're religious, there's a small temple too.
The hills are home to Bangalore's Mountain Festival and the Bangalore Bicycle championship, as well as many a hiking group honing their skills. The hill is opposite Nandi Hills, but not as high as for that bird's eye view; you can still catch a pretty sweet sunrise over them. To get there, use the regular Nandi Hills route and take a right after the CANFRI Cancer Awareness Centre. While the initial stretch of road is (currently) undergoing maintenance work, parking is available, and there's a clear path until the Lakshmi Narasimhaswamy Temple at the base. An unmarked trail leads to the summit, and the peak is rocky with scraggly vegetation. Fair warning, there's no shade to protect you from the sun (or the wind), so pack your shades, hats, sunscreen and make your way up.
For biking purposes however, if you know the ropes, then feel free to hit the ground, wheels turning (though we'd recommend canvassing the place for potentially usable trails first). Noobs, most adventure sports companies, (cycling clubs too) in town, especially biking and cycling ones arrange periodic visits, no matter the level of your expertise, gear included. So hit them up, and get pedalling!
What Could Be Better
Google Maps doesn't actually give you a location for Avathi Hills (or usable trails), but does for the temple, so you'll need to search for the latter.

Pro-Tip
The temple is operational from 6am - 6pm, and there's a cave temple nearby if your sense of adventure isn't bound by your beliefs.