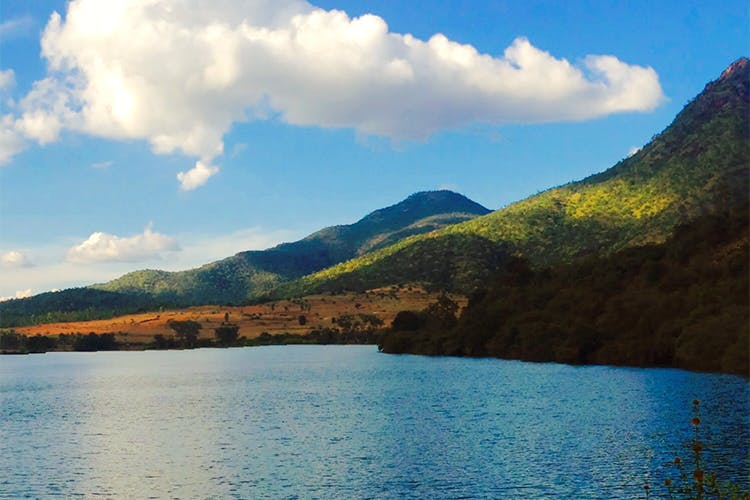 Find Scenic Views And Your Inner Zen At This Tranquil Lake Near Chikmagalur
Shortcut
Far from the tourist crowds, Ayyanakere Lake makes for a picturesque picnic spot. A must visit when you are holidaying in Chikmagalur.
What Makes It Awesome
One of Bangalore's favourite weekend getaways, Chikmagalur is all about lush hills and endless coffee plantations. You can spend your time here wandering about hiking trails or exploring the area's rich wildlife. But if you are looking for something slightly offbeat yet stunning, we recommend a trip to Ayyanakere Lake. Located around 20kms from Chikmagalur, Ayyanakere sits at the eastern base of the Bababudangiri hills. It is said to be one of the largest lakes in the state and was built by a local chieftain eons ago.
Legend has it that the chieftain, Rukmangada Rays, was moved by the plight of the local farmers and built an embankment on the River Gauri Halla. Since then the lake irrigates farms around here.While tourists and travel bloggers are heading to Ayyankere much more than they used to before, it remains largely unspoilt. The gorgeous waters of the lake are surrounded by mist-covered hills. Chief among them is the conical shaped, Shakunagiri, that's about 4500 feet. You can take in the views (and also plenty of selfies) from a jetty that runs into the waters of the lake. You can also choose to visit an ancient temple that houses a couple of stunning sculptures and sits on the banks of the lake.
Comments