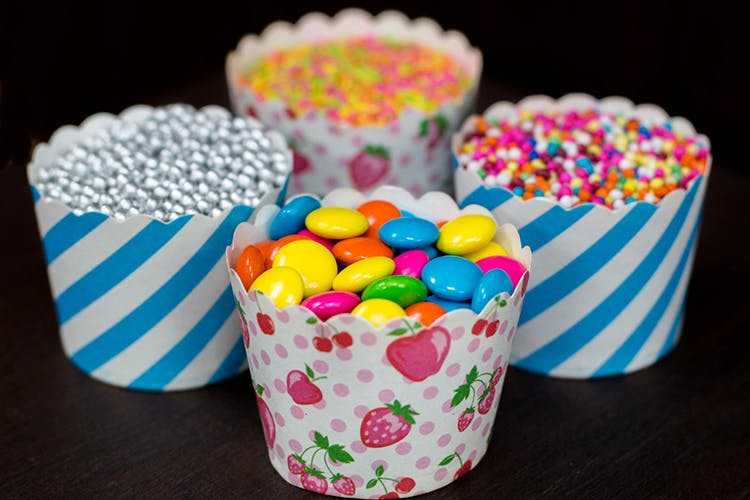 Dried Berries To Cake Gel, This Store In Kalyan Nagar Is Giving Us Major Baking Goals
Shortcut
Baker's Needs is a one-stop shop for all your baking ingredients and supplies. With everything from cupcake liners to cake gel, this store is a baking enthusiast's dream. And while you might be thinking you can pick up a bottle of chocolate sauce or a stick of unsalted butter from any department store, here's our list of seven interesting baking ingredients you can find here at great prices.
Flavouring Agents
These guys have stocked up on quite the range of food flavouring. From almonds to peppermint and mango, give your baked goods a kiss of these flavours to give it that extra something. We even spotted a bottle of American Ice Cream flavouring and we couldn't help but think of the endless sweet possibilities that little bottle contained. The prices start at a modest INR 24 for a tiny bottle, and since you'll only need a few of drops for every item, there's plenty in here for many cakes and bakes.
Nuts About Nuts
Walnuts, pistachios, almonds, get them all here sold loose, although they have pre-packed varieties if that's what you prefer. You can buy all this nutty goodness by the gram and they come at wholesale prices. A quarter of a kilogram of walnuts, which would sink a deep hole in your pocket anywhere else, will cost you a reasonable INR 250 here. And these guys seem to be quite the cashew enthusiasts, stocking a whopping eight varieties of the nut. Full cashews, half cashews, baby cashews, the works. And they come here in big tin canisters stocked to the brim so you can buy as much as you'd like.
Currants And Berries
If you're anything like me, the minute you see an unfamiliar ingredient while watching a Buzzfeed Tasty recipe you want to recreate, your heart breaks a little. But what if we told you that you could get exotic ingredients like dried cranberries, blueberries and black currants here, sold by the gram. That's right! This place stocks up on these berrylicious ingredients and 100 grams of dried cranberries will only cost you an easy INR 100. The dried blueberries come at INR 250 for a 100 grams and the black currants cost a mere INR 50 for the same quantity.
Sprinkles And Silver Sugar Pearls
Perhaps the prettiest ingredients of the lot, we could not get enough of the fun sprinkles and other edible decorative elements they had. From rainbow sprinkles that came in the little ball and strand variety, to silver sugar pearls, they had everything to make a cake or cupcake almost too pretty to eat. Almost! They even sell coloured candy, much like the Cadbury Gems and Smarties of our childhood days. Oh, who are we kidding? They're still very much a part of our adult lives and we could not resist buying 100 grams of them, which came at just INR 30.
Syrupy Sweetness
From butterscotch syrup to a peach and apricot crush, this place has got it all. With almost an entire aisle devoted to squash, crush and syrup, find a whole range of unusual flavours to upgrade your smoothie or soak your baked goodies in. Some of the unique favours we spotted are pina colada, grenadine, coffee, kesar, kiwi, blue curacao and fig and honey. Yep! The choices here are endless.
Cake Gel
Yeah! We had no idea what this was either until the friendly staff here enlightened us. Cake gel or cake improvers are simply a blend of vegetarian emulsifiers that help us bake better cakes by adding size and volume and giving it a finer crumb structure. It can be easily mixed in with whatever you're making. You can find it here and a 1kg tub of it will cost you INR 180.
Spices
There's a corner in this shop that is basically one big spice rack with everything from elaichi to black cardamom. From restocking your mother's masala tins to giving your baked goods a nice kick of spice, they've got your spice needs sorted. You can buy these too by the gram with 100 grams of elaichi or cloves or cardamom costing you INR 180. So go ahead and spice it up.
#LBBTip
Baker's Needs operates as an over-the-counter store where what you want will be brought to you. But if you want to have a closer look at their stuff, ask the staff before stepping inside. Also, their lunch breaks are around three hours long, which means the shops is closed from 2.30pm to 5.30pm.
Comments