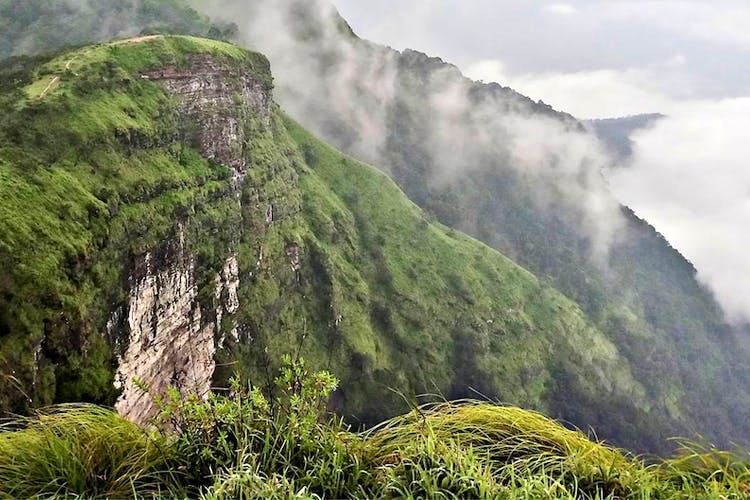 Panoramic Views Guaranteed: It's Trekking Time At This Ruined Fort Atop A Hill In Chikmagalur
Shortcut
Roughly six hours from Bangalore, the hills of Ballalarayana Durga is a spot for pristine nature, history, and camping. Time for that road trip with the squad?
The Fort Awaits
Picture a ruined fort atop a hill in the midst of the greens of the Western Ghats. Paints quite a picture, right? That's Ballalarayana Durga for you. Located in Chikmagalur district, the hills of Ballalarayana was once home to a majestic fort built during the 12th century. Today, all that remains are the periphery walls, arches, entrances overrun with vegetation, and dilapidated sections that stand as proof of the once majestic fort. Fans of Indian Jones and Tomb Raider will agree with us when we say that despite the ruins does present a sense of mystery and history to the hills, so put on your adventure cap and explore the what remains of the fort's Dravida style architecture.
Even though the fort doesn't offer much in terms of architecture, it makes up for that big time with brilliant views. Once you have made your way to the top of the hill, just settle down into the carpet of green that covers the entire hill. Relax, roll around, and take in the view and that fresh air as much as you can. Detoxing on a hilltop as it's own charm. Shutterbugs keep your camera on standby as there are times when the mist disappears and you are presented with a vast expanse of gorgeous forest cover. Do not miss out on the sunset from up here. It's to die for!
Pitch A Tent
A popular trekking spot, with the trail from Mundaje through Bandeje Arbi to the hilltop fort being the most frequented trail, Ballalarayana Durga also presents you with a spot for camping. While the hilltop is a bit tricky to pitch tent owing to hard grounds and frequent winds, Bandeje Arbi is where most trekkers and campers suggest you pitch your tent. But there are spots around the ruins of the fort where you can, meaning hilltop camping can actually be on the cards. In any case, wherever you are pitching tents, be sure to check out the Bandeje Arbi Waterfalls. You will need a guide for this part of your trek as it involves going through the jungle, so we suggest asking the forest department to help you out with an experienced guide.
Comments