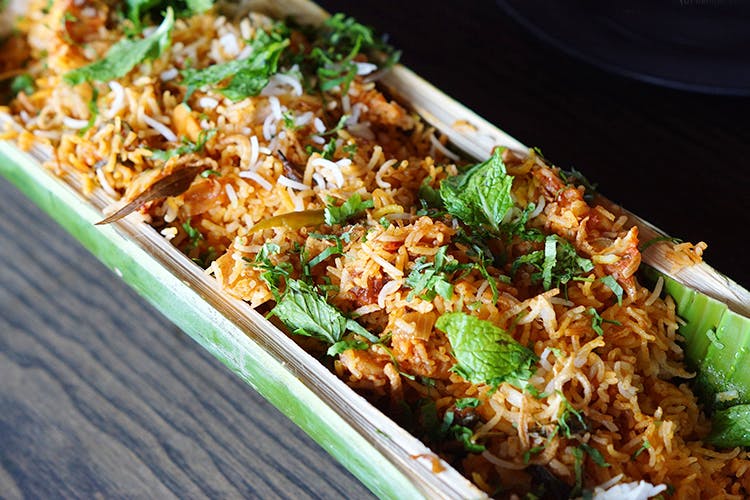 Delivery Available

Wi-Fi Available
OMG! This HSR Restaurant Serves Three Kinds of Biryani Cooked Inside A Foot Long Bamboo
Shortcut
It's biryani but it's cooked in a bamboo. And it's all kinds of yum. Let your tummy feast on Broadway — The Gourmet Theater's three kinds of bamboo biryani.
What Makes It Awesome
We have tried almost all kinds of biryanis including the popular donnes, dums, and Malabari varieties. But a bamboo biryani is something we haven't tried yet. And finally we did and we liked it. Basically, it's biryani that's cooked in a foot long-ish bamboo that's been sealed by maida. Available in three varieties — vegetarian, chicken, and mutton — the biryanis are a must-have especially if you are on a crusade to try every kind of biryani there is. Coming to the flavour, the biryanis have a spicy kick as well as a slightly smokey flavour. Not the masala spice that overpowers everything, but the kind that goes well with the raita served on the side.
The foot-long bamboo can be easily shared between two people, but if you are like us who don't really share food, then you're sorted till your next meal. The vegetarian biryani is priced at INR 300, while the chicken and mutton come at INR 350 and INR 400 respectively. See the prices are quite reasonable too and plus you get to enjoy some fine-dining experience while you are at it. Oh, and have you tried beer with biryani? Well, here's your chance to try it as the restaurant serves alcohol too.

Pro-Tip
In fact, you'll be surprised to see that the main attraction of the place is the teppanyaki section and a big menu dedicated to unusual South East Asian cuisine. You can read about our teppanyaki experience here.
Also On Broadway - The Gourmet Theatre
Comments
Delivery Available

Wi-Fi Available