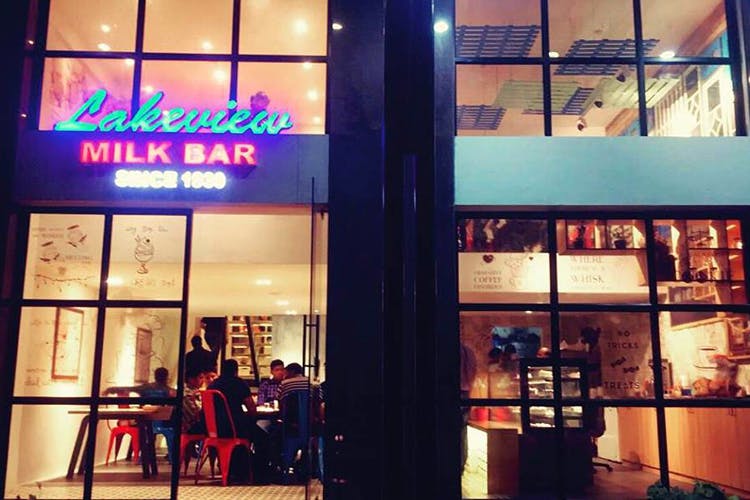 Dating Spots In The City For Every Kind Of Couple
It's not really hard to fall in love in Bangalore. There's a vibe that makes you think everything is okay, and really it is! So while there's malls and nightclubs, nothing quite compares to a walk in the park, or sharing a bag of popcorn in a single-screen theatre. And the LBB Crew is here to make you rediscover those forgotten places and fall in love the old-school way. And if you need some inspiration, we're taking a walk down memory lane to places that are all about Lima. Oscar. Victory. Echo.
National Gallery of Modern Art
Admiring the artworks or even trying your hand at decoding some of the more abstract ones at one of the city's best art galleries can actually be fun (we mean it). And, of course, exploring something new together would also mean making new memories and experiences, bringing you closer to each other. When you have had your dose of art, take a stroll around the quiet garden-space or head to their cafe for a cuppa.
Bannerghatta National Park
While a date in the jungle might sound slightly unusual, this is a great option for nature lovers, we think. Go on the Jungle Safari which might get a close view of a mighty beast or two. With a zoo, a pet corner, a butterfly enclosure, an aquarium and a snake park to check out with your special someone, this place will keep you engrossed for a whole day.
National Parks & Wildlife Sanctuaries
Lakeview Milk Bar
This is as old-school as it gets. Having been around since 1930, Lakeview Milk Bar was the favourite place for many a date night we're told. Head here with your partner and spend some quality time while trying out their legendary ice-creams and milkshakes. Oh, and don't forget to order yourselves one of their Roast Lamb Sandwiches. We love that you even have the option of sitting in your car and getting your favourite ice-cream delivered to you.
Blossom Book House
A date spent amidst bookshelves spilling over with books? Yes, please! Whether you choose to buy books for each other or just browse through their collection while discussing about your favourites, this beloved second-hand bookstore might well be an ideal date for book-lovers.
Sankey Tank
Keep it simple. Sit by the lake, lost in conversation, take a walk in the landscaped park with your partner or go for a boat ride around the tank. As the lake becomes home to many migratory birds during winter, you could even do a bit of bird-watching. If both of you are fitness freaks, make it a morning date and go jogging together on the paved walkways near the lake. Nothing like watching the sunset from here too.
Night At The Movies
Fancy a good old movie date? Look no further than PVR Cinemas, one of the top favourite cinema halls in town. Be it the charm of the luxury seats or the presence of your loved one, we bet you will have a wonderful time catching the latest flick here. And of course, order a massive tub of popcorn!
Olive Beach
While this one may not be unconventional, you have to admit that nothing says romantic like a candlelight dinner. Dine on Mediterranean delicacies, paired up with some fine wine while you enjoy the ambience, and each other's company, of course.
Embassy International Riding School
Ideal for a romantic weekend getaway not too far from town, this riding school lets you experience a galloping adventure with your significant other. Apart from trying your hand at horse-riding and feasting on the wholesome Italian food at Ai Cavalli, we suggest you also opt for their fully-furnished tents where you can camp for the night.
Grover Vineyards
Stroll hand in hand at this tranquil vineyard or sign up for their winery tour which lets you explore the process of wine-making, and you've got yourself a delightful date, we think. Oh, and did we mention this includes lunch and a session of wine tasting as well?
Nandi Hills
This one may be cliche but it is, without doubt, a foolproof idea for a great day out with your partner. Set out on the long drive early in the morning and get there well in time to catch the breathtaking view of the sunrise. You could even pack up some sandwiches and make it a picnic.
Comments