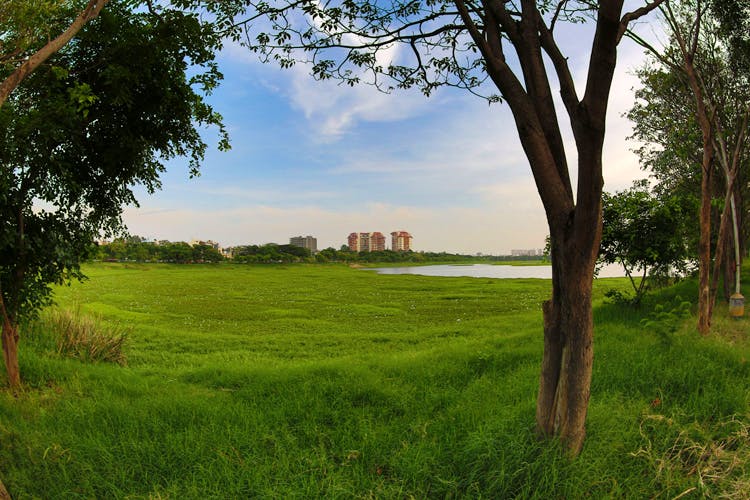 11 Places In Bangalore And The Meaning Behind Their Names
Shakespeare said "What's in a name?", but then to complete this phrase, we put his name as the suffix! Though it is true that a name does not matter much, but at times, it is the only way to know more about certain things or elements. And when it comes to the names of places, it plays an important role in showcasing or uplifting its history or roots. Here are some of the most popular localities in Bangalore and the interesting anecdotes behind their names. Let's see how well you know about your favourite city and its popular localities!
Marathahalli
While in Bangalore, you might come across plenty of places that has the suffix 'halli' at the end. Ever wondered, why so? Well, 'halli' in Kannada language means 'village'. And for Marathahalli, this vicinity in Bangalore, once had a plane crash. An aircraft named 'Maruth' met with an unfortunate accident and hence this area got its name.
BTM Layout
Almost everyone in Bangalore has a friend who lives in BTM Layout! Ask them, why this layout in the city is named such, and check out their quirky thoughts and imaginations! Here is why this area is known as BTM Layout. As this area connects three of the popular vicinities: Byrasandra, Tavarekere and Madivala, it got its name from the initials of these three places; thus BTM Layout.
HSR Layout
One of the fastest growing suburbs in the city, HSR Layout in Bangalore is an ideal residential area and was once a part of the Agara Lake. A connecting link between Hosur and Sarjapura Road, this locality also got its name as BTM Layout got its name; the 'H' in the name stands for Hosur, 'S' & 'R' stands for Sarjapura Road.
Banashankari
One of the most bustling vicinities in Bangalore, Banashankari is also the largest locality in the city. Surrounded by neighbourhoods such as Jayanagar, JP Nagar, Kumaraswamy Layout, ISRO Layout and others, it lies between Mysore Road and Kanakpura Road. The origin of Banashankari's name comes from the Banashankari Amma Temple located on Kanakpura Road and is one of the oldest temples in the city.
Basavanagudi
The major commercial hub during the 70s and 80s, Basavanagudi is amongst the oldest localities in Bangalore. Located close to Jayanagar, this suburb got its name from the sacred 'Bull Temple' that has a monolith structure of 'Nandi', the bull. In local language, Basava means bull and gudi means 'temple' and thus the name Basavanagudi.
Domlur
A hub for techies, Domlur boasts of several MNCs and IT giants. Any techie in Bangalore must have made it to this area at least once during their days in the city. Previously known as Bhagat Singh Nagar, though the exact meaning of Domlur is not known, it is said that the present name has been derived from the Kannada word Tombalur, a flower used to worship Lord Shiva.
Koramangala
Whether new or old to Bangalore, Koramangala is one neighbourhood that attracts everyone! Dotted with shopping malls, delicious eateries, and fun places to hang out with family and friends, this hub in Bangalore has created quite a niche for itself. Well, when it comes to how this locality got its name, scholars and researches has put different theories. One of the most relevant or acceptable theories state that kora in Kannada means overhaul and mangala means welfare.
Rajajinagar
C Rajagopalachari or 'Rajaji' was one of the prominent and influential freedom fighters from Tamil Nadu. Not just this, he also served as the first non-British origin Governor General of India. Rajajinagar got its name from this great freedom fighter and has now become one of major hubs in Bangalore. Names like World Trade Centre and Orion Mall adds more glamour to this locality.
Sadashivanagar
Till the 60s and 70s, this area in Bangalore served as the summer destination for the Wodeyar kings of Mysore and was known as Palace Orchards. Later in the 90s, it was renamed as Sadashivanagar in honour of the great Kannada freedom fighter and philanthropist Karnad Sadashiva Rao.
Nagarbhavi
Popularly known as home to 'Bangalore University', Nagarbhavi is another popular suburb in the city. The word naga in Kannada means snake and bhavi means well. And thus the name Well of Snakes. The large number of snakes found in this area in Bangalore gave it, its name. The locals also believe that the area got its name due to its well-like shape and form — small hillocks surrounding Nagarbhavi make it look like a well.
Whitefield
After Electronic City, Whitefield is known to be the second most preferable destination for techies. But till 1882, this portion of the Garden City was hardly inhabited! In the following year, the then ruler of Mysore, His Highness Chamaraja Wodeyar IX donated a portion of this region to DS White, the then President of the Eurasian and Anglo Indian Association. The neighbourhood then got its moniker from White's name.
Comments