The information in this post might be outdated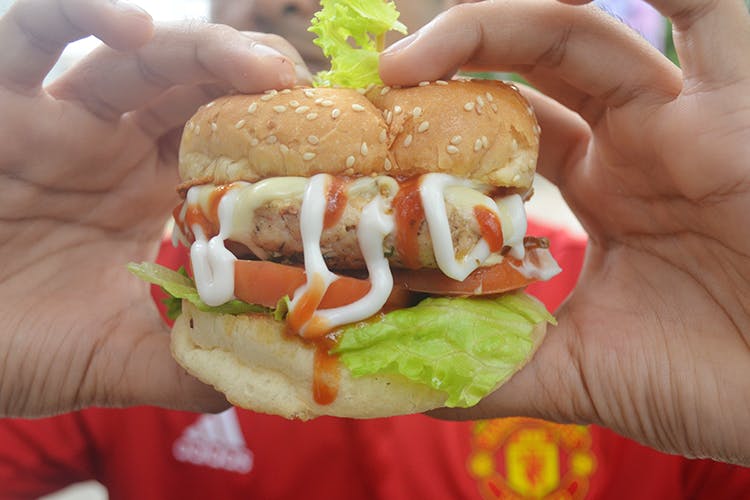 Nearest Metro Station:

Swami Vivekananda Road
No Cash? Exchange A Book Or Art Work And Get Food In Return At The Moshpit Food Truck
Shortcut
No really, Moshpit has a barter system that works out pretty well when you don't have money on you. Exchange anything like a book or the likes and boom, you have food to munch on.
Bartering Like The Good Old Days
Two chickens for a sack of grains? Isn't that what the norm was for our ancestors when money wasn't invented? Well, fast forward to the age of food trucks, credit cards, e-wallets, millennial speak, and the likes, you can turn in Two Chicken Soup for the Soul in exchange for a saucy burger. Neat, right? Well, thank Moshpit for reminding us of the good-old times and how that money isn't really important when it comes to good food.
Now, remember guys, when we say exchange anything, it doesn't literally mean anything. Things of value like a good book, a tee-shirt, cool decor pieces that can be used to pimp up the food truck, and great ideas are all that's welcome. Basically, anything that you would generally exchange in good faith. Abhinav, who runs the food truck, has so far got a collection of a few books and he is all about starting a small mobile library with the books that are bartered here. Well, one thing we can say is we are loving it!
What's Cooking?
The menu is all about comfort food with the usual fare of pasta and burgers. Everything's homemade — from the patties to the sauce, so you know you are getting something that's fresh and hot off the grill. We tried the Pasta Arrabbiata along with a slightly sloppy grilled chicken burger. The pasta was greasy and spicy, just the way we like it with the burger being satisfyingly good. It was served with a side of chips and salsa, and that certainly was a winner with us.
Presently roaming around the city and parking itself in the many tech parks of Bangalore during lunch time, with Bagmane Tech Park being a usual hub, the food truck parks itself in the busy 12th Main Road of Indiranagar on most weekends. Look out for the light blue truck with yellow paint job parked right outside Haagen Dazs. You can track the food truck by following their Facebook page here.
Comments
Nearest Metro Station:

Swami Vivekananda Road