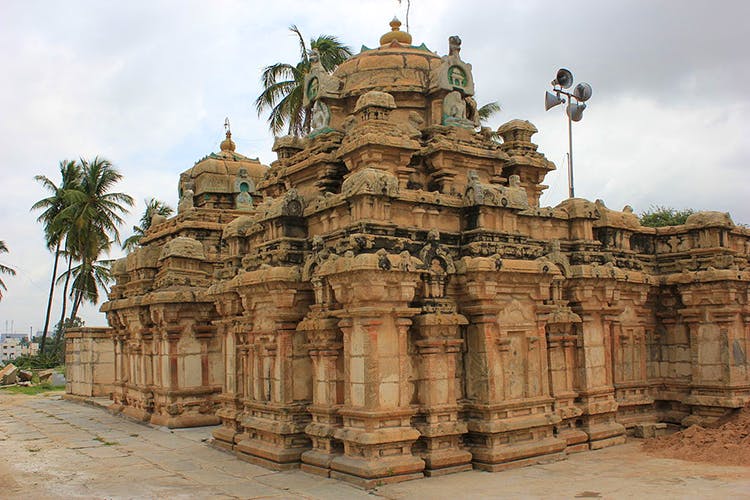 History Buffs Can Find The Oldest Known Reference To The Name 'Bengaluru' Here
Shortcut
Over a 1000 years old, Begur Fort and the Nageshwara temple lie in between Bannerghatta and Hosur Road, for days when you want to visit something of historical value and not in the middle of hustle and bustle of the city.

What Makes It Awesome
It's a short road-trip for most people in Bangalore, but the Begur fort is a small piece of culture in a rapidly growing part of town. The cool part is that is the oldest known reference to the city's name -Bengaluru (we didn't miss out on the fact that Begur is a few letters short of Bengaluru).
The fort is actually 3km off the more popular 1200 year old Naganantheshwara (Nageshwara) temple with classic references to Chola architecture and art, this is where you'll find reference to our city's name. The fort and the beautiful temple nearby have been largely ignored in terms of its potential for cultural and historic tourism. This also means that there aren't too many people around, except during festivals as the temple still functions and sees more footfall from the local population.
The actual Begur fort is not exactly mighty and the structure is a little more than a square kilometre in total and is a made of mud (which seems to have lasted for over a 1000 years!). The fort walls encircle a temple, a few old houses and a couple of nondescript structures of antiquity. The area is grassy and relatively empty with a lake nearby, so we'd recommend you make a day of it (great place for photoshoots also in our opinion) with a picnic basket, your camera and sense of adventure and visit the many other lakes nearby.
What Could Be Better
Unfortunately, the area around is now being rapidly being developed, so if you're going and expecting a serene and empty skyline you'll be disappointed with the number of huge apartments around.

Comments