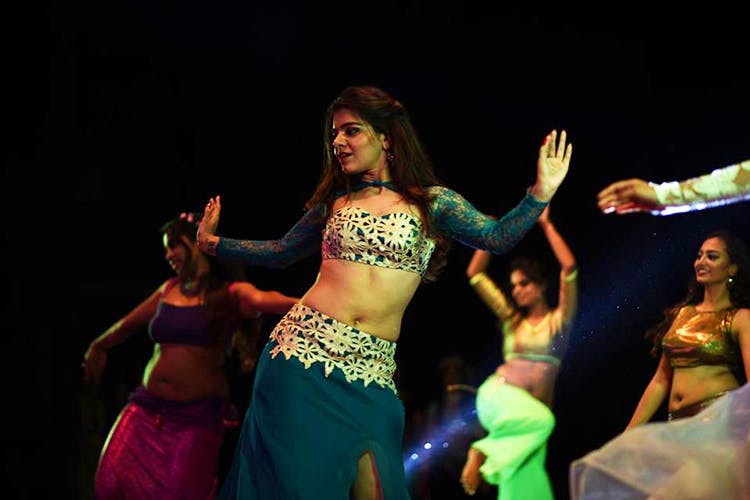 Shake It Like Shakira And Shimmy Away At These Belly Dancing Classes In Bangalore
Working out doesn't have to be a part of the day that most of us are usually dreading. Skip the weights and the elliptical, and workout the fun way by channeling your inner Oriental goddess and swinging your hips in tune to the music. Sign yourself up for these belly dancing classes happening in the city.
Tarantismo Creative Dance Company
In the shimmying game for over a decade now, Arati Punwani has poured her heart and soul into the Tarantismo Creative Dance Company, a space where people can discover a love for dance and self-expression. The belly dancing classes are conducted by Arati's partner, Deepti, who will have you shaking and shimmying in no time. They offer classes of varying levels, so you can sign up for one that works with your pace and get to shaking those hips.
Fusion Dance Studio
Spend your Sundays learning how to sway to the rhythm at the Fusion Dance Studio on New BEL Road. With around four belly dancing instructors on the team, taking two-hour-long sessions every Sunday from 11.30 to 1.30pm, you can sign up for their two-month package for just INR 4,200. Sundays are now for shimmying.
Price: INR 4,200 upwards
Contact: +91 9886052426
FInd them on Fitternity here.
Latino Rhythm Dance Academy
Organising belly dancing classes for beginners, the Latino Rhythm Dance Academy is where you should be on weekends if you've got hips that don't lie. With three belly dancing instructors on board, you can sign up for a two-month package of 16 classes for around INR 4,000 and get to shaking every Saturday and Sunday.
Price: INR 4,000 upwards
Contact: 080 40926810
Find them on Facebook here.
Payals Dance Academy
Conducting regular classes at different levels in the oriental dance form since 2008, Payals Dance Academy now has six outlets in the city. With a fairly spread out schedule in terms of locations and timings and six talented belly dancers there showing you how to swing your hips, sign your self up for their shimmy sessions right away.
Find the nearest class and their schedule here.
Price: INR 4,250 upwards
Contact: +91 9071142248
Find them on Facebook here.
Check out their website here.
Anubis Nirvana Latin & Bellydance
This studio is run by Anubis Nirvana from Venezuela, who has specialised in authentic Latin belly dance for 21 years now. After travelling to and teaching in 15 different countries, Nirvana has made her way to Bangalore and has brought some of her passion and belly dancing lessons along. She, along with her class, organise performances across the city, and the proceeds earned go to charity. So dance away for a good cause too. Currently practising for a big event, Anubis Nirvana Latin & Bellydance will resume schedule by January 2018, so make sure to sign up for it then.
Contact: +91 9972429231
Price: INR 4,000 upwards
Find them on Facebook here.
Comments