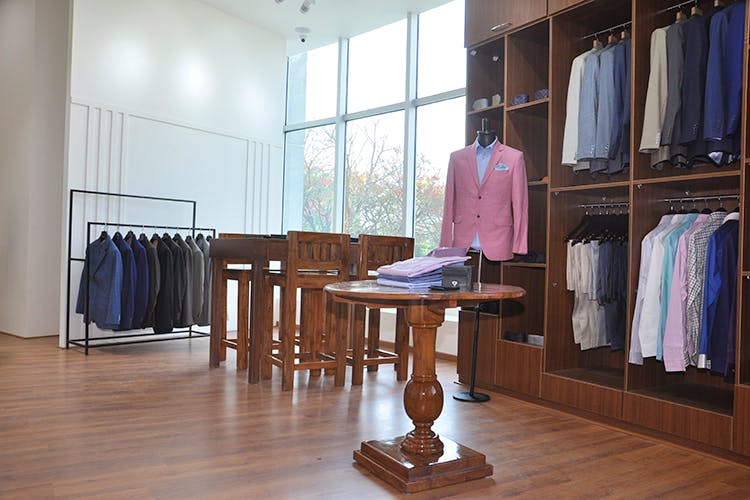 Forget Armani, Strut Away Looking Just As Dapper In A Bespoke Suit By This New Store
Shortcut
Chuck ready-to-wear suits for that finesse of fit and detail that only comes with bespoke tailoring. Stylior, a new store in Whitefield offers innumerable number of fabric and design choices for you to choose from, and they will customise a look, exactly according to what you want.
Style Meets Tailor
Stylior, a take on Style + tailor, is a custom tailor in InOrbit mall that does made-to-fit and bespoke suits, trousers, and shirts. In this swanky studio where bespoke clothing is the pièce de résistance, you have the stylist Bhaskar fussing over you for taking your cuff, shoulder, and multiple other measurements to ensure that the fit is comfortable yet perfect. They know even an inch could be the difference between looking like a door-to-door salesman or Don Draper from Mad Men. Bhaskar along with his team can stitch up just about anything from a whole three-piece suit to a formal shirt. Oh, and did we tell you that the measurements that are taken are put in the database for future orders? It's all very classy and cool, we tell you. It's almost like having Barney's Suit Guy at your beck and call.
Trial Room
We checked into the studio in our millennial wear and we looked a little lost in a world of sharp-looking suits, cufflinks, and ties. But thankfully Khader, the store manager, and Bhaskar made us feel like we have been suiting up all our life. Our experience of picking a formal shirt is restricted to picking a "size L, slim fit" from Van Huesen, but oh, boy at Stylior we were in for a ride. Enter multitude of Raymond cotton fabric pieces of every colour and design and a style sheet that allows you to pick every aspect of your shirt right down to the button placket.
Half an hour later of careful measurements and deciding the fit, sleeve, collar, cuff, pocket, bottom, and button placket of our formal shirt, we picked a light blue cotton slim shirt with full sleeve and a cutaway collar. Angular cuffs were chosen to match the angular pocket with a narrow button placket for that sharp look. Oh, and did we tell you that they even let you add a monogram on your piece of clothing? We have ours being monogrammed on the shirt. Usually, shirts take about eight to nine days for stitching and delivery as the unit is based out in Mumbai, so we are waiting for our first bespoke shirt to arrive. Such excitement!
Quality Styles
The fabrics are sourced from Italy and London along with those from popular Indian brands such as Raymond, Soktas, Huddersfield, and VBC. The last two brands are for suits and apart from your regular suit material, you can opt for tweed, plaid, flannel, and even wool as well.
On the price front, typical two-piece suits start from INR 10,500, while shirts and trousers go INR 1,550 and INR 3,600 upwards respectively. Truth be told, the prices aren't all that expensive considering that suits are an investment.
More Information
Stylior
Nearest Metro Station: Baiyappanahalli
Comments