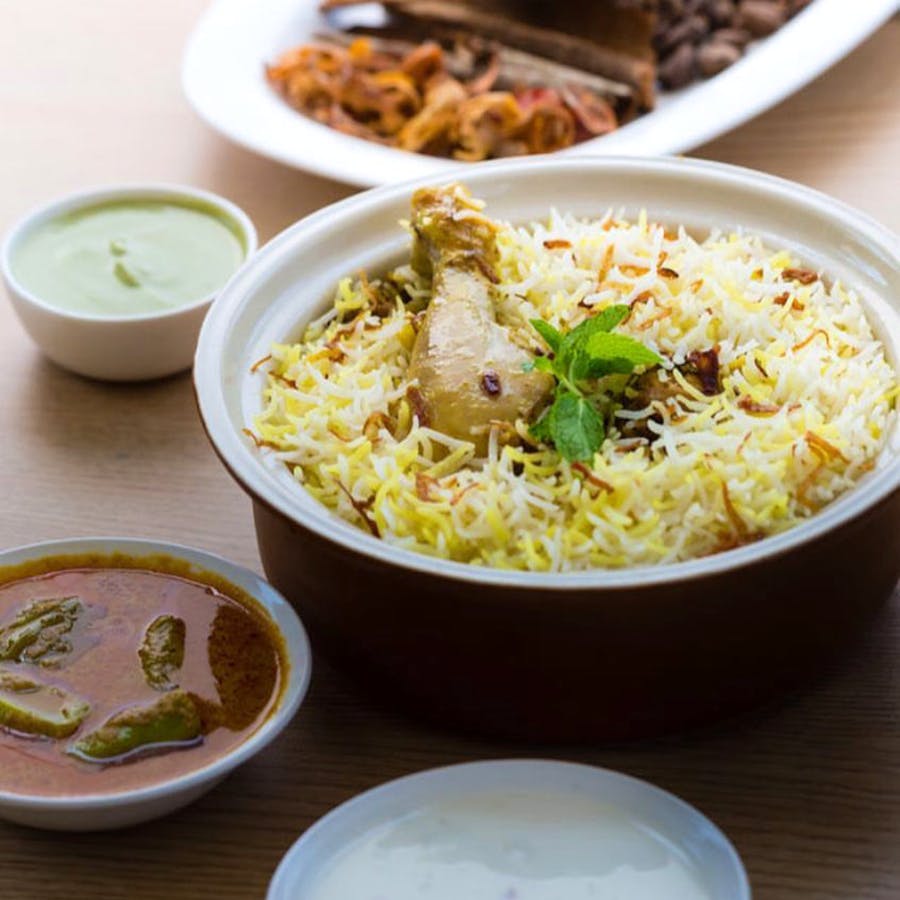 Get Ready To Go On A Biryani Binge At These Restaurants In South Bangalore
If you're like us, then you're craving for biryani every second day of the week. After all, can any other dish be as well balanced in flavour, and indulgent as a good ol' plate of biryani? The dish has evolved over the centuries with influences from different regions of the country and many of these are available in restaurants all across the city. And while we happily celebrate the many different types, we dish out the deets on some of the best biryanis across South Bangalore that will leave you in awe and have you craving for more.

Dadi's Dum Biryani
Located just a few blocks away from Christ University, Dadi's Dum Biryani, with Middle Eastern decor (think lanterns and Arabic-style partitions) will especially evoke nostalgia among Gulf NRIs. The store's name is inspired by the superb Dum Biryani recipe of Syed Afwan's (the GM of Dadi's Dum Biryani) grandmother. And after eating their chicken biryani, we totally understand why. The Hyderabadi-style biryani is made with meat and rice cooked together and topped with saffron and fried onions - it just hits the spot!

Shanmukha
For all you biryani lovers, Shanmukha is the place to go to. Try their Shanmukha Special Boneless Biryani, which has the rice and meat cooked separately but served together and is the perfect blend of spices and flavour. Should you want some more heat, ask for the double masala, and they will give you extra biryani masala to mix in with the rice. Be careful about how much you order, though! We went there and hungrily ordered one biryani each, but the quantity was way more than one person could finish.

Rustic Stove
If you want to try biryani with a twist, head to Rustic Stove. While they have a variety of fusion options, our favourite is the bamboo biryani. Cooked inside a bamboo shoot and wrapped in foil, the rice has that distinct flavour of bamboo along with the spices and the tender chicken. While the overall taste of the dish is mild and flavoursome rather than spicy, we find that it tastes best if you dress it up with a little extra gravy.

Nagarjuna
While we don't recommend going to Nagarjuna's when you're absolutely famished (it's always crowded and you'll have to 'hangrily' wait in line for a few minutes), do go there when you have the time and patience to indulge in one of the best biryanis the city has to offer. Made Andhra style, it is typically spicy and usually comes with two large chunks of chicken or mutton, so it's best to share. Coupled with some onion raita to cool the tongue, it's a meal worth waiting for.

Ambara Gardenia
A contemporary Mangalorean restaurant, Ambara Gardenia is a hidden treasure in Bilekahalli (behind IIM, Bangalore). Try their Nati Chicken Biryani, a peppery, rural Karnataka variant of the dish. The spice quotient is a little mild and features nati koli (country chicken). It's super yum and you will want to eat more than just one serving. If you want to make your meal more special, we recommend you pair your biryani with their robustly flavoured Mutton Kheema Balls (ask to make it with extra gravy!)

Ambur Star Biryani
Originally cooked in the royal kitchens of the Nawabs of Arcot, the Ambur Biryani style has only grown through the years. At Ambur Star Biryani, you will be able to try this amazing dish in the form of a Bucket Biryani and it will require the presence of all your friends to finish the last grain. Try their Seeraga Samba Mutton Biryani which is made from the traditional South Indian aromatic rice, Seeraga Samba. The dish is superbly spiced and is served with raita and brinjal.

Dande's Hyderabad Biryani
This place is no-frills - just comfortable chairs and tables, so don't go here if you're looking for the perfect ambience. But if you're home alone and famished, don't hesitate to order from here! They offer delicious food at reasonable prices. The biryani meat is spicy, succulent and tender, and layered with long-grain basmati rice, fragrant spices and caramelized onions. The quantity is great, too. So you can easily share one biryani between two people.

Fattoush
Located right opposite IIM Bangalore, Fattoush is perfect to have a fancy dinner without burning a hole in your pocket. If you arrive early, you can get a seat near the glass-panelled wall that overlooks Bannerghatta road. While the view isn't perfect right now what with the metro construction and all, the ambience (Arabic themed decor and dim lighting) more than makes up for it. Their Hyderabadi Chicken Biryani is a hot favourite on the menu and we recommend going here for a weekend dinner.

Kabab Zone
The first thing that will catch your eye when you reach Kabab Zone is the shawarma counter and the roasting chicken. Again, this place is better known for takeaways and home deliveries, so don't go there for the ambience. The restaurants offers a range of pocket-friendly options for non-vegetarians that will make your heart jump with joy. From chicken lollipop, chicken biryani and tens of kabab options, you can enjoy a full meal in less than INR 300.
Shivaji Military Hotel
If you haven't tried Donne Biryani yet, head straight to Shivaji Military Hotel. For those of you wondering what Donne is, it translates to biryani cooked over coal and ladled into eco-friendly cups made of areca nut palm leaves. The dish is made with short-grained rice mixed in with layers of coriander, mint and other spices, and has a quintessential aroma that would make you want to gobble up a plate (or two) instantly. If you're looking to add some extra flavour to your biryani, do pair it with some of their other treats like mutton chops, liver and chicken dry. Either way, we guarantee, you will have the best Donne Biryani experience in the city!

Comments