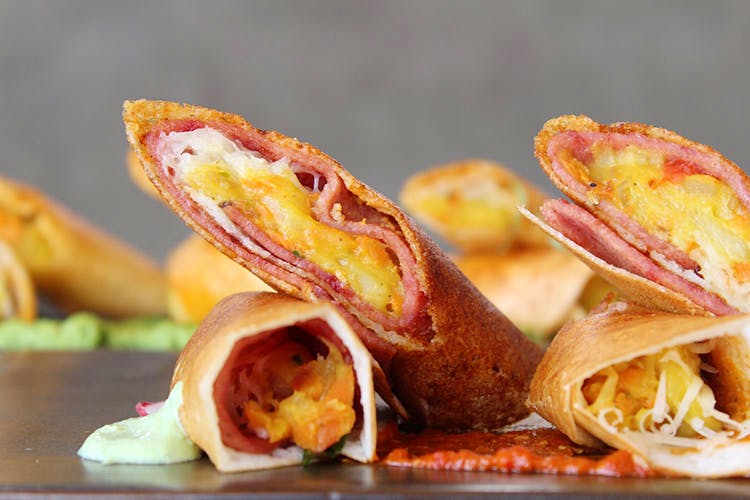 Load Up On Dosa To Waffles At Bangalore's Best Breakfast Spots
We've always known that breakfast is the most important meal. So why not have a huge variety for the first meal of the day? From crispy bacon, eggs and toast to hot idlis, sambhar and vadas, get the best start to the day with these breakfast places in Bangalore. It's all about breakfast of champions.
Hole In The Wall Cafe
With their extensive selection of breakfast choices, this is brekkie heaven. Try their all English breakfast and be prepared for sausages, bacon, fried eggs, baked beans, veggies and some hot toast. And it doesn't stop there. With at least 20 choices for breakfast, and pancakes and waffles (with Nutella, sprinkles and all things pretty), it's hard to look elsewhere after you've been here once.
Read out story on this all-time favourite here.
Shri Sagar - CTR
Home to the unsung hero (OK, maybe it's not that unsung), the Benne Masala Dosa, Shri Sagar is a Bangalore favourite. The gleaming, crispy dosas in their signature yellow plates is a sight everyone has to see at least once, a sight that no one will ever stop looking at. Not too fatty but rich, so there's a little less guilt here. Try the kali dosa or the chow chow bath for variety as well. The long wait here is just a build up to the raging appetite.
Read our story on that unsung hero here.
Social
With their all day breakfasts and breakfast trays, Social has got to be one of Bangalore's breakfast hotspots. Try their Saddlebags, which are pancakes with bacon, sausages, maple syrup and fried eggs. Now, there's no rule against being sinful for breakfast, and these are just that. Sample their breakfast trays as well including the Hardy Bhai's Istyle breakfast of Kheema Ghotala or Bun Omelette along with Bun Maska, Masala Chai and biscuits. For a proper breakfast of champions, pick Kiran's Big Apple Breakfast, eggs, pancakes, bacon, home fries, toast, Oreo cookies, with tea or coffee.
Get socialising in the morning here.
The Permit Room
The Permit Room introduced breakfast as an all-day tiffin menu a while ago and oh my god, is it good. They have a host of dishes ranging from bisi bele bath to black forest ham dosa rolls (yup, it's divine). Also included is some Mutton Paya Soup with Khara Buns. Sample some of their cocktail vadas and appam and stew, and end the meal with a classic sajige, with cashew praline and salted caramel.
Get on the trip to nostalgia here.
Monkey Bar
Dig in to MoBar's breakfast burger with grilled chicken, avocado, fried egg, cheddar and onion jam or try their Aam Aadmi eggs, with toast slathered with onion and tomato chutney, green chilli, eggs and cheese, and topped with Goan chorizo. It is only available on weekends but you've gotta go here and compromise on sleep just that wee bit. You can also have the Eggs Benedict or the Eggs Florentine. They also have breakfast cocktails, because why not? Try their Bloody Monkey (tomato juice, Tabasco, Worcestershire Sauce, Hickory smoke, celery, salt and vodka) or the Sangria Slush (White wine, fresh orange, honey, peach juice and chunks of orange and peach) and wake up with a real kick!
Know more about this big breakfast.
Brahmin's Coffee Bar
One of Bangalore's best for their crispy vadas, soft idlis and aromatic coffee, Brahmin's Coffee Bar has been going strong for more than 50 years now. Anyone looking for a good quick breakfast with a strong cup of coffee needs to head here and also indulge in their famous chutney. Brahmin's is and always will be a staple, and honestly, near the top of almost every breakfast list in Bangalore.
We're raving even more about Brahmin's Coffee Bar, we just can't stop.
Cafe Max
Choose from Cafe Max's selection of breakfast options including the farmer's breakfast, with eggs, toast, bacon, onion and potatoes along with their German sausage breakfast — five Nuremberg sausages with potatoes and bread. If not the meaty breakfast, opt for pancakes instead, with a choice of maple syrup or fruit, or even their crepes, with caramelised bananas, ham and cheese or Nutella. You're spoilt for choice with their breakfast buffet, with a large selection of items, ranging from eggs and meat to cereal and pancakes.
The thing about Cafe Max is, you're always left wanting more.
Vidyarthi Bhavan
Basavangudi's legendary and very own Vidyarthi Bhavan has been filling Bangalorean bellies since 1943. A popular hangout among students, people flock here to get in on their yummy dosas, served with serious swag. Have their kharabath and kesari bath, doused in ghee. And as usual, don't forget the coffee! It's worth braving the crowds. But don't linger, they don't encourage it.
Here's more on our visit to the Old World.
Koshy's
With their impressive selection of omelettes, sausages, bacon and Mushrooms On Toast, Koshy's is Bangalore's old and true citizen, albeit quality goes up and down. Add a coffee to this and there's your answer to a perfect breakfast. They have been a city favourite for more than 70 years now and there's no slowing down. And meat lovers, this place is your paradise. Located on the iconic MG Road, Koshy's will never go outta style.
Read more about our pilgrimage to Koshy's here.
Smoke House Deli
Smoke House Deli has an extensive breakfast selection, and that's an understatement here. They have cereal, fruit and granola along with pancakes (banana and bacon, walnut and raisin, and chocolate chip) and bagels (salmon and wasabi, and cream cheese). But they also have an endless selection of eggs, from fried, poached, scrambled and omelettes. Choose from a variety of additives to these like bacon, cheese, herbs and veggies. End your brekkie with a range of teas and coffees on offer.
Read more here.
Comments