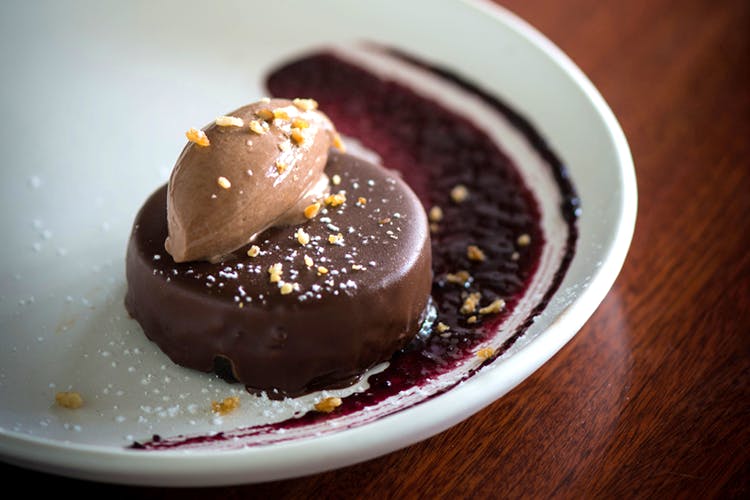 We Found True And Sweet Love: Here Are The Best Chocolate Desserts In Bangalore
We are very much in agreement with cartoonist Terry Moore when he says, "The 12-step chocolate program: NEVER BE MORE THAN 12 STEPS AWAY FROM CHOCOLATE!" And surely you agree too. Somehow chocolate seems like the right answer to everything life has to throw at you. 'You're fired!". Here have some chocolate. "Will you marry me?". No, but here's some chocolate ice cream. See, it fits in everywhere. So we did you all a favour and scouted the entire city for the best of chocolate desserts. From the simple brownie to the most indulgent sundae, ladies and gentleman, let's get chocolatey with the best chocolate desserts in Bangalore.
PS: Don't hate us if we missed your favourite. Just add it in comments and we'll make sure to add it on this list.
Death By Chocolate - Corner House
There is nothing more satisfying that Death By Chocolate from Corner House — both literally and in the case of this dessert! Loaded with chocolate ice cream (or vanilla if it's too much for you), chocolate brownies, and then drowned in the trademark chocolate sauce and drizzled with nuts, it's pure heaven. Don't even think of counting calories. Just don't. And maybe don't share either. Unless you've had a heavy meal earlier, in which case do, as it's rather heavy.
Hot Chocolate - Happy Belly Bakes
Don't go expecting you hot chocolate powder mixed with hot water here. No siree! Happy Belly Bakes' hot chocolate is actual dark chocolate melted into a rich, dreamy liquid and served in a little espresso cup. So really, it's a shot of warm chocolate. OK, sorry, we need to go get some of this. See, you there.
Ferrero Rocher Cake - Truffles
Old-school, chocolatey and ideal for that cheat day, what is great about this one is that they don't hold back on Ferrero Rochers. The surface of the cake is decorated with the chocolate, and the bottom layer of the cake actually has chunks of it. Pair it with their in-house coffee, or order the whole cake for a birthday at home. Either way, you won't regret it.
Intense Cake - Smoor
It was a really tough call with Smoor — we are a bit spoiled for choice. And if you don't believe us, check out our favourites here. But since we're being put on the spot, we pick the Intense Cake. Not for the faint-hearted or those who love their chocolate light and sweet, this one is strong and intense. Made from 70 per cent couverture chocolate, it's truly a sinful dessert. Even if you like this kind of chocolate, it's a heavy chunk so be warned!
Deep Fried Snickers - Art Of Delight
By name and by nature, the Deep Fried Snickers is an absolute pleasure for those who like sundaes. And if you thought it's just fried Snickers, think again. It is coated in a batter that is a bit like churros, then ice cream and cream are loaded onto the sundae bowl and, wait for it… they add a solid dose of chocolate fudge. Yum! Order two, one to eat, and the other to take photos of later because once you see it, you can hold back.
Six-Layered Chocolate Cake - Dolci
Another place which has us confused about which is best, Dolci's desserts are top notch. But if it's chocolate you're after, the Six-Layered Chocolate Cake should do the trick. Think six layers of chocolate — alternating white and chocolate ganache, it's topped off elegantly with dark chocolate (because well, white chocolate isn't chocolatey enough!). Get it by the slice at the cafe or order the whole one for INR 1,200 for special occasions.
Chocolate Wonton - Berry'd Alive
Taking the love for wontons to the next level, this dessert parlour has Chocolate Wontons on its menu. Caramelised banana and molten chocolate make up this wonton, and you get a dollop of vanilla ice cream to devour it with. And you'll be wanting more than just one plate. Go get some now, and thank us later by sending us a plate or two.
Chocolate Brownies - Lavonne
Yes, we're keeping it simple at Lavonne because there are way too many chocolatey things to pick from. And also because the brownies have been consistent here while the other desserts can be hit and miss in our experience. Chunky chocolate, moist, but not like a cake, they're perfect to be had with a hot cup of coffee here. Naturally, taking some (read 10) is also always a good idea!
Toit Special - Toit
Yes, the beer is awesome. And so are the pizzas. But you've got to end a meal or drinking session at Toit with the Toit Special. Keeping things bitter-sweet, this one is all about the drama as it is flambéed at your table. There is also whipped cream on the side if you want to add some fluff, but honestly, we skip it most of the time.
Chocolate Bomb - L'inoui
Be indulgent and order the Chocolate Bomb at L'inoui. The dessert comprises of a ball of chocolate with hot chocolate poured over it, so it opens up and reveals more chunky chocolate. Rich, heavy and perfect for a chocolate lover, it's a meal in itself. And for anyone who's policy is death by chocolate.

Freak Shake - Brik Oven
Sure Brik Oven is mostly about the pizzas, but when they introduced the freak shake last year, it became a three-way affair — pizza, shakes and us. Loaded with Oreos, chocolate sticks, fudge, Nutella, waffles, cream, ice cream and copious amounts of chocolate sauce with a drizzle of colourful gems, it's really a meal by itself. Go on, give it a shot.
Choco Mousse - Sly Granny
The Choco Mousse at Sly Granny is anything but regular chocolate mousse. There is chocolate brownie full of nuts encasing a dense and creamy filling of chocolate crémeux. This is then topped with a scoop of espresso chocolate mousse and topped with a crumble. Plus, there is a sweet and tart grape jelly that compliments the dish. Dark chocolate lovers, you will heart this dessert.
Chocolate Cheesecake - Glen's Bakehouse
Bakes cheesecake is one of their all-time specialities, though unfortunately, the chocolate option isn't always available. So you'll have to call in advance and check, or take your chances and fight the other people off if it is in the dessert counter! Light and airy, the cheesecake flavour is retained, but with a hint of chocolate. Luckily it isn't too sweet, so a great choice if you're looking to pair it with a bold coffee.
Nutella Magik - Mugful Of Stories
Two words for you — Nutella Magik. Chocolatey goodness in a mug is what dreams are made of. So the next time you don't want a lunch, but want to eat, we recommend you head over to this cute little cafe in Kalyan Nagar, for the Nutella Magik — a gooey, moist chocolate cake layered with dollops of silken Nutella and a scoop of the vanilla ice cream. In addition to this, they also have other divine creations, including A-Choco-Lypse. Thank us later.
Comments