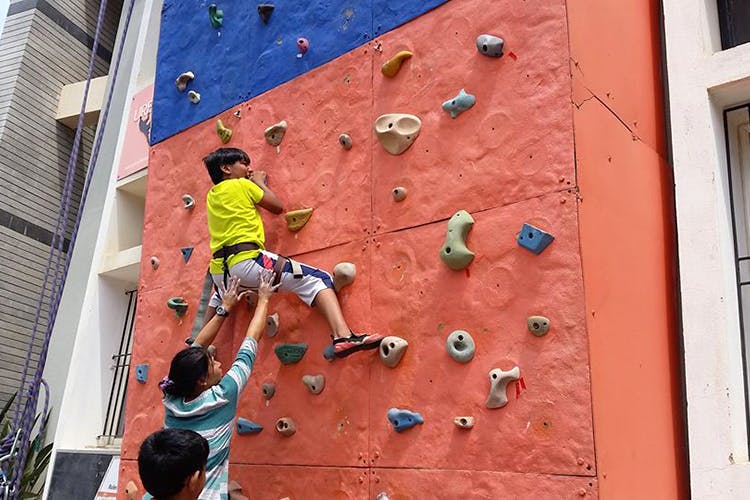 5 Climbing Stations In Bangalore To Channel Your Inner Mowgli
Working out doesn't have to be a chore! Get off the treadmill, pretend you're a member of a SWAT team and try rock climbing to build your upper body strength and increase your stamina. If you're new to the activity or are intimidated by heights, just sign up for a trial class. So, strap on your harness, and get fit the fun way at these indoor climbing stations in Bangalore.

Equilibrium
Go ape, or rather, gorilla at the Equilibrium Climbing Station, right in the heart of the city. The studio itself is huge, with climbing walls that have plastic holds and padded floors, so even if you do fall, you'll only break a sweat. Plus, they offer services to train you in rock climbing, so if you want to go pro, this is where you should be.

Urban Climbers
The Urban Climbers are present in five separate locations in South-West Bangalore, but our personal favourite is their rock climbing station at The Boulder Project in Bellandur. Take a day pass if you just want to try the sport, but they also have regular climbing classes and will even set up rock climbing infrastructure at your office, society or wherever you want!

Play Arena
Regular climbers will love Play Arena's 50-feet-high rock climbing wall. With top-of-the-line equipment and experts guiding you at every step, you will be able to challenge yourself and learn the right techniques, too. Plus, you can learn bouldering (no ropes, no harness - just freehand climbing), take a rope course and even pick up ziplining. This is your Everest!

Mars Adventures - Phoenix Market City
If you're at Phoenix Market City and want to escape your bad date, just look for the giant 52-feet-high climbing wall at the side of the mall and buy a pass. Since the surface is 15-feet-wide, four people can climb simultaneously, under the guidance of national-level climbers. Just make sure your bad date isn't one of them, or it entirely defeats the purpose.
Kantheerava Stadium
A three-faced, 50-feet-high climbing wall, Kanteerava Stadium is the perfect place to channel your inner Bran Stark (before he fell from the tower, that is). The first face is almost vertical, ideal for beginners. The second face has a slight overhang, and is great for intermediate climbers. The third side has a fibre panel and a good roof section, too. You can register for monthly or yearly passes here.

Ask Roshni a question