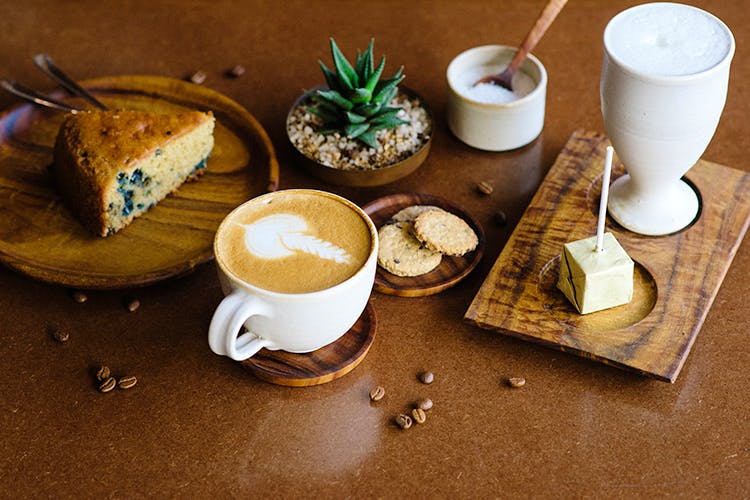 From Artisanal Brew To Red Velvet Latte: Here's The Best Coffee Shops In Town To Score Some Brew
For Bangaloreans who are on the hunt for a great way to start the day, a midday pick-me-up or even a date place, coffee shops in Bangalore are the best places to be. Our list isn't based on whether the beans are sourced from the jungles of Java or if they have a something as extravagant as the "Unicorn Frappuccino". It's a simple list that focuses on coffee shops that are around the neighbourhood, frequented by patrons, and hold a special place in our heart (free WiFi, to be precise). Well, read on and remember to save this and share it with friends, family, and even foes because 'a lot can happen over coffee'.
Third Wave Coffee Roasters
Hipster vibes? Check. Free WiFi? Double check. Artisanal brew? Triple check. The coffee is done in four ways here: Aeropress, French press, Chemex, and pour overs. Plus they have cappuccinos, espressos and lattes (flat white included) with soy milk, flavoured hot and cold coffee, and hot chocolate. Fries are of the fresh kind, while the bakes are healthier versions of your favourite sweet treats.
Matteo
This classic coffee shop is your escape from mundane office interiors with its chic decor that is reminiscent of New York vintage vibes. Hazelnut lattes to caramel cappuccinos, you don't need us telling you why this is a favourite amongst Bangalore's coffee aficionados. Their hot chocolate is lit, too. Present in Indiranagar and Church Street, sit here and work thanks to free WiFi. If you're hungry, they have an elaborate menu as well.
DYU Art Cafe
An old bungalow turned into a cafe, Dyu Art Cafe in Koramangala serves coffee and sinful banoffee pies. An open courtyard, greens here and there, cemented seats, gabled roof, and the red-oxide flooring reminds you of an old, Kerala-style house while you are sipping on the brew or looking at the art pieces on display.
Karma Kaapi
Karma Kaapi in Jayanagar is a small and cosy cafe right opposite Haji Ali Juice Center. With different varieties of coffee, these are definitely Instagram worthy as well. The Red Velvet Latte and Coconut Coffee are some of our favourites here (do note that the Coconut Coffee is not available on the menu). With free WiFi and nibbles like sandwiches and salads on the menu, this is a hangout spot in Jayanagar.
Cafe Coffee Day
"Broke but fabulous" is the term you can use when you want to meet up over a decent cup of coffee without having to sacrifice on chilled out decor, pocket-friendly prices, and the fact this chain is present in every nook and corner of the city. Their nibbles are pretty decent and again, it's comfort food that fills the tummy on days when you want to load up things like samosas and puffs. Try the Classic Cappucino and Cafe Mocha. Burgers, veg wraps and chilli cheese toasts are some dishes you should eat.
Starbucks
Unicorn Frappuccino may never be on the Starbucks India menu, but thankfully, we can use their unlimited free WiFi to search and drool over the insanely colourful frappe. Apart from their hot favourites like Americano, Espresso, Cappuccino, Mocha and Latte, the mermaid-logo printed cup with misspelt names will forever be a hit with them hipster millennials. They even have seasonal coffees so if you love seasonal fruits, head here to try some interesting renditions of coffee.
Mr. Beans - Home Cafe
Mr. Beans is a cafe in Koramangala that is located very close to the BDA Complex. With white walls and floral furniture, try the Irish Coffee, Cinnamon Macchiato and Caramel Mocha. You can get some amazing all-day breakfast, sandwiches, salads and nibbles like bruschetta and french fries here.
Comments