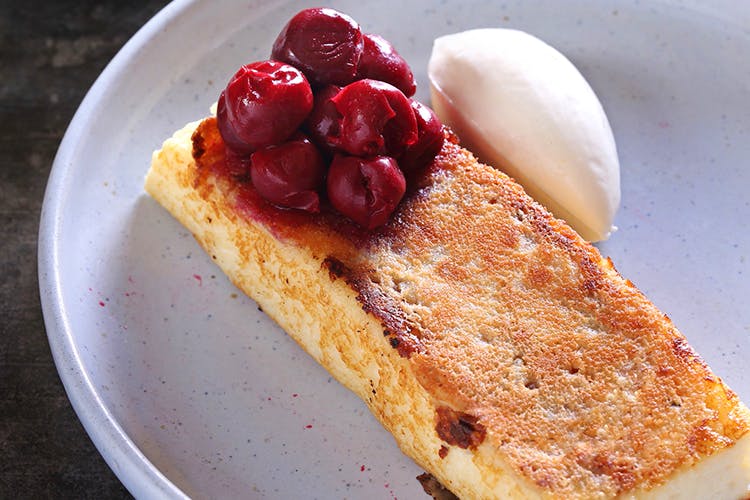 Take Brekkie To The Next Level With These Gourmet French Toasts In The City
The humble French Toast is a simple enough dish and can be mastered by even an average cook. So, despite its undeniable tastiness, you'd probably not order it off a menu. But give it a gourmet touch and you have a dish that's perfect for brekkie, lunch, or, even, dessert. Here are a few restaurants in the city that offer jazzed up versions of the French Toast.
Smoke House Deli
Gourmet with a twist of wholesome, that's what you get at Smoke House Deli. Their all-day breakfast menu features French Toast that's crusted with crunchy muesli and presented with a fresh fruit compote. You can also sign up for a regular French Toast that comes with a cranberry compote.
Monkey Bar
The 'Toast to France' at this well-known, gastro-pub will give your tastebuds plenty to gaga over. Slices of downy Jewish Challah bread are first soaked in a combination of milk, eggs, cinnamon, orange zest, honey and vanilla before being pan-fried. It is, then, served with a serving of house-made fruit jam.
Koramangala Social
Anything that's got Elvis' name attached to it can be nothing short of legendary, right? At Social, you can wolf down The Elvis Presley French Toast that'll surely have you singing! The bread is first smothered in peanut butter and then slices of banana are piled on. It's then dressed up in the classic French Toast mix before hitting the griddle. A sticky toffee sauce provides the final flourish.
Cafe Thulp
Frogs in Heaven might not sound like the most appetising dish around but, trust us, what comes to your plate will be nothing short of heavenly. Their French Brioche Toast is taken to the next level with a drizzling of cinnamon lemon syrup. Banana Caramel is available too.
The Egg Story
This Brookefield joint sure knows how to rev things up with the French Toast. Their Banana Nutella Starter Breaker comes stuffed with, well, banana and Nutella and it is then sprinkled with crushed sugar and honey. Don't forget to prepare for that sugar high!
Toast & Tonic
At this spiffy joint, your delicate French Toast comes with a ruby-red berry jam that adds tartness to the dish. The vanilla pastry cream adds plenty of oomph to the dish.
Sly Granny
Innovative and simply delicious, Sly Granny's brekkie menu is filled with plenty of treats. One among them is the French Toast that features a Nutella streaked babka paired with a fresh suit compote.
Market Table
The French Toast at this popular, Koramangala restaurant will give the vegans plenty to cheer about. The downy slices of whole wheat bread are soaked in almond milk, millet flour and cinnamon before hitting the pan. It is accompanied by good old maple syrup.

Cafe At The Atelier
This breezy cafe in Sarjapur offers a few options when it comes to French Toast. They have the classic version, of course, but we recommend you concentrate on the Masala version that's layered with cheese and spices. But if you are looking for something refreshing, then, go for the Lemon and Thyme option.
Stoked!
A Koramangala favourite, Stoked is heaven for French Toast lovers! They add oomph to the classic, breakfast dish by offering a Red Wine and Poached Apple version. There's also Caramelised Bananas and Roasted Almond as well as Cream Cheese and Blueberry.
Alchemy Coffee Roasters
Out of the box and loaded with flavour, this place transforms the French Toast in a few different ways. Along with your favourite coffee, you can order up plates of Coorg Cinnamon and Mocha French Toast. For those of you who prefer a sweet kick, then, there is the Banana Caramel and Cinnamon along with the Preserved Fruit and Praline creations.

Comments