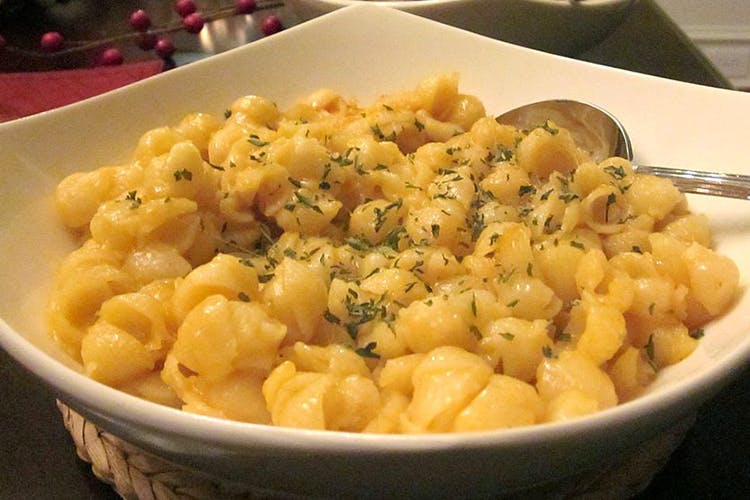 Mac And Cheese? Yes Please. 8 Places That Do This Classic Just Right
Who doesn't love themselves a bowl of Mac & Cheese? Yes it is rich, it is full of calories and useless carbs, but bring us a plate full of this hearty classic, we will melt into a puddle of gratitude. Not to mention that we will lick the bowl squeaky clean too. So here's our pick of eight restaurants in town that do a mean Mac & Cheese  — from basic to food porn levels.
Baked Mac & Cheese, Arbor Brewing Company
What can we say about Arbor's Baked Mac & Cheese. It is macaroni tossed in not one but three cheeses — parmesan, cheddar and mozzarella, plus plenty of cream sauce too. What we love is the cheesy top crust that just makes this Mac & Cheese so decadent. Want to make it even more sinful? Then just ask them to add in bits of crispened bacon, Cajun chicken, grilled tenderloin or even prawns. The portions are good enough for two to share with a slice of chunky bread for you to mop up every last bit. But you know our theory about sharing and mac & cheese already.
SHD Mac N Cheese, Smoke House Deli
This one is classic and creamy, and very very rich. You can also add in bits of chicken sausage or decadent bacon for added taste.
Jalapeno Mac n Cheese With a Parmesan Crust, Social
This is a classic, but with a spicy twist. Perking up the creamy and slightly bland taste of the cheese sauce are piquant jalapenos topped with a crust of fresh herbs, lots of cheese and bread crumbs, all baked together to a simmering and gooey dish.
Mac & Cheese Florentine, Communiti
This one's for the vegetarians. We quite liked the amalgamation of Mac And Cheese Florentine — cheesy pasta with the quintessential corn and spinach Florentine. Tthe macaroni is baked with corn and layered with spinach and lots of cheese sauce. The dish is served with garlic bread.
Tomato Cheese Macaroni, SodaBottleOpenerWala
This one's like what you mom would make you for breakfast. With desi spices, lots of spice and tomatoes, this is desi macaroni at its best. With plenty of Amul cheese for company. Yummers!
Twisted Mac, Hard Rock Cafe
This is not exactly the humble macaroni, but the twisted Cavatappi pasta, cooked with a cheesy sauce, grilled red peppers, spicy paneer or grilled chicken, and comes with a thick parmesan and parsley heavy bread crumb layer. Served with garlic bread of course.
Mac & Cheese Kalimiri, The Open Box
If you love yourself a good old Chicken Kalimirch, then you will love the Mac & Cheese Kalimiri available at The Open House. The macaroni is cooked in a cheesy and creamy sauce but comes with a big twist of freshly milled black pepper and Indian spices. You can opt for the vegetarian version or for one with chicken.
Mac & Cheese Croquettes, Monkey Bar
MoBar takes it up a notch by turning the gooey mac and cheese into crispy croquettes. Their Mac & Cheese croquettes are deep-fried numbers with crunchy breadcrumbs on top. Pop these in and the flavours of a traditional Mac & Cheese will burst in your mouth. There's also broccoli and peas in there, and the golden fries number are served with a chilli mayo and salsa.
Comments