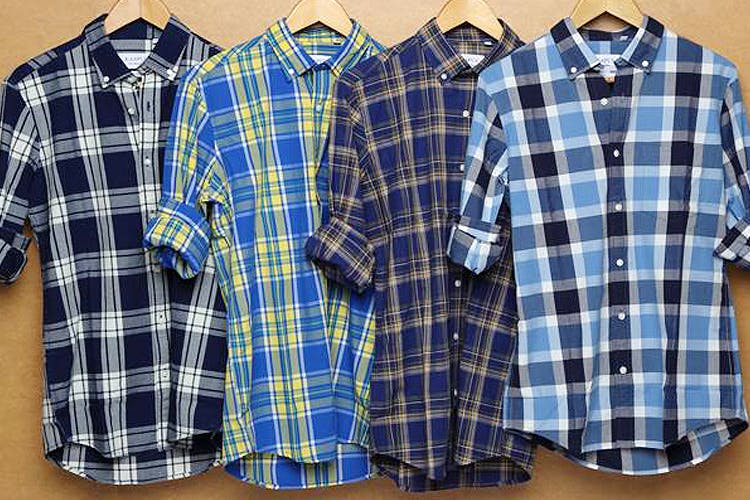 Where To Get Office Wear On A Budget
Our essential guide to the best menswear store's in Bangalore is a carefully curated list of stores that will make you look like Ranveer Singh at his wedding or Daniel Craig from any of the James Bond films. We've picked out some great spots to get a customised suit, standalone stores to get your Friday casuals, and a bunch of stores that stock the most blingy sherwanis. And between all that, we have also thrown in some high-street stores, so that your entire wardrobe looks like that of a go-getter rather than someone who shops at the mall.

Kaapus
For men who love made-to-measure and customised trousers, shirts, shorts, and even sports casuals, this Lavelle Road store is the go-to place. They make clothes that fit your body type perfectly. You can pick out styles of shirts or trousers have them customised to the littlest details of print, cuffs, collars, and even pockets.

Whisky Clothing
For that edgy street look, Whisky Clothing has limited but curated one-of-a-kind collection of ripped jeans, slim fits, camo prints, raglan tees, denim shirts, basic and graphic tees, shorts and jacket. You won't find two designs on the same size, making what you pick out truly your own. None of those situations where your entire gang looks like they shopped at H&M.

Varnam
The home decor store's collection of cotton shirts with prints that are inspired by their popular Channapatna toys is something that you definitely need to have in your wardrobe. It'll give you that stand-out look with their shirts featuring prints such as owls, dragons, cows, giraffes, and elephants as the designs. It's very summery and versatile too. Wear them to brunch or to work.

Spotlight
An export surplus store in Indiranagar, you will love how this store will fix you up with formal wear from Arrow, French Connection, Massimo Dutti and Ralph Lauren. It'll also fix you up with chinos and trousers from the said brands as well as slim and skinny jeans from Levi's. Then there's the whole bunch of semi-casual shirts, polos, and crew neck tees from the Banana Republic, Zara Men, United Color of Benetton, Lacoste, and Jack & Jones.

Y&O
This Commercial Street store will have you looking red carpet ready as well as boardroom meeting ready with their suits, blazers, and trousers. All customised to your exact fitting and liking of course. The store also stocks a range of fabrics and you can choose from velvets, jacquards with silk froggings, linen, and plaid. Oh, and they offer bandhgalas and nawab suits too.

Thunderbird Leather Classic
Somehow a leather jacket is a must-have in every man's wardrobe. Thunderbird will fix you up with leather jackets in all shades and designs. Bomber, biker, racing, you name it, these guys have them all to make you look like Steve McQueen, John Travolta or even Wolverine. Did we tell you that you can also pick up accessories such as belts, wallets, messenger bags, and travel bags?

Oldskull
For an effortlessly cool look (you know for those night outs with the boys on MG Road or Koramangala), Oldskull's collection of vintage-inspired slogan and graphic tees. Pair them with jeans and your street cred will be over the roof. No seriously, these tees have everything from gasoline cans and sharks to Osaka races and motorcycles on them. Nothing is OTT either, and they are comfy and in colours such as yellow, blue, black, and white.
The Collectivo
The snazzy store near Commercial Street specialises in Indian and western clothing for the menfolk by embracing quirk with abandon and make it look super stylish. We are talking about kurtas and jackets with floral prints, vibrant geometrical shapes, bicycles, bows, mirror work and what not. If you are up for a colourful, trendy look, that'll have heads turning, then this is your place, guys!

Wise Guy
Attending rock concerts or going for any DC/Marvel movie? Stop at this Brigade Road store to pick up od school rock tees and superhero apparel. The collection starts at INR 450 and you have everything from Aerosmith to Metallica, Slayer, and Nirvana to Spider-Man, Superman, Batman, and even The Simpsons.

Uncuffed
Lounge, Mandarin, Business, Double-Breasted or Single – if these are terms that you are all too familiar with then Uncuffed will fit you with the perfect suit. And by perfect, we mean perfect or as they call it Custom Engineered Suits. Yup, they go Nasa-style details about everything from the lapel and cuffs, to the pockets and sleeve length, to your suit is killing it for you.

Comments