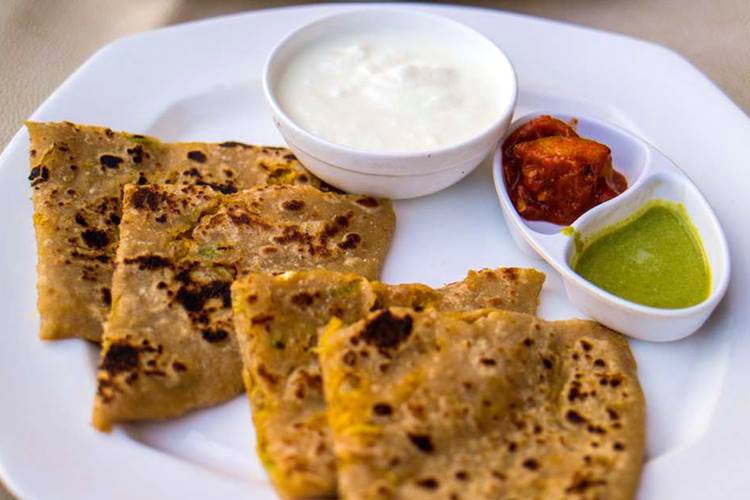 Chole Bhature To Aloo Paratha: Here's Our Pick Of The Best North Indian Restaurants For Breakfast
If it's a big fat breakfast that you are looking for, then it's definitely got to be a North Indian breakfast. Sure, idlis and dosas can fill you up, but when you need that extra bit of masala, an overdose of butter, and a whole lot of oily goodness, there's nothing like a chole bhature or aloo paratha. Since breakfast is all about eating like a champion, we pick out the best of the best North Indian breakfast places in Bangalore. Oh, and just remember to order us a plate of chole bhature to thank us.
Kapoor's Cafe
A selection of stuffed parathas all topped with a dollop of homemade white butter is what's on the menu at the Whitefield, HSR, and Kalyan Nagar branches of Kapoor's Cafe. Pick from the usual aloo paratha or make breakfast a bit adventurous with the cheese burst paratha that comes with eight kinds of cheese. Chole kulche, chole bhature, poori aloo, and breakfast combos should ensure that you have eaten breakfast like a champion. If you are wondering about what kind of combos are available, you can read about it all here.
Murli's
We think this North Indian joint is the go-to place for chole bhature for all the homesick North Indians that make up Bangalore's multi-cultural population. And why wouldn't we, given that chole bhature at Murli's come with rich and thick chole curry and bhature that look like zeppelins. Yes, sir, it's happiness on a plate. And the best part is it's available all through the day. It's easily one of the best places in town to have chole bhature, but more on that here.
Imli
While breakfast here starts at 11am, it's perfect for those lazy weekend breakfast scenes that involve stuffing your face with parathas, pav bhajji, and chole bhature. Their parathas include everything from aloo to gobi you can choose an assortment of stuffings such as papad and radish. They also have Besan and Moong Dal Cheela, as well as pakodas, in case your idea of breakfast is snacking on what are essentially 4pm snacks.
Silbatti
The HSR's eatery's Poori Halwa and Punjabi Nashta combo are what we are giving thumbs up for. No guesses on what these have but hey, if you are wondering, yes, you get halwa and chai with your poori bhajji. And yes, Punjabi Nashta has lassi, so be sure to choose wisely. You don't want to overstuff yourself, right? Or you can, it's breakfast after all. Oh, and guys, they have unlimited tea on the menu as well, where you can have as many cups of tea as you wish.
Indian Paratha Company
In case you are doing those early morning drives, what better way to break for breakfast than at this highway restaurant. Serving stuffed parathas and good old North Indian fare, Indian Paratha Company opens shop around 7am, so you've got yourself sorted for an early breakfast scene. While you will find all the regular aloo, mooli and methi parathas, our pick would be the Samosa Aloo Paratha and the Achari Masti Paratha. They also have a paratha-meet-pizza section, but more on that here.
Kathik's Mithai Shoppe
Served only on Sundays between 9am and 11.30am, Kartik's chole bhature is worth waiting the whole week for. And it's definitely #BreakfastGoals. However, to get your plate, you'll need to pre-order it, given that on Sundays the place is packed to the rafters with patrons. You will need to call the shop on Saturday to place your order, so be sure to keep reminders. In any case, the puffy puris are served with a thick, spicy chole gravy with sides of spicy aloo fry and fried green chillis.
Comments