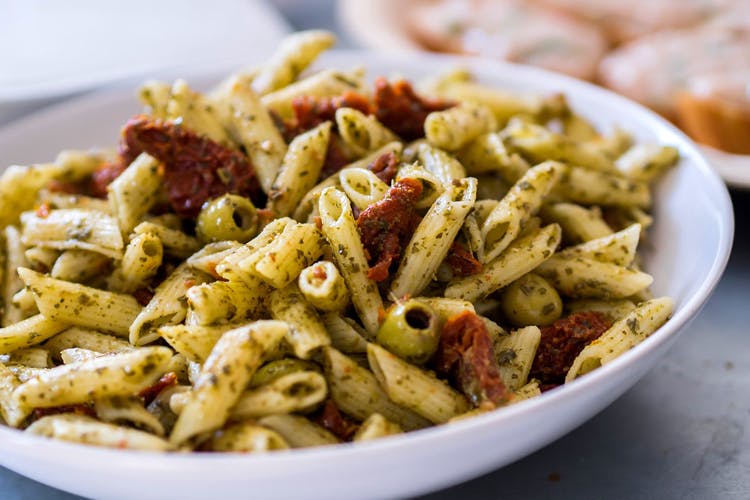 It's Italy On A Plate: The City's Best Pasta Haunts
If there was ever a ranking of our favourite dishes to come out of Italy, we have a feeling pasta and pizza will top the charts. While we have celebrated the pizza here, it is now time for pasta to claim its due. Agreed, a lot of places in the city have added more than a twist of Indian flavours to the dear old pasta. But what to do? It still tastes pretty darn good and we can't seem to get enough of it. But, this is 2018, so there's plenty for the puritans too. Take a look.
Hoppipola
Their pasta selection might be basic but it comes loaded with flavour and, in many cases, dripping with cheese which is why it deserves a spot on the list. Try the All 4 One that mixes up four kinds of cheeses or the Pesto Rum version, that comes in a creamy pesto sauce spiked with alcohol, and you'll go home with a happy belly.
Little Italy
A particular favourite with the vegetarians, this restaurant's pasta menu is speckled with familiar, comforting and delicious flavours. The Pasta Al Forno, where the pasta is baked in a creamy Bechamel sauce, and the Pasta Al Sole Di Sicilia, that includes fresh mozzarella, capers, olives, and parmesan, are bestsellers here.
Smoke House Deli
Who said pasta can't be healthy? A peek into Smoke House Deli's newly launched health menu (you can read all about it here) will prove otherwise. You can pick from a lineup of gluten and dairy free pasta that includes Jowar Gnocchi and Mushroom Fricassee, and Grilled Vegetable Ravioli cooked in a coconut and soya milk. If you like to stick to the traditional form, their signature My Boss Style Spaghetti (with red onions and field mushrooms) and Roast Garlic and Plum Tomato Fettuccine will do the trick.
Olive Beach
Their pasta menu is peppered with delightful flavours. There's the Tagliatelle in Autumn that's made with button, oyster and porcini mushrooms along with arugula, and pine nuts. There's also the creamy Smoked Salmon Linguine. But the pasta that's after our heart is the Roasted Pork and Goan Chorizo Rigatoni that's topped with generous shavings of parmesan reggiano.
Pasta Street
The name says it all! You'll be spoilt for choice at this eatery when it comes to pasta. Go with the Rocket Fuel, that comes in a red sauce and with a generous dose of chilli, or the Creamy Pesto if you are a vegetarian. For the meat lovers, there's Pollo Venezia, where chargrilled strips of chicken are cooked in a white wine sauce. There's also a Chicken Carbonara version.
Toscano
There's a nice mix of the familiar and the not-so-familiar at this eatery. You can go with a warm Spaghetti Pomodoro (tomato sauce, olives, and basil) or the Rigatoni Con Salsiccia (ground sausages and stewed cabbage in tomato sauce). These are just two from a long list of options, mind you.
Via Milano
Go Italiano at this restaurant with bowls of delicious pasta. If you are feeling indulgent go for the Farfalle al Salmone Affumicato (butterfly pasta in a rich, smoked salmon sauce). The baked beef lasagna is another hit here.
Alba
One of the best places in the city to lap up Italian food, Alba's pasta menu is droolworthy. There's the Agnolotti Di Pollo Al Pin (stuffed chicken pasta tossed about in sage butter), Gnocchi in Porcini cream and lamb, and even angel hair pasta with garlic and bird chilli.
Bene
At this spiffy restaurant, you get to choose from a lineup that includes Cappelletti di Zucca in a rich brown butter sage sauce, and the Ravioli di astice (open faced lobster ravioli along with squid ink past). The familiar names – Bolognese, Gamberi, Carbonara – are also part of the pasta parade here.
Graze
Once you look at their pasta choices, you'll be tempted to gorge and not just graze. For the veggie lovers, there is Pappardelle (porcini, mushroom ragout and truffle oil) and the Pumpkin Ravioli. The non vegetarians can twirl their forks around the Lobster and Salmon Agnolotti, or the Smoked Chicken Tortellini.
Ottimo
This one's for all of you who love your pasta to drip luxury. You'll find stunners like Corzetti with broccoli, black truffle scented cream and mascarpone. There's also baby octopus, lamb marrow and burrata in a spaghetti nest and ravioli stuffed with creamy lobster and prettied up with caviar. Sufficiently impressed?
Sunny's
Another crowd favourite, Sunny's pasta lineup includes the usual suspects – lasagnes, aglio olios, bolognese, and carbonara (highly recommended). But if you'd like to experiment, there's also spaghetti in caramelised onions, cheese and garlic, black pepper fettuccine served with wild mushrooms, and angel hair pasta paired with succulent shrimps.
Comments