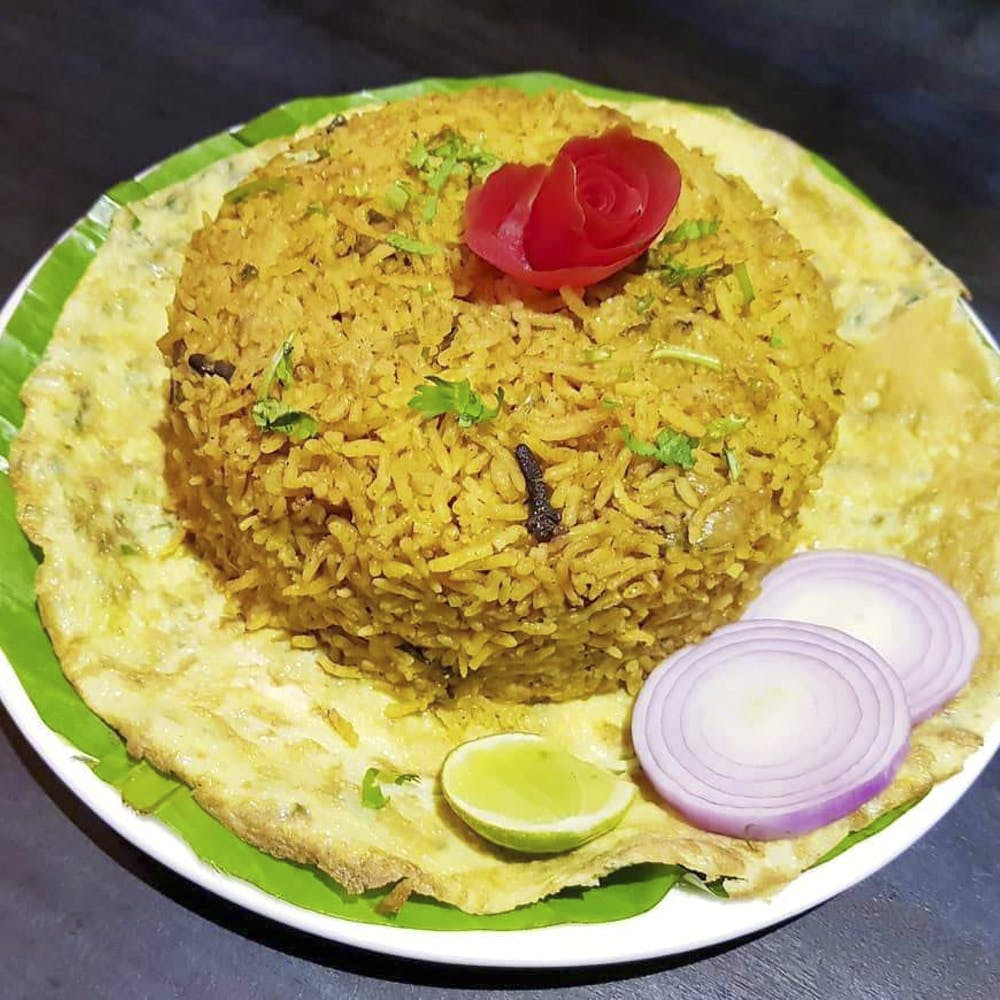 5 Restaurants In The City That Serve The Most Flavourful Andhra Biryani
Who doesn't love biryani? Especially Andhra Biryani — just imagining the combination of spicy marinated meat, basmati rice and flavours of bay leaf and saffron is giving us a craving. If you're reading this at lunchtime, we humbly apologise. Without further ado, here's a list of our favourite restaurants in the city that serve the best Andhra biryani.

Meghana Foods
The crowds can't get enough of Meghana, so you best stay prepared for a long wait before you get a table even. Once you settle in, though, it's totally worth it. Lightly spiced and brimming with flavour, the Hyderabadi Biryani ranks high on our list. While there are plenty of restaurants in the city that serve up Hyderabadi Biryani, no one does it quite like Meghana!

Bheema's
On days when you can't decide on what to eat, head to Bheema's for their simple, yet oh-so-flavourful Chicken Biryani. Their long-grained rice is generously spiced and the meat has a melt-in-the-mouth consistency that will have you coming back for more. Eating here at lunchtime is a crime though, what with you feeling like curling up with a cushion and taking a rather long snooze. But it is so good that we are ready to commit this crime again and again!

Polamma's Mess
What Polamma's lacks in terms of ambience, it more than makes up for with its spicy Andhra biryani. A regular haunt for students and professionals in the area, head here for those days when your heart (and tum) craves for a big spread and comfort food. The Andhra style Chicken Fry, Chicken Pepper Fry, Chilli Chicken and Guntur Chicken are all house favourites.
Ulavacharu
If you're heading to Ulavacharu, be prepared for a flavourful biryani with tender and juicy meat, and a spice level that will leave you on high alert. While you're at it, make sure to try their mirchi bajjis and the spicy Raju Gari Kodi Pulao that has ample chunks of chicken and egg. The portions are pretty huge, so go here with an appetite!

Nandhana Palace
If you haven't tried the biryani at Nandhana Palace, you're missing out on a lot! The best thing about it is that it comes with boneless chicken pieces. Not your typical dum biryani, but the long-grain rice with its layers of masala did sit well with us. Not too spicy, the biryani is perfect for two people unless you do not like to share your biryani.
Comments