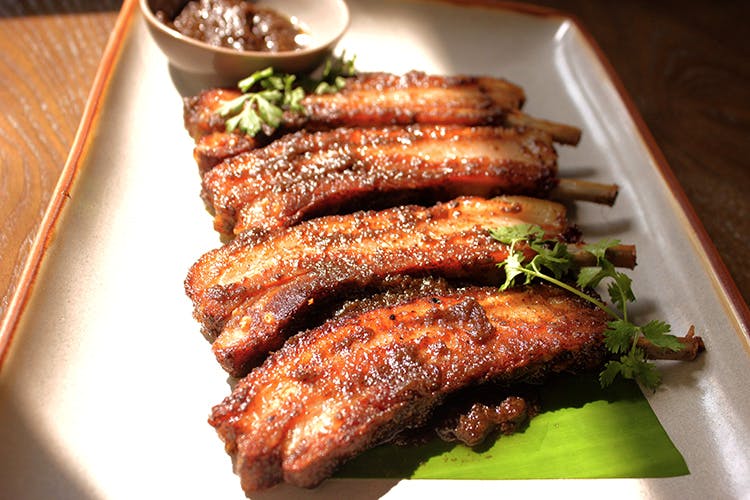 Barbecued, Grilled, Smoked and Curried: Here Are The Best Pork Dishes in Town
We've tasted a whole lotta pork dishes and tracked down the best ones served in our city, some of them sticky sweet, some peppery and others on the super-fiery side but all of them are devilishly delicious. Here are LBB's top 15 picks in no particular order.
Viet Spare Ribs at Phobidden Fruit
This dish is standard order for most regulars at this Vietnamese restaurant. Succulent, falling-off-the-bone piggy spare ribs are tossed in a thick, dark sauce that is intense and rich with caramelised, bittersweet flavours. We know you'll love it too!
Jack Daniel's Pork Steak at Connie's Restaurant and Steakhouse
A slab of juicy pork that has been marinated in whiskey and cooked to perfection on the grill is served with fried pork sausages, a dollop of buttery mash and is accompanied by thick slices of garlicky bread. We suggest you keep your cardiologist on speed dial and dig into this dish with great gusto. Please don't ruin the experience by getting the sizzler option.
Pandi Spareribs at The Permit Room
The flavours of Coorg have their say with the spare ribs that come out of the kitchens here. The melt-in-the-mouth chunks of meat are coated in the robust, dark spice mix that's popular in Coorg and to sweeten the deal, they add a bit of honey too.
Braised Pork Burrito at Chinita
Shredded, slow-braised, and really tender pork piled into a flour tortilla with generous helpings of beans, cheese, spicy salsa, onions, sour cream, jalapenos, and served with cilantro rice. Yes, drool!
Jeyuk-Chulpan at Hae Kum Gang
Sliced pork that has been stir fried with mushrooms, onions and greens in a fiery chilli sauce is served sizzling on a hot plate with a bowl of sticky rice and clear vegetable broth. We recommend, you alternate between mouthfuls of porky goodness with the veggies and the broth rice for the ultimate experience.
Pandi Curry At Coorg
This dark, divine and intensely flavourful pork curry is cooked the traditional Coorg style with kachampuli, a viscous malty vinegar. The vinegar is responsible for giving this dish its earthy, tangy and tart taste along with a dense black colouring. The Pandi curry is part of this home-style restaurant's authentic buffet spread.
Pork Bulgogi-Dolsot Bibimbap At Arirang
A pile of sliced, sweetened, barbecued pork sits atop vegetables and the sticky rice waits, crisping in anticipation in a hot stone pot. We recommend, you stick in your chopsticks and mix everything together with a dash of sesame oil and pick up bits of sticky and crispy rice, crunchy veggies and delish morsels of the tender pork.
Smoked Pork Ribs at Zingron
Pork ribs are marinated in a simple paste of minced garlic, ginger and the angry bhoot jolokia chilli, and smoked for days over wood, in this Naga-style dish.
Fried Sour Pork at Siam Trading Company
This latest addition to Indiranagar's crowd puller – 12th Main – is a real treat for pork lovers. Their appetiser section includes the mouth-watering Fried Sour Pork – where chunks of fermented meat are first fried to a crisp and then tossed about in slivers of  garlic and dry, red chillies.
7 Hour Roasted Pork Shoulder at Toast & Tonic
This spiffy restaurant shows plenty of love to the piggy. Their Udon Noodles with house-cured chorizo and Bangalore Black Forest Ham is a hit with patrons. And so is the Pork Belly done in a sharp mustard glaze. But the piece de resistance is the Pork Shoulder that's roasted into sublime submission for seven long hours.
Comments