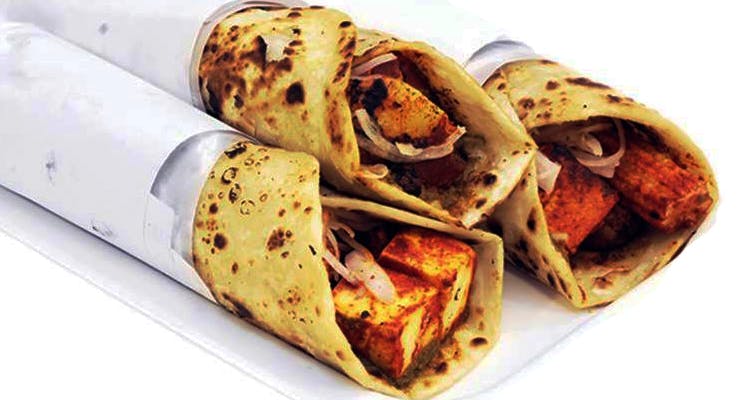 Kathi, Shawarma or Ismaili: The Best Rolls in Town
If a quick, pocket-friendly and satisfying meal option is what you have in mind, we suggest you look no further than rolls. Luckily for us, the city has quite a few places that offer these rolled up delights, with enough fillings to choose from. So, go ahead and roll it up, we say!
LBB's loving
Khan Saheb Grills and Rolls
Readers' vote
Kitchen of Joy
Kitchen Of Joy
Kolkata-style kathi rolls enjoy pride of place on the menu here. Made out of flour (never wholewheat) with a bit of sweet thrown in, the crisp flaky paratha is fried with or without an egg on a sizzling tawa, and post which it is stuffed with a spicy chicken, mutton or vegetarian (paneer or aloo) filling, garnished with crunchy onions and a dash of lime. 
Price: INR 50 upwards
Khan Saheb Grills and Rolls
These guys showed Bangaloreans what eating a really good roll feels like. The Chicken Tikkas, Kalimirch Tikkas, Malai Tikka and Sheek Kababs hot off the grill, stuffed inside maida or wholewheat parathas are the real deal. Available in regular and double sizes, with or without eggs, Khan Saheb's signature taste notes include smoky flavours and spicy taste notes. We just wish they would bring back their immensely good Tawa Prawn Roll.
Price: INR 50 upwards
Empire
Their Chicken Shawarma rolls are filling, full of garlicky mayonnaise and are done with Indianised versions of a pita bread. We prefer the spicy version to the non-spicy one.
Price: INR 58 upwards
Tayabbs
The Chicken Ismaili roll (regular + jumbo options available) comes with kababs, marinated with a finger-licking achari masala, and tucked into a maida paratha (whole wheat options available too).
Price: INR 400 for two
Pathaan Sir
Pepper Chicken, Chicken Bhuna, Chicken Garlic Kebab and Chicken Tikka all get rolled up into flaky parathas here. We also like their Mutton Kheema and Seekh Kebab rolls. Vegetarian options include aloo, cheese, paneer and mushroom versions.
Price:  INR 50 upwards
Chakum Chukum Calcutta On A Roll
This tiny joint offers a whopping number of vegetarian and non vegetarian rolls on its menu. Kolkata-style kathi rolls come with options such as Mutton Liver or Kidneys, or the Mutton Shammi roll. They also have options galore for vegetarians: Palak Paneer or Babycorn Manchurian roll anyone?
Price: INR 50 upwards
Fanoos
The pioneers of rolls in town perhaps, these guys have been around since 1975. Their beef shawarma is a must-have as is their chicken chop ones. Loaded with meat, onion and wrapped in thin roomali rotis, you can pick from Jumbo, Mumbo, Rambo and Sambo sizes. Yes, Jumbo is small!
Rolls on Wheels
Settle for Rolls on Wheel's Chicken Tikka version or the Kathi Kebab one. There is also Egg and Cheese, Chicken Garlic Kebab or Pepper Chicken to be had. Vegetarians cans opt for the Tawa Paneer or the Aloo Tikiya rolls.
Comments