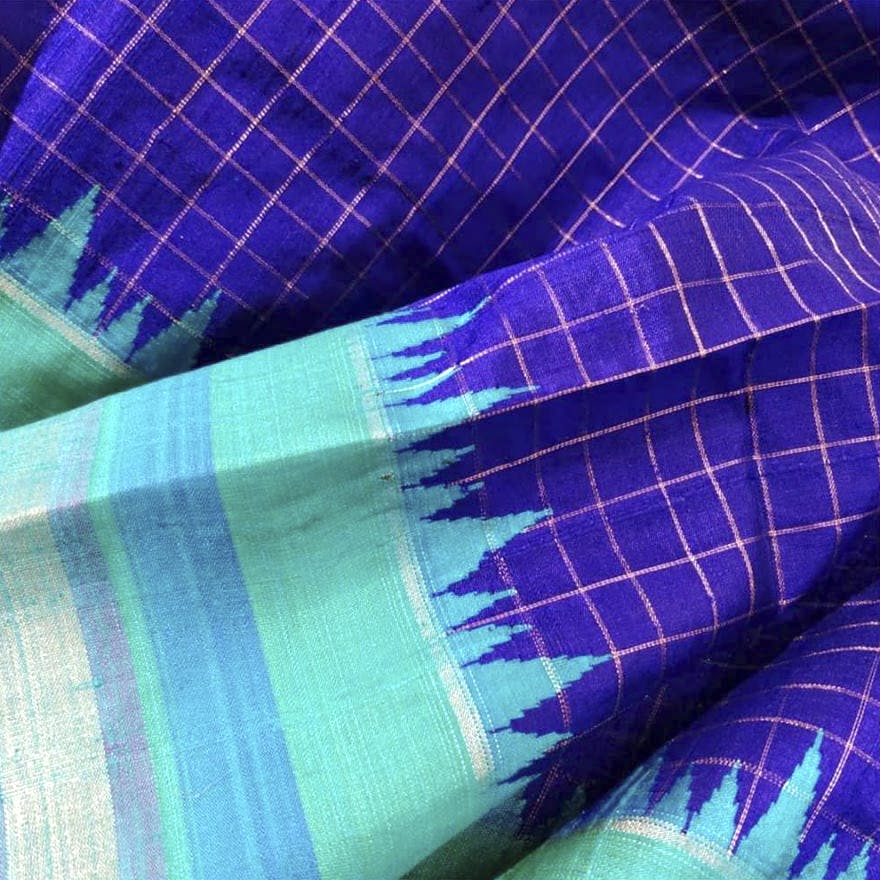 Kanjeevarams To Comfy Cottons: A Guide To Saree Shopping In Chickpete
That Chickpet is fabulous is well known. A bulk of the offerings in this busy area - be it shopping for jewellery or sarees - are ideal for that shaadi you have been looking forward to for months. So, if you're up for it, gang up with like-minded friends and relatives, and head straight to Bangalore's saree capital (and its extensions - BVK Iyengar Road and Avenue Road), for a marathon saree-shopping day trip.

For The Love Of Heritage Sarees
For close to a century, Rukmini Hall's carefully curated collection of traditional handloom sarees have floored brides-to-be and silk lovers. They house a minimal but lovely range of kanjeevaram sarees (priced at INR 10,000 upwards), that will set you apart from the crowd (plus, they don't have pushy salespeople, so that's a big win). For the budget shopper, there are kanjeevaram silks without zari work, raw silks, ikat prints and not-so-pure silk sarees from INR 1,500.

Shibori Silks And 3D Net Fabrics At Basavaraj Market
Shop after shop at Basavaraj Market is stacked with trendy fabrics. While the stock keeps changing based on what's topping the fashion charts, we liked the shibori silks in serene pinks and greens, that feature artful dyes. You'll also find synthetic fabrics featuring Buddha prints or delicate flowers at INR 100 per metre. If you're looking for something unusual, check out the 3D Net Fabrics too, that have lovely flower prints on them. You'll be sure to look like you just stepped out of a fairytale!

BVK Iyengar Road For Sarees From INR 200
Take a walk down BVK Iyengar Road and discover many shops that will help you in your (budget) saree shopping endeavour. Some of our favourites are Sheela Silks And Sarees and Sri Varalakshmi Silks And Sarees. They both house cotton-nylon sarees starting from INR 200, but if you want something fancier, you'll find pretty Bangalore silk sarees with temple motifs starting from INR 4,000. Sri Varalakshmi also houses occasion wear for kids.

For The Perfect Bridesmaid Saree, Head To Rajnikanth Creations
If last minute is your middle name, we hear you and empathise. If you're looking for a stellar saree to wear to your BFF's special day, head straight to Rajnikanth Creations and find yourself a statement piece. Some of our favourites were their pochampally cotton sarees with colourful ghamcha checks (INR 1,470) and monochrome kota silk sarees (INR 2,620). You'll also find oh-so-gorgeous and soft as a cloud sarees in bandhani, cotton, chanderi and patola fabrics.

Dress Like A Queen At Maharani Silk Palace
Also from BVK Iyengar Road, Maharani Silk Palace is tucked away in the corner of a bylane, but is a must-visit for some serious saree shopping. From lehengas and ghagras to sarees, dress materials and gowns, you'll find it all here. We spotted bandhani silks, kanjeevarams and pure cotton sarees starting from INR 1,500, but you'll also find sarees with intricate detailing that cost more.
Ask Roshni a question