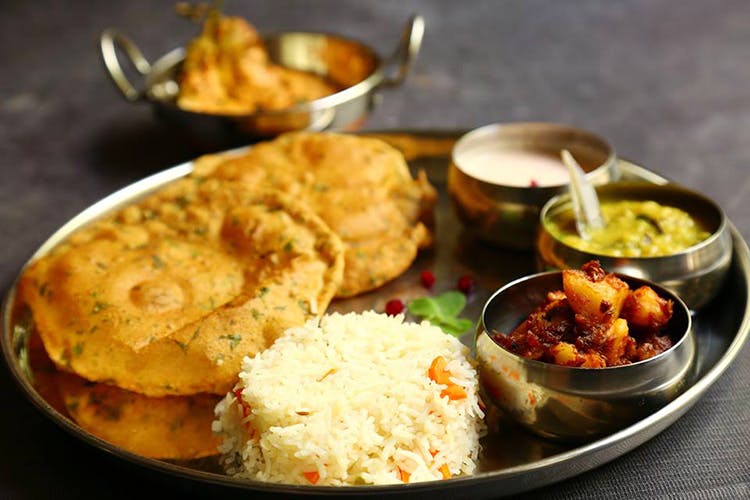 Too Lazy To Cook? These Tiffin Services Will Sort Out Lunch And Dinner
If you have finally decided to not order fries and a burger or pizza for lunch anymore, then you are in luck. We have curated the best tiffin services in Bangalore that will have you eating healthy, homemade, and pocket-friendly meals come lunch or dinner. These tiffin services are perfect for those who can't cook, don't have the time to cook or think having crisps for lunch is okay (it's not!).
Bhavesh Tiffin Service
Bhavesh is LBB's go-to tiffin guy for wholesome North Indian staples of dal-roti-sabzi. Servicing primarily Indiranagar and Domlur, his dabba service for lunch and dinner (he serves them in those old-school steel dabbas) is vegetarian only. Roti, rice, dal, one dry/semi-dry curry, pappad, and buttermilk are what's in store. Priced at INR 80, we can tell you that without the rice itself, the dabba is quite filling. Apart from the above-mentioned locations, he also delivers to MG Road, Residency Road, Trinity Circle, Ulsoor, and EGL. You can get in touch with him on +91 96203 27580. Payment is only through cash and he can be paid on a day-to-day basis or a weekly basis.
Oota Box
The entire service is based on food prepared by homemakers across Bangalore, that's packed and delivered to locations such as Benson Town and Indiranagar. The food available is based on the location you are choosing and the home chefs who specialise in particular cuisines. For instance, we spotted that Benson Town has a lot of homemakers who specialise in Italian fare — lasagne and cannelloni — while Electronic City had more of South Indian fare and a lot of Karnataka favourites such as rice bath and Pongal. The meals can be pre-ordered or ordered during lunch time and are available Monday through Friday from 9 am to 6 pm. You can check out the website here.
SculleryHouse Tiffin
This one is for you Whitefield folks who are reading this. We know how boring your tech park lunches can be (been there, done that) and these folks are perfect to break the monotony of canteen food. VEgetarian meals are currently priced at INR 65 which includes roti, rice, curry, sabzi and fry while the non-vegetarian meals are priced at INR 85. It's the same as the vegetarian meal, sans the curry which is a non-vegetarian option. You can either order on a daily basis or book meals for an entire month. Their delivery area is ITPL, Ramagondahalli, Siddapura, Prashathi Layout, Channasandra Layout, Whitefield Road, ECC Road, Borwell Road, and Kadugodi. You can WhatsApp them or get in touch on +91 87225 61000.
Masala Box
For fixed monthly lunch plans, Masala Box offers South Indian and North Indian meal options for either lunch and/or dinner with the vegetarian meal priced at INR 65 for 10 days (5 meals) and INR 875 for the non-vegetarian meal (5 meals). Depending on your plan, you will receive rice/bread, curry (veg or non-veg), dal, pickle, curd, and salad. Divided into the Classic Menu and Treat Menu, the former is limited to a three-course meal and the treat a five-course meal. The subscription plan allows you to choose the dates/days you want your meals, your dietary preferences, and your timings. And yes, it can be fully customised to ensure that you eat something different each day. Check out the website here.
Momscurry
These guys run a lunch and dinner subscription plan for a three to 25-day period that includes combo meals in both vegetarian and non-vegetarian options. For instance, they have the La Healthy Riz Combi where you get roti, dal, sabzi, salad, raita, and one superfood that could be anything from quinoa soup to grilled pear and a dry fruit salad. The subscription plan starts at INR 375 for a three-day period. Lunch is delivered between 11.30 AM and 2 PM while dinner is delivered from 7 to 9.30 PM. They deliver Monday to Friday to parts of Marathahalli, Mahadevapura, Koramangala, BTM, HSR Layout, Indiranagar, MG Road, Domlur and Old Airport Road. You can check out the website here.
Comments