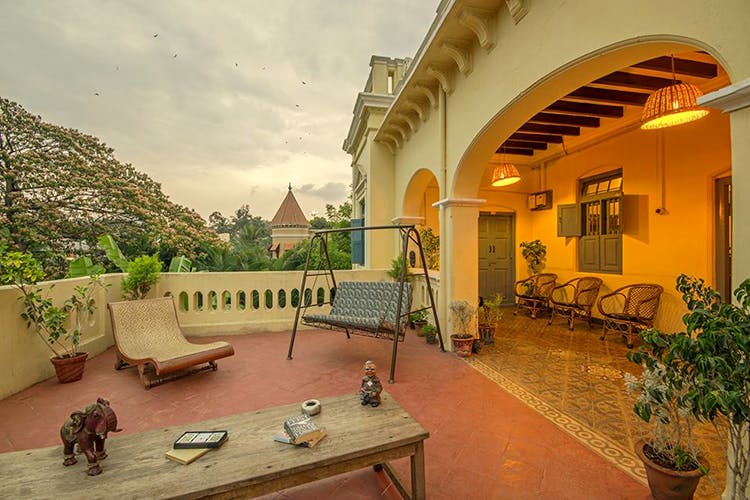 Offbeat Destinations, Quirky Stays And Unique Experiences To Check Off On Your Next Holiday
Every time the year-end rolls around, you look back and wonder why you didn't holiday as much as you had wanted. We feel that way! So this year, make sure you use this recommendation as a checklist to hit up amazing destinations, hotels, homestays and experiences, across the country. We can't say we saw and did it all, but of our travels thus far, here's what stood out most. Come take a trip with us, from the Pangong Lake to Pondicherry.
Vista Del Lago, Kerala
Perched on what we call the best location in Wayanad, this Airbnb has won us over, completely. In addition to the views of a gorgeous lake and the mountains, this Spanish villa, called Vista Del Lago, also has an infinity pool. And that really is the vantage point. The homestay has a lot of Spanish elements going on with the prominent ones being the use of mosaic that's straight from the books of architect Gaudi in the bedrooms and those all too familiar arches. For about INR 6,000 a night, it's a great deal if you won't fly to Spain!
Check it out here.
The Hermitage At Pangong, Jammu & Kashmir
This is what we call a billion-star hotel. Who needs a swimming pool or a helipad or any of those luxury comforts when you have the gorgeous Himalayas and the whole Milky Way to keep you awestruck. Rather ethereal, the resort has the daunting mountains surrounding you, and of course the vast and stunning Pangong lake — a five-minute walk. The mud cottages are ideal for those who want to be in the middle of nature but want the comfort of a solid wall. With typical Ladakhi architecture — low ceilings, square windows and a hint of yellow and orange, courtesy the Tibetan influence, this one is warm and cosy from the word go. That said, the yurts (sturdy tents) are my favourite aspect of this place. And they start at just INR 3,000.
Get all the details here.
The Black Box, Pondicherry
Imagine living in a house made entirely out of shipping containers. The good news is that you don't need to only imagine. Thanks to The Black Box, a guest house in Auroville, you can actually do this. The two storied guest house comes with 2 bedrooms, and can accommodate upto six guests. Plus, they have extra beds too (5 in total). It's also pet-friendly, so bring along your four-legged BFF too. It's set in a riding school, so make sure to visit the beautiful horses, experience a different kind of holiday.
Read about it here.
Astroport Sarisika, Rajasthan
Located just 5 kms away from Sariska National Park in Rajasthan, Astroport Sariska is the first-of-its-kind, astronomy resort in India. An astronomy resort, you get to stay in pimped up tents at this place. But the kind of accommodation doesn't matter when there are telescopes, binoculars and cameras, for you to look to the stars and get lost in a galaxy far, far away.
Read more about this resort here.
Ponmudi Hill Station, Kerala
Just a two-hour drive from Trivandrum, Ponmudi is not quite the hill station you might be used to. It's quite literally, the top of a hill and very little else in terms of infrastructure. But the view from the top makes it absolutely worthwhile. Especially if there is mist, in which case, it looks like the Floating Mountains of China. Beautiful! En route, there are also two waterfalls. The Kallar one is easier to get too as it's not too far off the road, but the Meenmutty one, more dramatic as it's three-tiered, is slightly tricky to reach. So go on, ditch Ooty and Kodai in favour of this newly discovered hill station.
Read more about it here.
Sathodi Falls, Karnataka
If you think a gentle stream can't do much, then, you've clearly not been to the Sathodi Falls in Uttara Karnataka. We only discovered it a few months ago, and we cannot stop gushing (see what we did there!). Not your usual kind of falls, this one has a few streams coming together at the same place, to give you one of the most picturesque waterfalls in the state. It's located near Yellapur, this is less than three hours from, both, Gokarna and Karwar. You know what that means? ROADTRIP!
Check it out here before you go.
Mansion 1907, Karnataka
Smack in the middle of Mysore, this heritage mansion has opened its doors to broke-ish travellers. Having converted part of the mansion into a hostel, the owners lets out the lavish stay for just INR 600 a night. Relax on the large terrace as you read a book, or walk through arches and glide by pillars to live the regal life. Come night, you can sleep in bunk beds for that typical hostel stay. We love that this is a win-win situation. Don't you?
Read more about it here.
Wayanad Wild, Kerala
Wayanad Wild is a resort that blends the jungle life with luxury. You can easily go from hiking up the hills and rafting down a river, to sipping a Bloody Mary by the swish pool or sipping coffee on your balcony. It's quite cut off from civilisation so it's best you switch off from your electronic devices and really enjoy being in the middle of the rainforests.
Find out more here.
Paramotoring At The Beach, Karnataka
Ah ha! You didn't know about this, did you? Too busy being a beach bum, eh? One of Karwar's best known sandy stretches, Tagore Beach is a must visit. Surrounded by rocky hills and lined with innumerable trees, sign up for a unique adventure — paramotoring. Perfect for adrenaline junkies to get a bird's eye view of the beach, sea and surrounding areas, we recommend you stop by the beach in the early afternoon (usually between 2pm and 3pm) for a spin up in the air.
Read more about the experience here.
Bengre Beach, Karnataka
About 20 kilometres from Manipal and Udupi, you'll find a paradise that gives scenes from Pirates Of The Caribbean a good run for their money. Delta or Kodi Bengare Beach is the meeting point of the river Suvarna and the Arabian Sea and oh my god, the view is stunning. This hidden beach in Udupi is perfect for a day trip with fresh seafood and beach bumming.
Check out our love for the beach here.
Comments