The information in this post might be outdated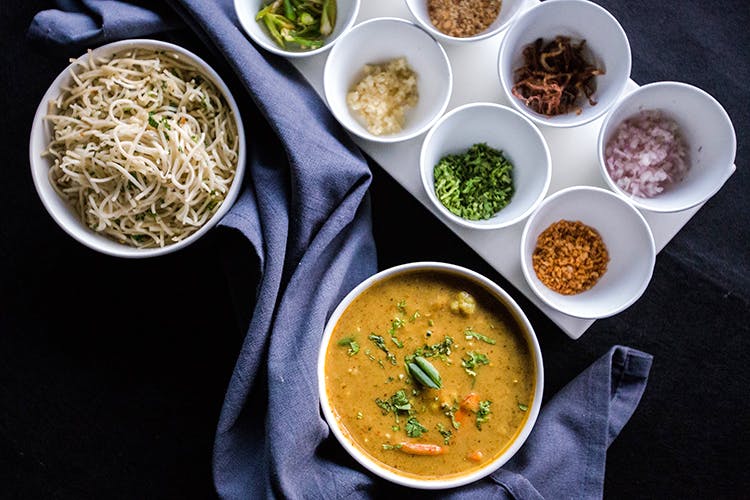 Ragi Momos To Yam Galouti: 7 Best Vegetarian Restaurants In Jayanagar
Jayanagar is one of those South Bangalore suburbs that's totally chill if a restaurant is meat-free. And why wouldn't they, given that the host of vegetarian restaurants serve up quite an interesting fare of vegetarian options that go beyond paneer and steamed veggies. Without keeping you and your hunger waiting, here's our pick of the best vegetarian restaurants in Jayanagar.
Enerjuvate Studio & Cafe
Easily our favourite amongst the lot, Enerjuvate's all-vegetarian menu is a winner with options such as the momo platter and baked sweet potato wedges served with garlicky beetroot hummus. Vegan options are available, with options such as The Crispy Veg Pizza that comes with an amaranth wheat base, and the Momosa Platter. The platter is the health cafe's take of what happens when you combine samosas with momos. We say it's a winner. Pair all this with the thirst quenchers such as kombucha and smoothies like The Antioxidant, you've got yourself a healthy meal.
Go Native
It's the farm-to-fork menu of this restaurant that we are so in love with. Even though Go Native's menu is heavily dependent on seasonal and local ingredients, that shouldn't stop you from trying out dishes such as Aloo Patha Bhindi Chaat and Bisibelebath Fritters. Meat eaters who are familiar with Mutton Galouti, you have to try the Yam Galouti — the vegetarians on our team highly approve of the melt-in-the-mouth galoutis. Healthy breakfast and Jain options are available as well as Kathal Biryani and Millet Pancakes that are getting our thumbs up.
Taaza Thindi
Idli-chutney and mini masala dosas are our favourites at the always crowded darshini of Taaza Thindi. Pair that with a cup of filter coffee, and you've got yourself the breakfast of champions. Plus, this super pocket-friendly too with a meal for one costing just under INR 50. Their peak hours are 6 am to 9 am and from 4 pm to 6 pm, so expect a rush then.
Prems Graama Bhojnam
If it's wholesome South Indian meals that you are looking for, Prems Graama Bhojnam is where you need to head to. Tuck into grain-based vegetarian options such as millet-based Benne Dosa or the Pesarattu Dosa which uses green gram batter. Thate idlis, rasam rice, and ragi rotis are a must-try too at this restaurant, where prices start at INR 40.
Patio 805
A Pan-Asian menu that's only vegetarian? Yes, you'll find it in Jayanagar. Enjoy a hotpot with the fam (the tables have built-in induction stoves, so it's all safe), or try the vegetable fritters that go well with the sugarcane sticks its skewered bit. Light eaters can enjoy the near-authentic raw papaya salad, pho or laksa soup. End it with one of their flavoured milk teas, or the Banana Pudding.
Thyme And Whisk
A truly multicuisine vegetarian restaurant, find everything from regular Indian fare for comfort food to sizzlers and tacos! With a cute bistro setting and an exhaustive menu that probably covers every continent at least, it's completely vegetarian, with Jain friendly options available on request. Oh, and they have non-alcoholic beer too if you've always wanted to try.
Maiyas
Maiyas in Jayanagar 4th Block is an iconic restaurant. Known for its South Indian delicacies and Dosa menu, it has a total of four floors serving something different for everyone who walks in. From North Indian food to a fine-dining experience, head on over to try some traditional recipes. The folks here even sell packaged products like ice-cream and eggless pastries. If you're broke at the end of the month, try their breakfast combo for just INR 90.
Comments