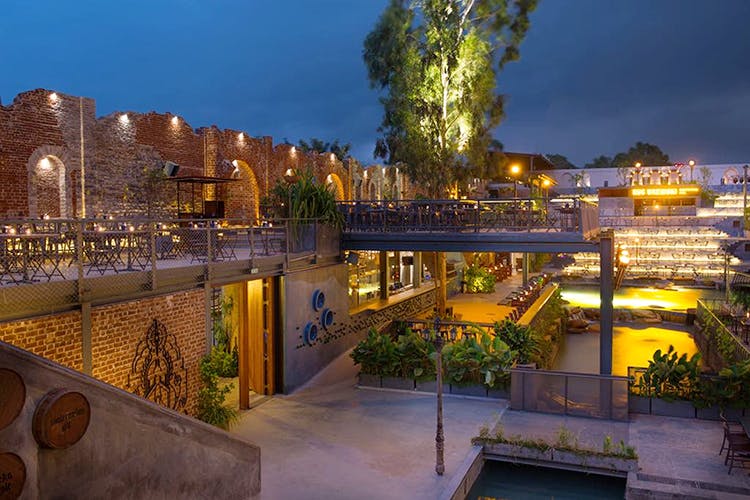 Insta-Worthy Cocktails To Global Menu: Asia's Biggest Brewpub Is Now Open And We Have All The Deets
The last time we checked, Bangalore had over 50 microbreweries, with more opening up in the coming months from what we hear. No wonder Bangalore is called the microbrewery capital of the country and it's only fitting that what is touted as Asia's biggest microbrewery is located here. At a sprawling 65,000 square feet, Byg Brewski Brewing Company in Hennur is a massive space that can seat close to 2,000 people at a time. In terms of design and set up, it's got that distinctive Big Brewsky Sarjapur rustic feels and open-air ambience with a huge lake complete with a waterfall smack in the centre. There's also an amphitheatre sort of seating arrangement where live performance happens.
Oh, and the live kitchen bang opposite the main bar area is for you to stare at all kinds of global cuisines such as Mutton Kheema Sambousek, Crystal Shine Dumplings, and Pork Spare Ribs being cooked. There's pizza, nachos, burgers, grills, and bar nibbles to dig into as well! For beer snobs, there's Rauchbier, Stout, and Lager amongst others. There's signature cocktails such as Lemon Cheesecake, Brewski Potion, and Gentleman's Lilac for all your revelries.
Comments