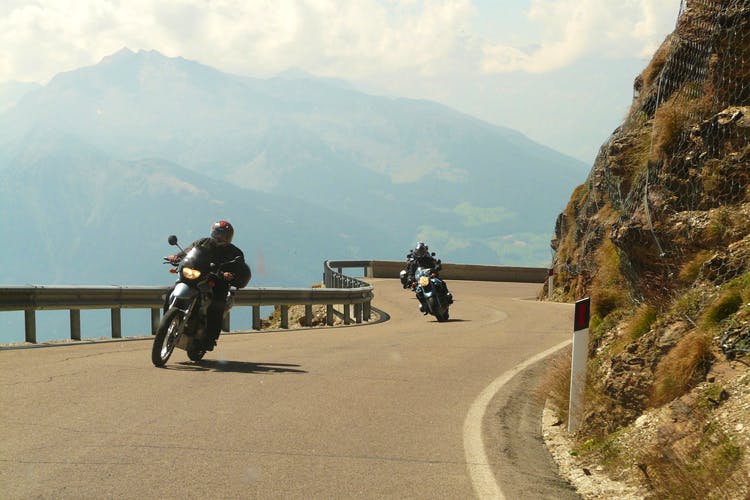 Early Morning Bike Ride Destinations That Are NOT Nandi Hills
If all of Bangalore's residents were asked for a bike ride destination, the answer would most definitely be a resounding "Nandi Hills". As much as we love these cloud-covered hummocks, our bustling city is surrounded by many other breathtaking locations for biking enthusiasts. Early morning rides involve fog-engulfed roads and thrilling rides as long as you've got your jacket and gloves on. Here's a list of adrenaline pumping, heart thumping bike ride destinations you can explore for either a day trip or a weekend getaway from our fair city. Helmet on? Rev it up and go…
Biligiriranga Hills
Through wide highways and narrow forest-traversing roads, the four-hour ride to BR Hills promises to be enthralling at every moment. These green hills are breathtaking around the year. Take in the view from the cliff-edge temple or ask locals to direct you to other viewpoints. The ride can be tiring during summers because of the scorching heat and bare trees, but this makes it easier to come across wildlife (a large elephant or a herd of deer at the lake, perhaps) in this thriving biodiversity hot-spot. Almost entirely flanked by greenery, the course to BR hills via Kanakpura and Kollegala is a favourite among the pros. Don't forget to try the Thatte Idli (a plate-shaped idli) en route at Bidadi.
Distance from Bangalore: 173 km
Ride time: 4 hours
Vanivilasa Sagar - Marikanive Dam
A deviation from the route towards Chitradurga will lead you to one of Karnataka's gems — the Marikanive dam. The oldest dam in the state can be reached through a smooth cruise along the highway (windmills, windmills everywhere). Head towards Tumkur, take in the hill view, get to Sira for a strong filter coffee and cross Hiryur to get to the deviation arc (162 km down, 20 to go). Steps lead you to this architectural marvel — what a sight! The water stretches on to vivid green hills. If you feel adventurous, try climbing the hills around the area and maybe lie down under a windmill for a cloud-gazing session.
Distance from Bangalore: 182 km
Ride time: 3 hours
Bheemeshwari
Another green haven just 100 km from the city, Bheemeshwari is your go-to place for a break from all things mundane. Book one among the many jungle lodges or just have a picnic by the Cauvery riverside if you're on a budget. Awaken the adrenaline junkie in you with some water sports or trek amidst the wilderness if you're a nature enthusiast. The journey is most enjoyable during the chilly, winter mornings and spectacular, Insta-worthy landscapes keep you company. The roads get a tad bumpy after you enter the forest area, but that goes unnoticed once the river comes into view. We recommend that you stay the night as the forest area closes at 6pm.
Distance from Bangalore: 100 km
Ride time: 2 hours 45 min
Manchinbele Dam
Just about a quick ride away, this is the perfect destination for a morning visit. Grab some breakfast on Mysore road and do make a stop at the Big Banyan Tree. The first glance of the magnificent Manchinbele Dam is awe-striking! The waters of River Arkavathi may be alluring, but a dip might not be the safest idea. You can arrange for a camping experience by the backwaters- stay in tents, have bonfires and give rock climbing and zip-lining a shot. Apparently, there's an alternate route that offers an off-road experience. The locals will help you figure it out. Or check out our story on that and the Xtreme Camp Zone here.
Distance from Bangalore: 35 km
Ride time: 1 hour 30 min
Yelagiri Hills
This picturesque hill station near Bangalore, situated well inside Tamil Nadu is the perfect weekend getaway. It offers tranquillity, scenery and biodiversity. The ideal trek is to the highest point of the region on the 4,338 ft tall Swamimalai hill. We highly recommend parasailing here — for the unbelievable views, of course! Gather your biking gear and head towards Krishnagiri on NH7 and get onto NH46 towards Chennai. Plenty of sign boards will point you toward the roads that ascend the hill. Just after some narrow road riding and about 14 hairpin bends later, you should be at Yelagiri. Trust us, this destination is just as thrilling as the journey.
Distance from Bangalore: 163 km
Ride time: 3 hours 15 min
Kabini
Kabini (named after the river that flows through it) is a treasure chest for wildlife enthusiasts and a dream destination for any road-trip lover in Bangalore. Give it a visit between November and January for the best weather and wildlife sighting (leopards, elephants and tigers, if you're lucky). If you'd rather rejuvenate at a jungle lodge or luxury resort, you're welcome at any time of the year. The rubber-burning route offers plenty of restaurants, petrol bunks and ATMs for pit stops. Get to Mysore through the near-perfect NICE road and get into Kabini via Antharasanthe. Ah, what a ride! Smooth roads and luxuriant greenery are a great combination.
Distance from Bangalore: 215 km
Ride time: 4-5 hours
Sakleshpur
En route Mangalore lies this quaint, seldom explored hill station. Sakleshpur, with its luxuriant coffee plantations, magnificent mountains and unprecedented scenic beauty is one destination no biker should miss. The ride should take just about four hours to cover early in the morning. Good news for us, the highway to Mangalore has been developed incredibly in the past few years. Expect long, smooth stretches initially, but mud roads and potholes towards the end. The best part about Sakleshpur is that you can find your own little paradise with some exploration. You can trek around and find streams and waterfalls or you can check out Bisle Ghat and Manjarabad Fort. Tranquillity and picturesque perfection are what you'll get here.
Distance from Bangalore: 225 km
Ride time: 4 hours
Mekedatu
Mekedatu (literally translates to 'goat's crossing') and its stunning design is the result of the Cauvery cutting through massive granite rocks over thousands of years. Get to Sangama from Kanakpura, cross the river through a coracle ride and then head to Mekedatu by bus or a 12-15 km trek. Make a stop at Kanakpura's Chunchi Falls as well. The ride doesn't take a lot of time and is mostly on smooth roads amidst Kanakpura's untouched greenery. Make it a day trip with a bunch of your best buds and you won't be disappointed.
Distance From Bangalore: 100 km
Ride time: 1 hour 45 min
With inputs from Shashank Bapu and Sanjana Kumar.
Comments