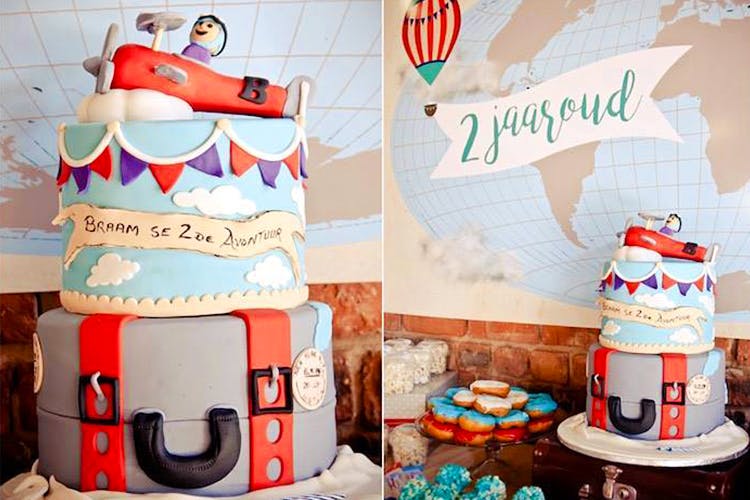 9 Places To Score Fun Decor For Your Cherub's Birthday Party
This article originally appeared on the blog mycity4kids. 
So you're preparing to host a fun party for your kids! But where do you go to make it all happen? Check out our favourite go-to party supply stores below. These party supply stores have everything you could possible need,  to suit every theme that your kids would have dreamed of. Get set. It's time to go shopping!
Itsy Bitsy
The popular craft store in the city brings you the entire range of theme-based party supplies, which are already co-ordinated for your convenience. Their range of party décor includes invitations, banners, party props, eye masks, cake toppers, tiaras, wristbands, badges, stickers, and hanging mobiles among others. From balloons, to themed paper plates, napkins and glasses – find everything here. Plus, the store's kid-friendly baubles — from stickers and erasers to cupcake-shaped sharpeners and silly sunglasses starting from INR 100 — take away the stress of choosing a return gift.
Party Hunterz
Colourful party masks and brightly-hued party props will beckon wide-eyed kids into the Party Hunterz store, which boasts of a comprehensive selection of themed party supplies. While parents browse the requisite party hats and tableware, children can try out tiaras, birthday sashes and magic wands for their special day. Starting from INR 50, you can buy in bulk and save some money here.
Party Mania
Party Mania offers 700+ props, accessories, party favours and more to choose from, and liven up your kid's party. Party Mania also offers a number of themes such as Retro, Bollywood, Wild Wild West / Cowboy, Hawaiian, Halloween, Bikers, Punk, Pirate, Princess, Sports, Glow, Mardi Gras, Masquerade, Casino, Disco and more.
Kirtana Party Butiko
From return gifts to party props Kirtana Party Butiko offers a range of birthday supplies essential to making any birthday party a hit. Kirtana Party Butiko sources merchandise from around the world and has exclusive products for theme parties.
Party Makers
Party Makers is a venture by three passionate women – Malovika, Deeptha and Suryarekha. All party decor here is hand-made and custom-created for your specific party ideas. Some of their popular themes are Frozen, Smurfs, Carnival and the ever favourite Mickey Mouse. Party Makers also offer budget-friendly party supplies on rent. These include wish books, chalkboard-style boards, gifts, photo props and lots more.
The Party Manao Store
Party Manao — backed by the e-commerce site partymanao.com, is a one-stop shopping destination when it comes to party supplies. With over 8,000 party supplies, party decoration and return gifts, their range of products includes products from brands such as Disney, Warner Brothers, Amscan, and Anagram. Customers can now party supplies and gifts from Disney's themed categories — right from Mickey Mouse to Chhota Bheem and Spiderman.
Party One
While not technically a wholesale store, Party One does offer party supplies at discounted prices. This online store offers invitation cards, decor items, tableware and return gifts in a number of themes such as Frozen, Noddy, Madagascar, Motu-Patlu, Avengers, Hannah Montana, and Dora The Explore.
City Market
City Market, also known as KR Market, is the storehouse of wholesale products in the city including party supplies. If you are throwing a big birthday bash and want to buy decor at wholesale rates, then this is the place to go. Several small shops in this market sell trendy birthday supplies at budget friendly rates. Balloons, caps, gift bags, banners, disposables, stationery, school kits, return gifts – there isn't anything that you will not find here, if you are willing to navigate the chaos and browse through the maze of stores here.
Infinitus Decor
Having started out an events management company, the founders of Infinitus struggled with sourcing decor and so decided to start a line of decorations. From Harry Potter themed parties to your child's favourite Disney character, they'll be able to create paradise perfect for your kid's birthday.
Comments