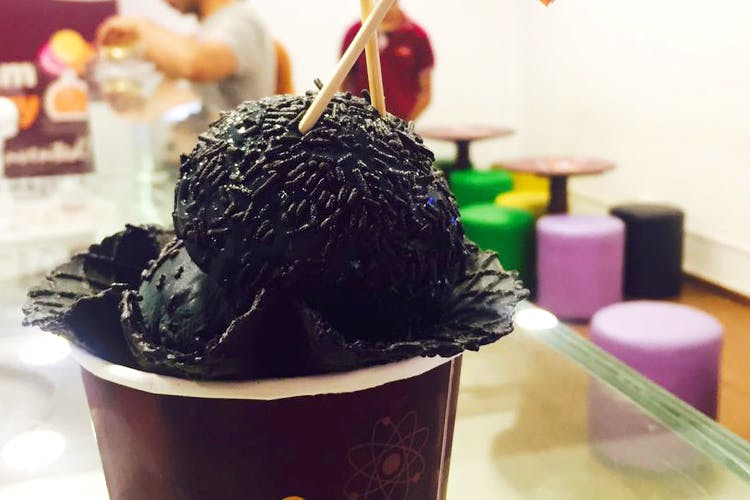 You Goth To Have The Black Ice Cream Now Being Served At This Joint In Koramangala
After HSR, with Fritz Haber serving its own Wednesday Addams-approved black ice cream, it's Koramangala's turn to embrace its dark side. At Cream Chemistry, liquid nitrogen meets chocolate ice cream and activated charcoal to bring you The Charcoal. Served in a black waffle bowl, the scoops are finished off with dark chocolate sprinkles. In terms of flavour, we couldn't really taste the charcoal flavour over the familiar chocolatey flavour, but hey, we aren't complaining. Oh, another thing guys, if you look closely, you'll see that the scoops have a distinctive dark green hue to it, something that Batman's nemesis Poison Ivy would approve of. That being said, you can also get your goth look with minimal effort, thanks to the ice cream staining your lips, teeth, and tongue.
The regular Charcoal is priced at INR 180, but you can customise it by adding your own extra flavours such as Nutella, Ferrero Rocher, and Oreo.
More Information
Cream Chemistry
Nearest Metro Station: Trinity
Comments