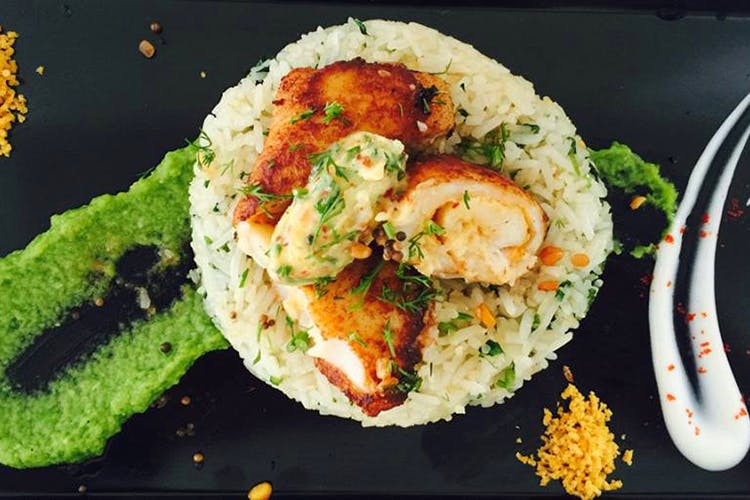 Nearest Metro Station:

Cubbon Park
From Bombay To Bangalore: BanBay Serves Up Amazing Fusion Food
Shortcut
The third in the city with a Bombay-Bangalore theme, Banbay on Millers Road is offering up a fusion of local and Mumbai flavours.
Chow Down
Papdi Papad Guacamole, Halli Breakfast, Fatty Chetty Burger
Winning For
Fun fusion food and super friendly staff
Lowdown On The Ambience
As soon as you enter Banbay, you'll be hit by an overdose of colour in the form of chairs and decor set against white tables and walls. All the seating looks like it's been made out of Skittles, but it's more cute than it is overwhelming. They also have these adorable lights made of cups mounted on the walls.
Best Of Both Worlds
Banbay's name itself is a combination of Bangalore and Bombay so don't be surprised by the odd combos on the menu. We first went for the Tender Coconut Iced Tea because when offered a mix of two of the greatest summer drinks, you take it. And we were not disappointed. The tender coconut flavour balanced out the sweetness of the iced tea and was perfect for a hot summer afternoon.
The Papdi Papad Guacamole caught our attention next and my, oh, my, this is what you need to go to Banbay for. While tortilla chips and guacamole are our go-to starters at any Mexican place, this desi twist with papad was even better. The guac was fresh and also had some spicy salsa mixed in. Banbay also has all-day breakfast so we tried the Halli Breakfast which was set dosa with chicken kheema, a fried egg and tea, and absolutely delicious. We then went for the Fatty Chetty Burger which had a soft, juicy lamb patty rubbed in a spicy coconut mix. I might be biased as someone from Kerala, but the coconut is what made this burger.
So, We're Thinking…
Papad with guacamole, tender coconut iced tea and a super affordable menu. Will we be going back? One hundred percent.
Comments
Nearest Metro Station:

Cubbon Park