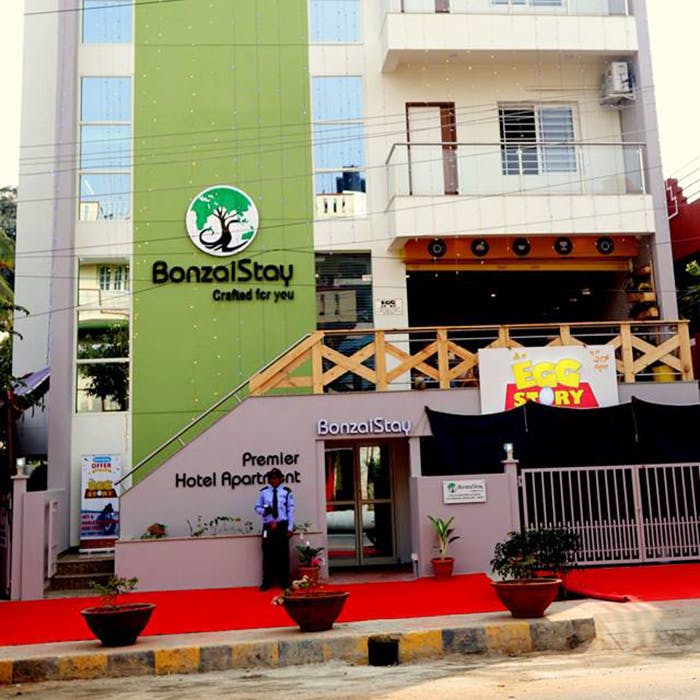 This Kalyan Nagar Hotel Apartment Offers Comfy Rooms For Less Than 3k A Night And Is Ideal For Solo Travellers
Shortcut
Looking for a cool budget stay in an exciting neighbourhood for your next Bangalore trip? Bonzai Stay, in Kalyan Nagar, is just the place for you!
What Makes It Awesome
A serene, little service-apartment-like hotel, Bonzai Stay is perfect for solo travellers who are visiting Bangalore on a tight budget. Or if you are in town for business and are looking for a clean, no-frills place close to Manyata Tech Park or the Outer Ring Road. At Bonzai Stay, for a little more than INR 2,500 a night, you can check into a comfortable room that comes equipped with a cosy bed, a flat-screen TV, wardrobes and a private bathroom. Complimentary Wifi is, of course, an added bonus.
Your room price also comes with free brekkie everyday at their laidback lounge area that features a pop of colour. You can chomp on everything from crispy toast to omelettes, fruits, and baked beans. They also serve traditional South Indian foods like idli, vada and sambhar. While this may not be a full-blown hotel, their hospitality is on point. And, so, don't think twice about reaching out to the front desk for any help you need.
Pro-Tip
Do explore Kalyan Nagar's amazing food scene when you stay here. All the coolest restaurants, pubs and cafes are a hop, skip and jump away from this property.

Comments