The information in this post might be outdated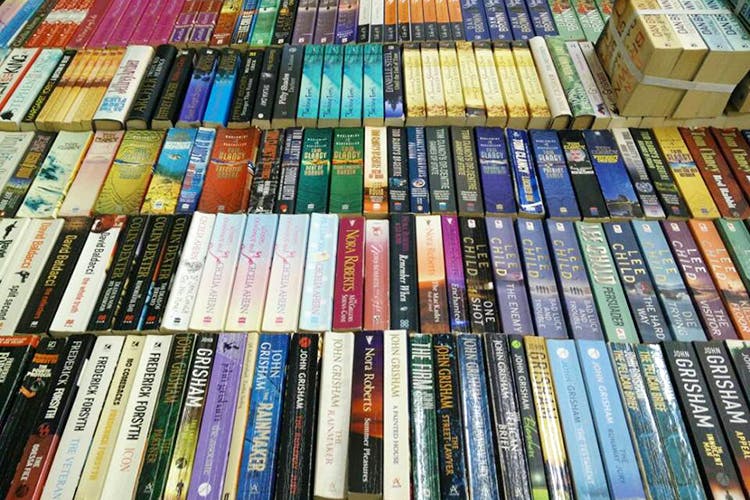 Score Books By The Kilo For As Little As INR 100 At This Books By Weight Fair
What Is It?
In our opinion, the best way to buy books is by the kilo. You know you're going to take home more than one, so why not buy them in bulk. The BooksByWeight fair at Safina Plaza lets you do exactly that. On for a whole week, buy a bundle of tomes at just INR 100 upwards. From Mills & Boon to coffee table reads, take them home by the dozens.
Who Is It For?
Bookworms, this one's for you. Don't let your budget hold you back. Sustain that reading habit by buying all the books you can get your hands on without breaking the bank. If you think there's such a thing as too many books, think again, because we all know there's no such thing!
Why Should I Go For It?
Why wouldn't you want to bag a whole bunch of good books at throwaway prices? With reads by authors like Dan Brown, Frederick Forsyth, Gabriel Garcia Marquez, JK Rowling, JRR Tolkien, Jeffrey Archer, John Grisham and Mario Puzo, among other greats, all up for grabs, you definitely need to bookmark this sale. Spend the day sifting through books and pick up everything you want without thinking twice about your bank balance. Now that's our kind of book fair.
When: Monday, March 12 to Sunday, March 18
Where: Safina Plaza, 84/85 Infantry Road
Timings: 10am to 8pm
Find the event on Facebook here.
More Information
Safina Plaza
Nearest Metro Station: Cubbon Park
Comments