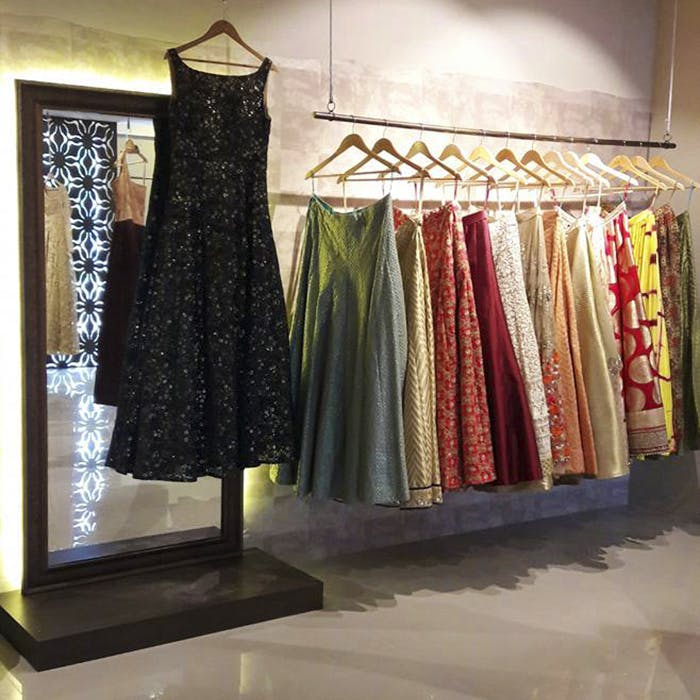 Start Planning Already! Get Your Festive Wardrobe Ready By Hitting Up These Boutiques
It's always festive (and shaadi) season in some part of the country! It's the perfect excuse to shop till you drop and stock your wardrobe with gorgeous festive wear. Sarees to chic Indo-western dresses, here's our list of boutiques to check out to get your festival look and outfit sorted for the season this time around. You're sure to find a few on this list that match every price range too.
Anahe
With racks full of formal and semi-formal traditional wear, Ahane has got your outfit sorted, be it a small family get-together or a full-on celebration. Stepping into the boutique makes you feel like you're stepping into the costume department of a Yash Raj film set, as most of their apparel has an element of Bollywood glamour. With all their clothes sorted according to colour and you can choose from breezy neutral shades to dark blues or navy. You can also pick quirky ethnic wear like saree gowns and Anarkali dresses from here if you're in the mood to experiment. Read more here.
Rui Boutique
A forty-year-old brand now, Rui boutique are the experts in town when it comes to designer ethnic wear. From fun kurtas and kameez sets to flowy Anarkalis, keep it easy and semi-casual with their well-tailored outfits that are available in a whole range of colours and designs. They keep restocking their Bangalore boutique with the latest designs from their Mumbai outlet (which is where the brand is based), so you're sure to be ahead in the fashion game with their merch.
Roshni Boutique
Wanna look like a million bucks without spending nearly that much? Then Roshni Boutique should be your new go-to for budget festive wear. Kolkata-based designer, Roshni has a dear little boutique set up just off Indiranagar's 80 Feet Road. The showroom is just a little glimpse of what Roshni can do. If you like what you see, you can set up an appointment with Roshni and head to her house not too far from the store that is stocked with everything from elaborate Anarkalis to cheerful kurtas. Give her a call at +91 94484 13096 and fix up a store visit right away. Read more here.
Kyasa - The Rental Boutique
Not ready to commit to a lehenga you'll probably only wear once or twice? No problem! Kyasa- The Rental Boutique is for the non-commital folks in the crowd. Tucked away in HSR, this boutique has everything from fancy lehengas to evening gowns. And the prices start as low as INR 600. Rent the outfit for a good three days before returning it or having to pay an additional fee. Read more here.
Timri
Wanna get your wardrobe stitched from scratch? Get your hands on rolls of gorgeous yardage. Think ikat in striking reds, yellows and greens and intricate Kalamkari weaves which you'll find here. Let your tailor wave his or her magic wand over the fabric and create anything from saree blouses to tunics and kurtas. You can also find plenty of lovely sarees and other indie apparel off the racks if you want to skip the tailoring. Also get jewellery to match or contrast your look from unique, Indie jewellery brands.
The Budget Boutique
Appropriately named, this Kormangala boutique is for those on a tight budget but aren't ready to skimp on style. Lehengas, dresses, sarees, and even pretty accessories to pair with them, you can get your whole outfit from this place on a budget. Ikat and paisley prints and kurtis with mirror work, you're sure to find something you like here that works with your price range. Read more here.
Attriante
Go all out at Attriante who will have you dolled up, dripping with glamour. If you're looking for some hella extra outfits, what they have off the racks should give you a clue. Dramatic, or subtle, they all have the sheen of luxury on them. In fact, if you're looking to dazzle through a series of events or days, they'll have you sorted with outfits that are different styles, and follow a theme. Sparkly lehengas, shimmery gowns, blingy blouses and glitzy cocktail dresses or statement dupattas, get it all under the same roof.
Naina Boutique
Getting married? Naina boutique will have you looking like a queen, or Disney princess, or a fabulous combination of both if you like. We mean more Princess Di, than Megan Markle though. Using crinoline and tulle, they sure know how to make you the belle of the ball, and will definitely have you dressed up to be the center of attention. Priced bit on the higher side, we'd recommend that you avail their services for when you really want to steal the show, as opposed to ones which you're casually attending.
Joru Boutique
If you're a classic saree kinda gal, then Joru Boutique will delight you. With limited sarees sourced from across the country, find mostly natural sarees like colourful chiffons, cottons mixes, linens, exquisite Banarasis and handloom kota. If you're pressed for time, mix and match, to pick up a ready made blouse to go with your selection and a potli bag as well as some curated accessories, and you're set!
Bumi Fashion Studio
Get all your daily and occasion needs met at Bumi Fashion Studio. With amazing prices on their collection, pick up colourful cotton Kurtas from INR 500, blouses with lining around INR 800 (with some amount of work), and cocktail gowns that you can get designed the way you like. The best part? They take less than a week to get most stuff done.
Comments