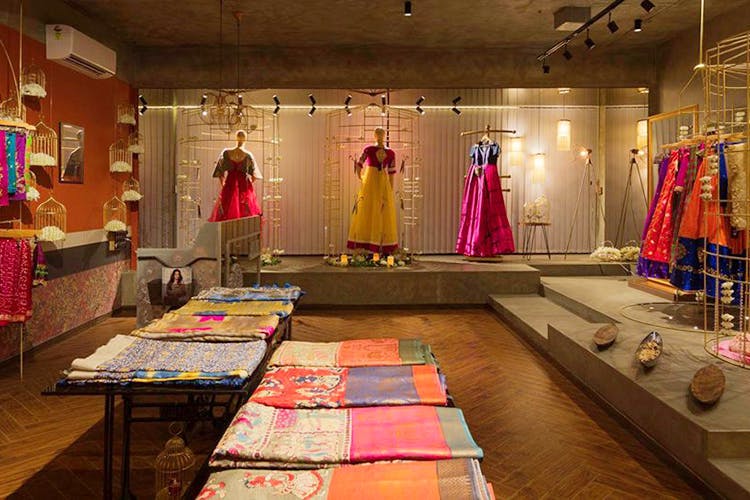 Designer Lehengas To Chic Gowns: Boutiques In HSR Deliver Style By The Buckets
To say HSR Layout is the hottest, new neighbourhood on the block would be no exaggeration! It's a hub for startups as well the coolest, new restaurants. You can shop organic or kitschy. And a recent trip to the neighbourhood revealed that HSR is now also a fashion district. As we explored the area, we found several boutiques showcasing runway-worthy designs. Whether you want a custom made, bridal lehenga or a super-stylish dress - all roads lead to HSR Layout.
The Label
There is little that The Label can't do when tasked with jazzing up your wardrobe. They create everything from salwar sets (you can even buy them at the store) to elaborate, wedding-ready anarkalis and lehengas. They do plenty of western designs too and offer accessories as well.
Mahitha Prasad
Plush and vibrant, designer Mahita Prasad's studio is all about traditional textile arts recast in contemporary light. You can get deep-hued lehengas covered in funky motifs or stick with classic handlooms. Long, flowy gowns, stylish saree blouses and artful skirts are also part of the offerings.

Ramya Katta
It's all about luxury at this swanky fashion studio. They focus largely on bridal wear from all over India. So, you can pick up exclusive, Kanjeevarams and get a jaw-dropping blouse to boot. Or you can go with a sparkly lehenga that'll make your special day even more special.
Kyasa Boutique
Want to turn heads at the next party without breaking the bank? Kyasa, a rental boutique in HSR Layout, is your BFF! From party wear to bridal outfits, they have a whole range you can choose from. Jackets, lehengas, anarkalis and skirts dot the store and you can rent them out for as low as INR 600 or so.

Rainush by Govind Kumar Singh
A regular fixture at Bangalore's fashion showcases, this boutique is all about traditional designs. You can spend your hard-earned bucks on elaborate lehengas and there are even sherwanis. Flowy skirts paired with long jackets and gowns with India-inspired embellishments are also part of the fashion line up.
Tantu Designs
Renowned for their embroidery and handwork, Tantu delivers beautifully embellished textiles. For a big event, you can sport their blouses that come adorned with beaded peacocks or colourful floral motifs. Netted lehengas, silk kurtas, and chic gowns are their speciality.

Neema Kumar
If you're a bride who's lucky enough to buy not one, but four or five dresses for every ceremony of your wedding, Neema Kumar boutique is your one-stop-shop for all these outfits. Known for their traditional Indian bridal wear, Neema Kumar adds the right amount of femininity and sensuality to their creations. Showcasing halter neck blouses, bridal lehengas, ghagra cholis, and gowns, the Neema Kumar label lives up to its reputation of individualistic and bold styles that set apart the alpha woman from the rest.

Sajj Designer Boutique
Sartorial elegance speaks volumes about your personality at first glance. When you want to look the way you act, Sajj designer boutique is your answer. The goal is no longer to pick the heaviest outfit or kitschy fashion; less is more in this HSR boutique. The highlight of their couture is the handwork of delicate zari, zardosi and stonework, all done with immense attention to detail and intricacy. With ethnic and Indo-western wear for daily and festive use, Sajj will not let you leave empty-handed.

Silhouette by Neha
Whether you plan to walk the red carpet or go on a lunch date, Silhouette has a fix for every fashion need. From glamourous lehengas to mermaid tailed gowns to summer maxis, Silhouette is a boutique that minimalizes outfits for maximum appeal. You no longer have to admire graceful couture from the glossy pages of a fashion magazine, just walk into Silhouette for a spectacular line of contemporary wear riddled with rich Indian design.

Seema Singh Design Studio
For a big fat Indian wedding or an intimate affair, Seema Singh design studio is the perfect boutique in Bangalore to shop for your special day or someone else's. With Indian motifs, stand out embellishments and intricate cutwork on lehengas, sarees, shararas, and anarkalis, Seema Singh deals with the underlying set of warm Indian colours and jewel tones.

Jeanne Designer Boutique
Providing fashionable outfits for women and children, Jeanne Designer Boutique will have designer wear for your whole family. Housing heavenly white dresses and brocade lehengas, wedding wear becomes a whole lot easier to check off the list. If you want to deck up your daughter with occasion wear, Jeanne Designer Boutique also exhibits princess-like dresses as well as rani-like ghagra cholis.

Spring Diaries
When you think you don't have enough clothes looking at your filled-to-the-brink wardrobe, this is the boutique to head to. Spring Diaries is more of a casual-elegance wear boutique that'll have you looking your best with floral and pastel sundresses, soft-toned kurtas and skirts, and printed and checkered crop tops which will give you a reason to doll up and go out.

Comments