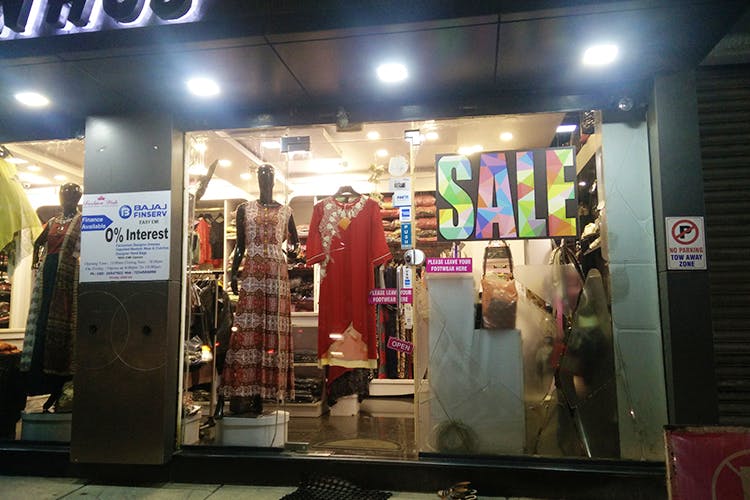 Daily Wear Or Dramatic - Get Perfectly Fitted At One Of These Boutiques In JP Nagar
It's always good to know that bespoke clothing (or well tailored readymade ones) is right around the corner. It's even better to know that there's more than one option for your mood, budget and style. JP Nagar, being largely residential is slowly opening its doors for commercial and small businesses (read: boutiques in this context) should you need an outfit - elaborate, or otherwise without travelling over five kilometres in the search of the perfect tailor or seamstress. Luckily, the area has quite a few, and since family events and festivals wait for nobody, here's a list you can get started with!
The Bong Connection
This little basement boutique, as the name would imply, has a variety of fabric, clothing, and sarees with a Bengali touch. They're the real deal be it the jamdani work or the traditional cowdial sarees (white saree, red border). Of course you have the regular Indo-Western dresses, Ikat print blouses, jackets, and material, and simple lehengas as well. Most of the collection available is for casual and semi-formal wear (for parties or events of distant relatives or acquaintances), or if your preferred style for events is subtle and simple. Should you not like what you see, they'll custom design clothing for you be it Indian, Western, or something in between.

Shrusti Creation
On first sight, it looks like a glamourous tailor shop (we seem to have a rather broad definition for the term 'boutique', but no complaints), but the place has a team of designers and tailors that can give you the perfect fit. For Indian wear specifically, Shrusti Creations will have you looking like Royalty if that's what you want. From designing every detail (customer is king, as they will take all the inputs you have) to sourcing the material, and helping you create a look right from Bollywood star to the epitome of your family's definition of sanskar, they've got you covered!

Tamara
Tamara (not to be confused with Tamaara) is a small label that designs Ethnic clothing for occasions of all levels of grandeur. Sarees, material, Salwar suits (and their individual elements) in bright colours and contemporary designs are what you'll find here. Match it with their extensive collection of jewellery, bags, and other accessories, whether you're keeping it casual or going all out. A huge plus point of this place is that they've constantly got offers and discounts running, so you won't break bank while creating a look from scratch or adding to one.

Ashma Design Studio
Located on JP Nagar's Outer Ring Road, the brightly lit boutique specialises in Indo-Western wear, and the designer loves to experiment. Evident in their ready made collection - floral, ikat, geometric prints on Indian designs, ombre fabrics, and layered patterns adorn the walls and racks. Most of the collection off the racks are long dresses, capes, and gowns. They do have conventional styles (especially crop tops with long skirts to be worn as the casual lehenga) if you require and take orders for custom designs for women, men and kids.

Fashion Hub
Sounds cheesy, but this hidden in plain sight boutique knows its customers as they display the trends of the season, literal and festive! Run by two fashion forward sisters, the boutique has Western and Indo-Western. Apart from the usual dresses, skirts, trousers, tops and the like, they also have exclusive leather jackets (with hand embroidery, and subtle embellishments) at surprisingly reasonable rates. If you're looking for styles that are modest (not skimpy, basically), yet trendy, this is the perfect place to hit up! If you're looking for custom designs, they do that too, but just go with what you're looking for as they don't have a catalogue.

Comments