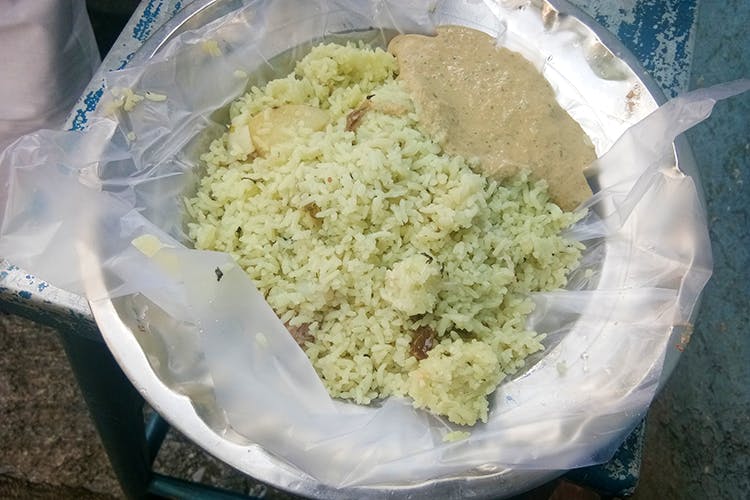 Soya Nugget Pulav & Crunchy Vadas: Fuel Up At This Breakfast Cart In Frazer Town
Shortcut
Nameless it maybe but the lone breakfast cart, on MM Road, needs little introduction! A big draw with the neighbourhood's denizens, the cart serves up flavourful pulav, fluffy idlis and super crispy vadas.
Eat Street
Food lovers flock to Frazer Town usually in the evenings and its usually for the kebabs and the neighbourhood's fantastic meat offerings. However, we are giving you a reason to jump out of bed and drop by MM Road for a memorable, all-vegetarian breakfast. Starting as early as 6am, this breakfast cart opens shop right opposite Charminar Kebabs. You can easily tell its location from the crowds so don't worry too much about the address.
We call it a cart for the lack of a better word, but this is like a mini-restaurant without a roof. On the road, you'll bump into tall idli steamers. Behind, a man busily fries up golden-brown vadas that crackle the minute they make contact with your teeth. Seriously, these are crunchiest vadas we have eaten in this part of Bangalore. Pair these with a plate of idlis and your tummy will have no complaints.
Rice Is Nice
At the makeshift counter, you'll spot a large vessel filled with pulav. Don't think twice about asking for a plate (they do half-plates too if you are already stuffed). The lightly-spiced rice is flavourful. And the chunks of potato and soya nuggets add heft and meatiness to the dish. They also serve Masala Vadas, Lemon Rice, and pooris. And you can expect to be stuffed to the gills for INR 50 or less!
More Information
Breakfast Cart
Nearest Metro Station: Cubbon Park
Comments