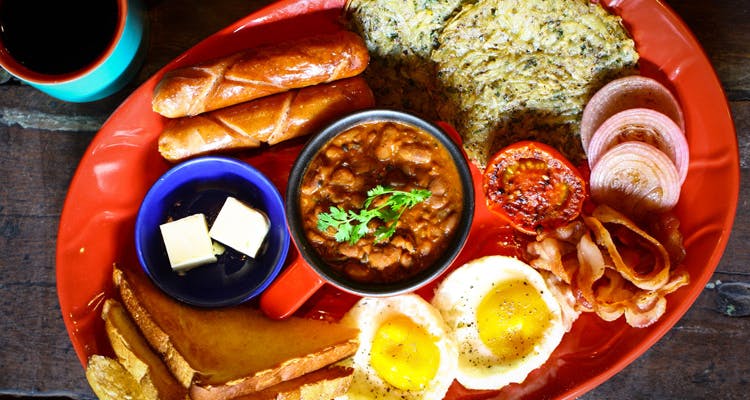 Pancakes To Bagels: Five Places To Tuck Into Giant Breakfasts In Indiranagar
From breakfast cocktails to sinful pancakes and German sausages to Parsi akhuri, we tell you where to get your fix of gigantic breakfasts right here in Indiranagar.
LBB's Loving
Monkey Bar
Readers' Vote
Smoke House Deli
Smoke House Deli
From cereals to granola and pancakes (chocolate chip, banana and bacon) to breakfast bagels (cream cheese, smoked salmon, tenderloin and mustard), you will be spoilt for choice here. Plus, an entire section dedicated to eggs done in styles such as fried (with bacon and parmesan or chorizo or sausage and more), omelettes (smoked pimento and jalapeños and English Cheddar anyone?) served with hash brown, grilled tomatoes and toast. Don't forget to go through their elaborate section on teas and single origin coffees from all over the world.
Cafe Thulp
Their all-day breakfast menu includes Kolli Dosa (good old omelettes) served with herbed potatoes, grilled tomatoes and white or whole wheat bread, spicy Bombay toasts, eggs done sunny side up with sides such as smoked bacon rashers and spicy Italian fennel sausages. But our favourite has to be Frogs in Heaven: thick cut French toast with cinnamon and orange zest; served with honey and butter.
Ants Cafe
Though not as fancy as its other counterparts in swanky Indiranagar, Ants Cafe breakfasts are known for their generous portions and budget pricing. Choose from a long list of teas, coffee, smoothies, granitas and sparklers to start your breakfast here. Move onto their combo breakfasts (English Breakfast, Ham Basket, Grilled Mushroom and Cottage Cheese Breakfast) or settle simply for fried eggs or omelettes on toast, French toast or pancakes drizzled with Maple syrup.
Monkey Bar
Though available only on weekends, breakfast at Monkey Bar is totally worth getting out of bed and making that trek to Indiranagar on your holiday. Eggs Benedict, Aam Aadmi Eggs: toast slathered with onion and tomato chutney, green chilli, eggs and cheese, and topped with Goan chorizo, Cuban Sandwich with pulled pork, smoked ham, bacon bits, Gruyere and arugula, and Cinnamon and Toffee Pancakes are just some of the highlights. But if you want to go the whole hog, then order in their Lord Cubbon's Vice, MoBar's version of the traditional English breakfast and if you want to turn your brekkie into a lazy brunch, then ask for their breakfast cocktails (the Mimosa is our favourite).
Cafe Max
First, choose your bread: white, whole wheat or multigrain, then settle on the Omelette breakfast (stuffed with cheese, mushroom, masala, ham and more), Scrambled Eggs breakfast served with sautéed onions and potatoes and bacon, or Sausages Breakfast (German pork sausages with sauteed potatoes). You can also opt for the relatively healthier Granola breakfast where a homemade version with pumpkin seeds, oats, almonds, walnuts, sunflower seeds, raisins and chocolate chips is served with milk and honey. French toast, French crepes and waffles are other options. Weekends promise a breakfast buffet with all of the above on the menu plus cheese toast and baked beans.
Comments