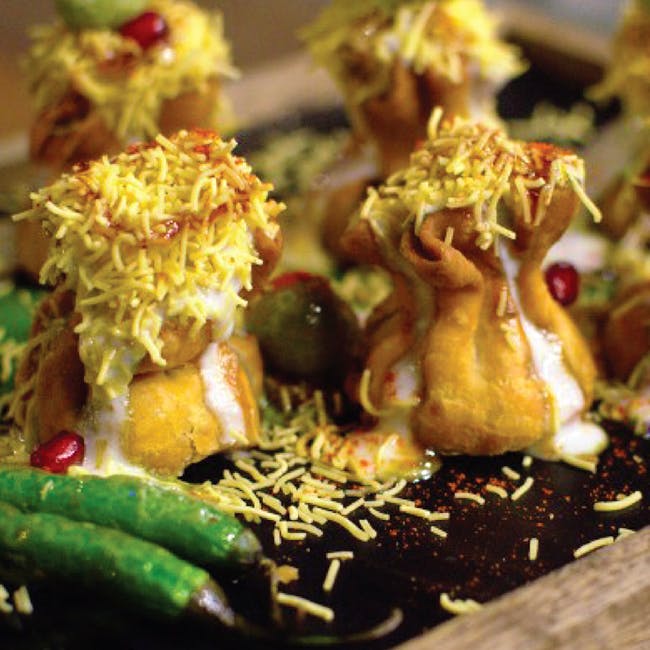 Hit These Places For A Dinner Date Night When On A Budget
Now that you have swiped right, make an effort and take them out on a date despite the month end woes. Add these places on your list for a perfect dinner date in Bangalore.
Om Made Cafe
What's better than a rooftop dinner with lovely ambience and music with your date? Yes, nothing at all. Head over to Om Made Cafe in Koramangala and enjoy the cool breeze and the view of the city as you get to know each other better, and set the mood. They have a limited yet well-curated menu saving time on deciding what to eat and enjoying the dinner date instead. The price for two is about INR 1300, just enough not to break the bank.
Taiki
Taiki, a cute little Japanese eatery in Indiranagar is an ideal date spot for anyone who loves Asian food. The wooden decor with blue chairs and paintings instantly transport you to the streets of Korea and Japan. The ramen, rice bowls, and sushi are authentic and pretty delicious. They also have the Japanese Bento Box with customisable options giving you and your date something to discuss. Check out their couple special meal served 12 pm to 10 pm making it a great date spot.
Lazy Suzy
Lazy Suzy in Indiranagar is a cute little date spot that serves Continental and European cuisine. If you or your date is a cat person, the yellow walls with cat paintings would help you set the mood and start a conversation. The pizzas and pasta served here is a must-try, and if your date or you are fond of Asian food try their jasmine rice with tofu. Their service is particularly slow and they also have private seating, perfect for a date night, isn't it? End the date on a sweet note with their famous cookies and desserts, stacked up at their dessert bar.
Brik Oven
Pizza is the answer to everything. Something that you could romantically share with your partner and load it with a whole of cheese (even with words), pizza is a great dinner date meal. Impress your date by taking him/her to notably the best pizza place in town. With two branches in Church Street and Indiranagar, choose from a wide range of veg and non-veg Neopolitan style pizzas. The Instagram worthy decor and wood-fired pizzas certainly would help in scoring you some brownie points.
The London Curry House
Looking for something that isn't just pizza, pasta or Asian food? Kyunki dil hai hindustani? The London Curry House is your answer. With decor that reminds you of London, romantic ambiance and interesting versions of Indian food, you wouldn't fail to impress your date. Why travel all the way to London, when you can get the feel of it on a budget. The street style Indian food is served here with a twist. Try their maagi, pindi chole and son papdi & corn flakes dessert. It is a pure veg restaurant and a good first date spot, as the food and decor will give you a lot to talk about and cut out the awkwardness.
The Hunger Room
JP Nagar folks! Don't worry about getting stuck in traffic and traveling all the way to the city for a date night. Head to The Hunger Room in JP Nagar and enjoy a quaint date night with bae. With minimalistic decor and a wide range of food options: whole-wheat pizzas, wraps, biryani, Chinese food, this is an ideal date spot. The folks at the Hunger Room let you stay in for as long as you'd like, giving you the privacy you need.
DYU Art Cafe
One of the most beautiful cafes in Bangalore, DYU Art cafe is the writer's personal favorite date spot. Located inside a building designed to look like a heritage house, the wooden swing and bookshelves at the entrance set the mood. If you and your date are book-worms and are looking to have some warm, intellectual conversations then DYU Art cafe is your pick. Try their pasta and sandwiches. For something more, order chicken steak and veg lasagna and warm up over literature and art while getting know each other better.
The Yellow Submarine
Right across IIM Bangalore on Bannerghatta Road, you can spot a Beatles-themed restaurant called The Yellow Submarine and bond over the love for The Beatles. Try their fusion multi-cuisine food with options like Masala Papad with coriander foam, Beer Braised Chicken Tostada, Risotto, Pork Ribs and lot of South Asian curries. Drink their in-house brewed beers and enjoy a boozy date at this cute date spot.
Toscano Wine Connection
Under the stars with your loved one, over a glass of wine and good food sounds like a good date, doesn't it? Toscano Wine Connection in Whitefield does just that. With a lovely roof-top ambiance and wine and dine options, Toscano is a lovely date spot if you want to pop the question or even ask your date out, or "make things exclusive".
Chianti
Dates are made even better with some good Italian food and bae, of course. Head to the best Italian restaurant in town, Chianti, for some delicious pizzas, antipasti, and pasta. The low lighting and elegant decor at Chianti set the romantic mood for a dinner date and food just adds on to the whole experience.
Comments